Interview with Ghis Melou
Today we have Ghis Melou, a 38 years old tattoo
artist
from Montepellier, in the South of France.
He is the owner of
Half Wolf Tattoo
, opened back in 2016, and he is an amazing person.
Trully.
He travelled all around the world tattooing in the
UK
or in New Zealand, and he has a beautiful history for you.
Sounds good?
Let's start!
Please, tell us the moment you decided to become a tattoo artist
I started tattooing with my sister (Marie Melou) as she got the idea of getting into tattooing before me.
When she came up with this idea I was mesmerized straight away, I knew I wanted to do that as well.
She found an apprenticeship in a French tattoo studio (I was on the road at this stage), I told her to learn everything she could so she would teach me, and we could open a tattoo studio together.
That is what happened back in 2009 in London (UK) where we opened our first parlor together (No limit Tattoo).
I started as her apprentice.  We kept the studio for 3 years and then we went travelling again (still tattooing obviously). I spent almost 14 years abroad (UK, Australia, New Zealand etc…) before settling back to my hometown in Montpellier.
How is tattooing in a very touristic city like Montpellier? What kind of client do you use to have, touristic or local ones?
When I came to Montpellier, I had to get a new client base all over again as I was always abroad before that. I went to a few tattoo conventions around me where I started to get noticed.
My portfolio started to get around town again as people always recommend you when you are nice, and you are doing a good job. Montpellier is quite a touristic place, but I chose a more remote street of the town (not far from the city center but in a quiet street) so I do not really have lots of walking or tourists.
My customers find the shop on Instagram, Google, Facebook or by recommendation from a friend in general. It is better for me in a way because I can take more time with each person without constantly having to stop for consultations.
My customers come from Montpellier and around but also from the rest of France, people are usually keen to travel for their tattoo!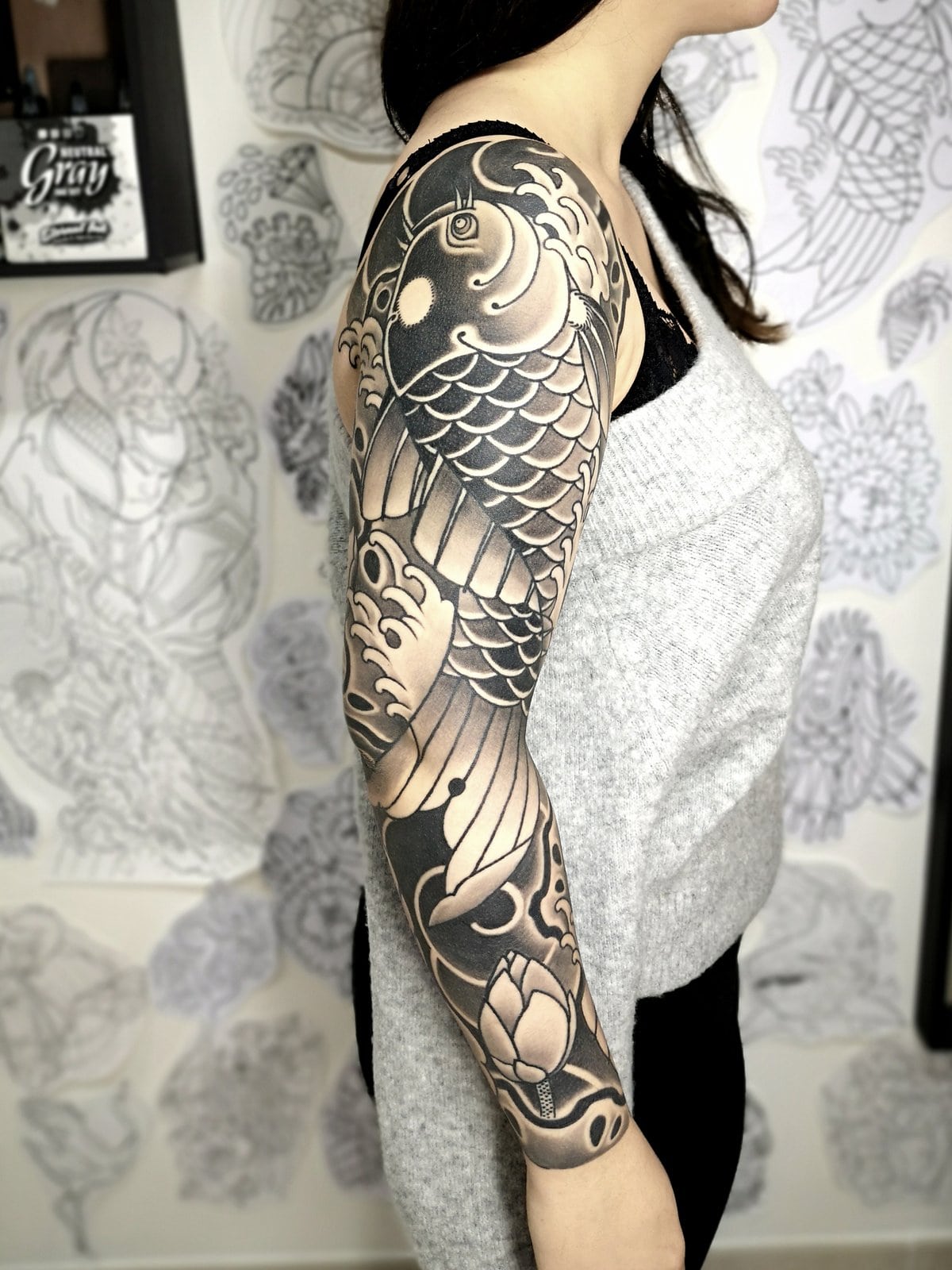 How is the relation of French people with tattoos? Did the people change their minds about tattooing in the last 10 years, like in other countries in Europe? What about the rural areas?
I can see that in France tattooing became much more mainstream for the last 4 or 5 years, before that when I came as a tourist everyone was looking at me like I was an alien (I'm fully covered with tattoos apart from my face).
Today it is much more accepted and common.
France is always a bit late in terms of fashion compared to the UK or the United States, but the tattoo fashion caught up here too.
More and more people are getting big pieces done nowadays.
We can say you are specialized on Japanese and Neo-Trad tattoo, but maybe the one who is reading this interview does not, please, tell us a little bit more about these two art styles.
I naturally started to prefer Traditional and Japanese as a style when I started tattooing, those bold lines, big contrasts and bright colors always appealed to me.
I did a bit of every style of tattooing during my career, as I travelled a lot I had to adapt, I wanted to be able technically do a bit of everything (realistic, dotwork, blackwork etc…).
But the more I progress and the more I like it big, bold, and simple.
A tattoo must be seen from a certain distance and be recognizable in my opinion. Also, I'm tattooing for 11 years now and I can see what tattoos are still solid or not from the ones I have done in the beginning of my career, Japanese and Old School are definitely made to last!
What is the tattoo you are proudest of?
I can't say I'm proud of one tattoo more than another, all I know is that even the ones I'm happy with I always think I could have done better somehow, it's hard to judge your own work, especially when you looked at a piece for hours!
And which one is the more complicated one did you realize?
Some tattoos are more complicated to do than others, but everything is getting easier with experience.
I think the most complicated pieces are the cover up ones, I had to cover up a massive scar once (the light blue dragon picture), it was going all the way from one hip to the other and really scarred, this was a big challenge, especially with those colors but it worked perfectly, she came out of my studio and she was proud of her body again, this is very satisfying!
Please, tell us a few tattoo artists who are worth today, in France or in the world.
COVID19 is changing the world, did it affect you or your business? Did you tattoo some COVID related ones?  
When Covid-19 happened we all thought it was a joke, that it would not be serious really, but the hard lock up that lasted almost 2 month here was really a pain…
Having to pay a double rent with no income and four family members to feed was psychologically complicated.
Fortunately, I was fairly booked at work before the lock up and everyone booked an appointment again at the end of this period, so I can say that personally I still feel lucky about the situation.
I still have new demands and big ongoing projects with awesome customers. And unlike my UK friends this lasted «only» two months.
I have not tattooed COVID related tattoos, even if I have drawn a couple in my flash book, I think everyone wants it to be a bad memory already!
For you, what are the best and the worst thing about having your own tattoo studio?
Having my own studio was my project for a few years (I worked for others since I left my studio London in 2012).
It is what suits me best today I think as I became a father and I do not have many travelling opportunities anymore (I want to be with them).
It is more work and more stress but also the freedom of running it as I want, like choosing the music and the decoration. We are three of us now in the studio and the atmosphere is really chill, no competition bullshit or anything like that.
I am the owner, but we make decisions together when it comes to changes or improvements. I do not feel like the «boss».
Please, tell something to the people who want to become a tattoo artist, some advice you appreciated when you were starting.
The only advice I could give to people wanting to tattoo is that it starts with working a lot, before deserving tattooing you must draw a lot.
Draw, draw, draw and then, when you have a good portfolio go to tattoo artists to ask for an apprenticeship. This is the only real way in my opinion.
No schools will ever make a good tattoo artist, scratching at home is stupid and dangerous (cross contamination is not something you can ignore). The spaces are rare, but it is all worth it, if you really want in you will have to prove it and work for it.
Then it is the best job in the universe, but it has to be a passion.