Interview with Junior Banda
Today's interview is for our beloved Junior Banda.
He is from Lima, Perú, and he is 32.
He works at Gypsy Garden Tattoo, in Barcelona.
He has been working as a tattoo artist for the last 7 years, but probably about 15 in the market.
If we talk about his art, he specializes in Chicano and Black&Grey tattoo styles, and we do love his work.
Trully.
Please, tell us the moment when you decide to become a tattoo artist.
It came when I was 15, with the support of my brother-in-law, Cristian Nohara.
Everything started in Nagoya, Japan. It was my second time there, I was 14 and I was all the day drawing and listening to music.
My brother-in-law have some contacts in Japan from tattoo artists, and it was the moment my passion about this world started.
I want to be closer to yakuza tattoo style, with the full body inked.
My brother-in-law was the one who supported me buying my first tattoo machine, inks and all the stuff!
But, for starting as a tattoo apprentice he does something incredible: He told me to draw a tribal dragon with marker pens directly on a t-shirt that he was wearing.
I accepted the challenge and it seems I passed!
He really inspires me, and I love to draw, so he keeps the promise.
Later I must come back to Lima, Perú, and in my district (San Juan de Miraflores) I used to have a lot of friends, so I can practice a lot.
It was hard too, because it was 2004 and none wanted to teach me anything and the Internet was not truly implemented in Perú these days, so I keep learning just how I could.
When I was 19, I traveled to Barcelona and I did not stop a single minute until now, learning day by day, and I wish to keep doing tattoos since my last days.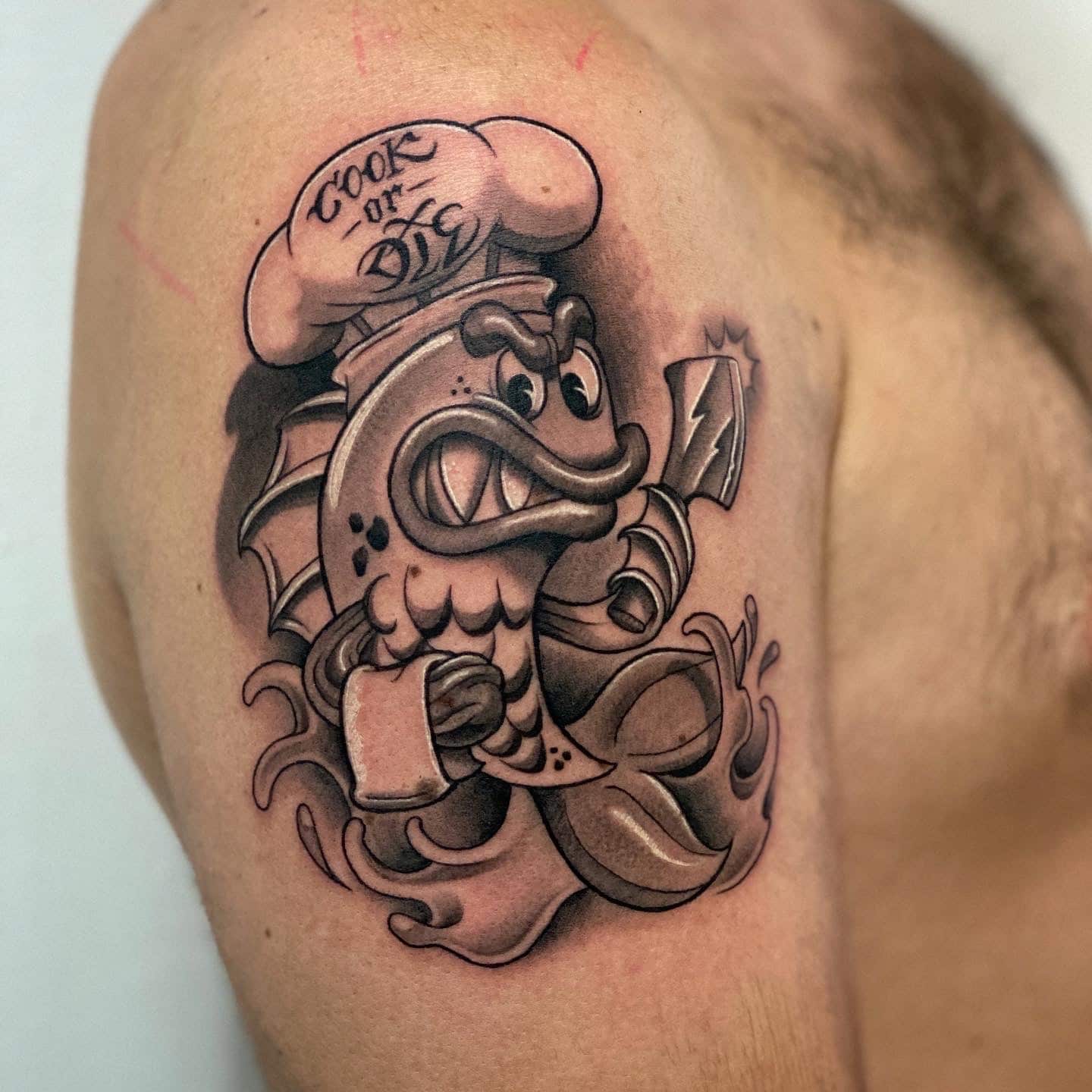 If something defines your art is Chicano Style. Please, tell us a little bit about it
I do feel a real respect and passion about Chicano culture, and I feel 100% identified, so I think it represents me completely.
My life is attached to my neighborhood and family, and it is linked to Chicano culture.
When I was 7, on my streets there were a lot of gangs and, for more than a decade I was looking at all the classical tattoos, especially from the ones who leave prison.
You know, hearts, swords in the leg, maybe some script about how God cares you, crosses in the hand, etc.
Then I went to Japan and everything changed a little bit, because, this time, I was curious on how to transfer a drawing to the skin, but I do not have the opportunity to go to the University to learn about art.
So, everything I know about it was by doing, and this defines my passion about drawing and tattooing.
Chicano styles define both sides, the good, and the bad times, so I feel respect for representing this culture far away when I was born.
Tattoo world is evolving a lot in the last years so, how do you see it in the next 5 years?
It is true tattoos are evolving over and over, especially in the last few years.
It seems tattoo have no limits, but I think maybe in 5 years only are going to stay the ones who are giving some extra value to the tattoo world, with love and respect about this lifestyle, as a lot of us sacrifice a lot of things for doing the best we can.
We found you work at Sitges, how is evolving tattoos in Spain? Can we say it is a trend?
I live in Sitges, but I work in Barcelona, sometimes I do some private sessions in Sitges, but the warehouse of my work is in Barcelona.
Tattooing level in Spain is just awesome, there are a lot of high-level artists.
Maybe it is a trend for some people, and I know people who only want to catch a tattoo artist for having one of his pieces on their skin, no matter how.
In my case, some people search me because Chicano style, but people in Barcelona is most used to realism or color tattoo
For Spanish people, Chicano Style was a trend from 2008 to 2013 but now this trend is gone, and it is because they do not truly understand Chicano as a culture and way of life.
For example, Japanese style always was and always will be, because it is part of the tattoo culture of over the world.
Maybe the trends in Barcelona are Neo-Trad and New School, you know, from graffiti and drawing.
What is the tattoo you are proudest of?
I think it is really hard to choose only one work, and because I have a high self-demand, but it is true I have some work, not only about tattoos, but about design that I have made all over the world to be really proud of
For example, a logo for a concert for a singer called Kali Uchis!
And the most difficult one?
Maybe at the early beginnings of my career, when everything was new, and I was just an apprentice. With the years I learned a lot of new techniques so I can feel comfortable doing a tattoo.
Now I am focused on one style and I study and analyze a lot before starting tattooing. The design and the tattoo itself, from the beginning to the end.
What and which size of tattoo needles I am going to use. If it is from a transfer or free hand. The spot to start, how many phases, etc.
Focused and with discipline you learn a lot.
Maybe realism ones were harder to me but I am adapting better each day.
With Chicano style is different, I am used drawing it and it is easier for me.
Do you have a special routine for tattooing?
My routine is setting everything up mentally for being prepared when the show starts.
You know, the table, caps, the size, and type of the needles so I can feel comfortable and relaxed before the work starts.
Before each session I review everything in my head, and, with good music, my mood and inspiration goes up!
COVID19 has changed the world and the way we work, who do you think changed the tattoo world? Do you think these changes are coming to stay?  
About COVID19, it is true it changed everything, because it affected almost everything.
But I think with the security laws we have, we can move forward with no risks, and I hope this COVID situation is not made for last!
For me, the only limitation is I wanted to go to the US and Japan and I could not do these trips, but it let me see different kinds of works like custom designs for clients all over the world, or just selling prints.
Please, tell us a few tattoo artists who are worth today, in Spain or in the world.
From Spain I can tell you about a friend who supports me a lot called Guindero!
Another one who I do not know personally but represents Chicano culture in Madrid is Juan Sánchez.
Please, tell something to the people who want to become a tattoo artist, some advice you appreciated when you were starting.
The advice I want to tell all the young people who are starting today is:
Study a lot, never stop learning and be serious about this art.
Everyday you learn a lot of things, even from an apprentice, or just remember something you just forgot.
Be perseverant and have discipline, these two things are the key to grow as an artist and as a person too.
Moreover, you have a lot of information now. In one single year, you can learn as much as we did on a decade, so make the most with this information.
So, keep going and, when you became a professional tattoo artist, stay disciplined and respectful.