Interview with Matías Lemu
Matías Lemu born down the rising sun of the West side of Uruguay river, 33 years ago. Today he lives in Bariloche (Argentina), and he has his own tattoo studio.
For the last 11 years he is working as a tattoo artist.
We enjoyed a lot this interview because he have a nice story and he have some funny stories for us.
Moreover, he is tattooing in Bariloche, out of the big cities in Argentina, and, as you may think, it's harder to maintain a tattoo studio on these conditions!
Please, tell us the moment when you decide to become a tattoo artist and why
I like drawing since I was a boy. Tattooing has always interested me, and, in school, I used to draw my friends with pen and pencils.
Time later, I bought my first machine (a home-made one) and then another one.
I used to tattoo with this, because what I want was to ink bodies but, when I was 16, I bought my first professional machine.
With this one, I used to tattoo sporadically.
I tried different jobs, I studied about cinema, but then, I came back to my origins and I decided to work as a tattoo artist.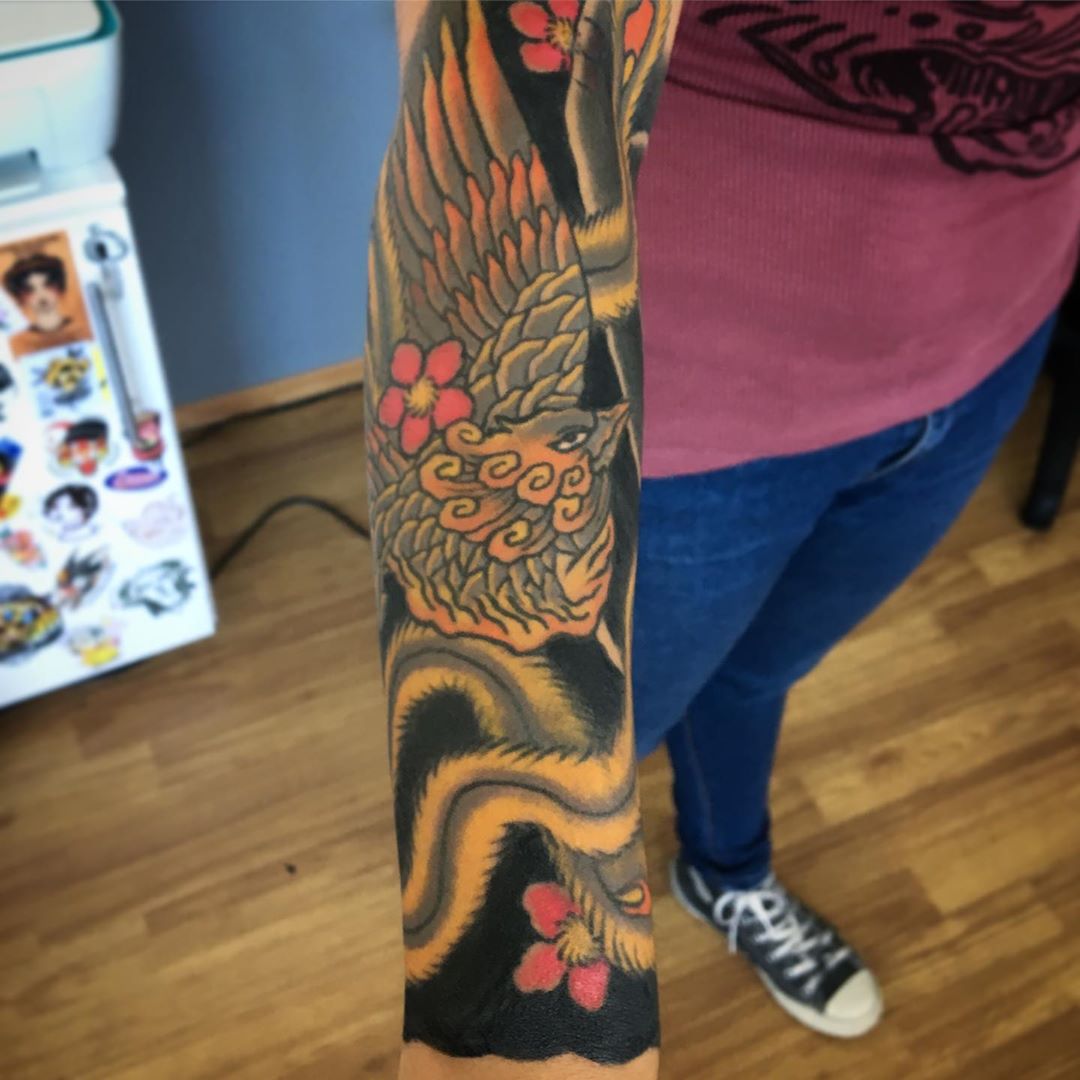 Your tattoo style is very personal for us, how can you define it to our readers? How did you reach it?
As my career was evolving, my interest too. I passed through different styles and, at the end, I reached the oriental one.
I liked it from the very beginning, but my drawings were more defined by New School and Black&Grey.
From the Japanese tattoo I always loved the way the projects were sawn from the distance, specially arms and legs.
The designs are a little rude, but full of details, and the message is strong and clear.
What I do has a lot of influence from oriental tattoo, doing the background pass to the front flowing naturally by the body as a global painting.
Of course, with black and grey, you cannot fail!
If we are right, you work in Bariloche, in Argentina, how is tattoo world there, outside the big cities?
Working in Bariloche was not easy in the beginning, tattoos have not got History here and the people can see what I do as something extreme and outsider.
I just pay the price for living in this paradise, which inspires me and has a lot of connections with the kind of landscape you can see in old Japanese paintings.
The city is growing a lot, and this is changing the perspective of people about tattoos, new people arrive with this art in their life, and it is making a difference.
How are the new generations in Argentina or Chile about tattoo if we compare it with the rest of the world? Have been an evolution in the last years?
I think the new generations are very good. There are a lot of good tattoo artists out there.
Tattoos have been taken by art, technology, fashion, and the market too. At the end of the day, the result of this trend is good for tattooing.
Tattoos have evolved a lot in the last years, and it just does not stop.
There are a lot of tattoo artists with not many years in the business, but they have a very high level, and I think older tattoo artists are going to keep their position, renewing their technique and art.
I think we are on the right path.
What is the tattoo you are proudest of?
There are two, and I did it to friends.
I like how it looks, how it flows through the arm. They are a couple, so the design is made for both arm sleeves to interact.
And which one is the more complicated one did you realize?
If I talk about the last ones, maybe the more difficult for me is when I tattoo something out of my style, out of my focus.
Sometimes I made some works for old customers and then I just regret it.
Now I have my mind and my machines designed for doing something and going out there is not comfortable for me.
Please, tell us the thing that happened on your study that impacted you more
Working on another study in the street, some day just a group of 10 friends arrived.
They wanted to do the same tattoo on the left buttock.
I cannot remember well how the design was, but I can remember it was a piece of shit.
The first one brave man passes and the other 9 just laughed.
Minutes later, he went out proud of the tattoo, and his friends just laughed louder and louder. Then, they confess it was just a joke, and none more did it!
So, the guy with the ridiculous tattoo on the left buttock is now alone in this world.
COVID is changing the world, how do you think it affected the tattoo world? Do you think these changes are here to stay?
Sincerely, I'm not following closely all this COVID19 situation, I'm just working as safe as usual.
I have seen some colleagues dressed like astronauts but, I don't know, it is something ridiculous to me. Everyone should do whatever they want.
Please, tell us a few tattoo artists who are worth today, in Argentina or in the world.
Please, tell something to the people who want to become a tattoo artist, some advice you appreciated when you were starting.
For tattooing and for life, each one does his own way. You must investigate yourself and let you go, be permeable and constant.