Interview with Puerko Man
Hi, my name is José Luis Castillo and I am also known as Puerko Man.
I am a tattoo artist from San Luis Potosí, in my beloved Mexico. I have been a tattoo artist for the last four years (yes, I know, not so much). I am 29 years old, and I have my own tattoo studio with no name for it, just Puerko Man Studio.
Moreover, I am Graphic Defined by Universidad Autónoma of San Luis Potosí (Habitat School) when I started loving lettering and calligraphy.
These two arts became my entire life and my passion, so I specialized on custom lettering tattoos in Chicano style, and on blackwork too, because I love how things happen when there is only black ink.
I tattoo, but I continue developing my career too. I am specialized on logo designs with custom lettering, and I have mainly other tattoo professionals like customers, as well as tattoo studios and streetwear clothes brands.
My work has reached the US, Spain, Argentina, Germany, Colombia, China, and, of course, Mexico too!
I always try to improve the quality of my work, and I wish I can get my own style soon.
I expect I can tattoo my entire life, and I hope I could be an old man doing this and enjoying my life on this way.
Tell us about the moment you decided to become a tattoo artist, and why
I think I have been attracted to tattoos my entire life; it was the thing I have always seen in my neighborhood.
For me it is something very common to see people with tattoos, but it is me as an adult when I decide to start the path, for the love I have for calligraphy and lettering.
The next question is just and obligation for us: We love Puerko Man (Pig Man) nickname, what is from?
Before tattooing I did graffiti, and I do not know why, but I always liked pigs as an animal, and I use the concept of what you think a pig is:
A dirty animal.
My attitude and the way I am: rude, haughty and cursing, in Spanish, "being a Puerko!"
How is tattooing in San Luis Potosí and in Mexico in general? Have you seen an evolution in the last years?
In my San Luis Potosí, where I am from, the quality of the tattoo artists is skyrocketing, with a lot of influential people in the tattoo world.
I can see the same trend in all Mexico, with excellent tattoo artists, we are growing a lot for being as good as others tattoo artists all over the world.
We can see you are specialized in lettering but, can you tell us any other styles do you like?
Chicano lettering apart, I do love blackwork.
Using black ink for having a true piece of work with shadows made by points or custom hatch, the solid lines and fill in something I do like, and I try to learn and work with it.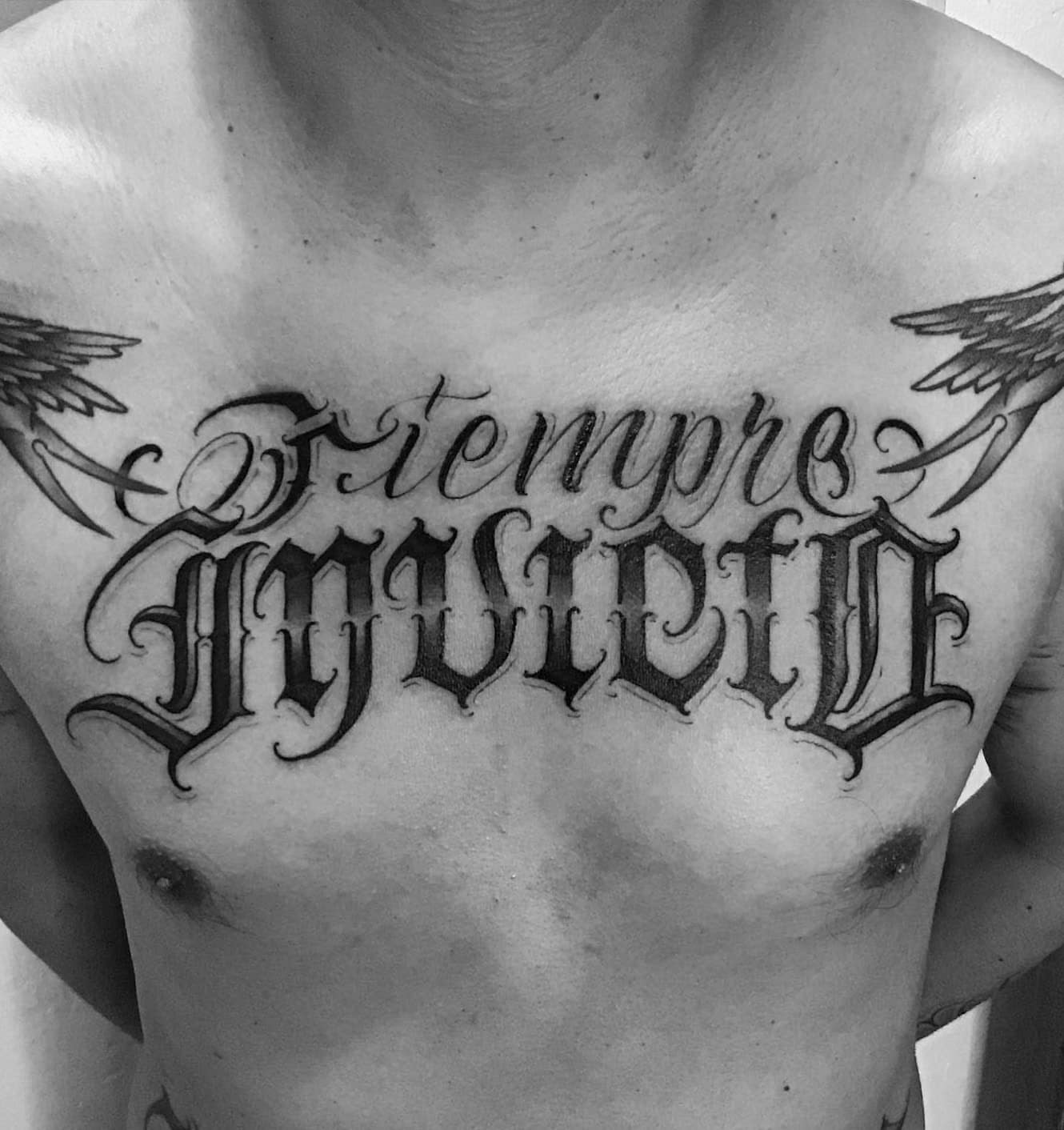 What work are you prouder of?
I cannot talk about only one work or project, I am always happy with the work I do, and I know that each work is better than the last. Of course, my exigency grows as well as my technique.
And the most difficult or complicated one?
Every tattoo is complex but, if I must choose one thing, for me, the most complicated body zones are the soft spots, very painful, or the small tattoos.
What is the weirdest thing that happened to you in a tattoo project?
I think they are classical things, but delicate.
For example, when a person suffers a drop in blood pressure, or they want to faint, maybe some screams or crying, hahaha!
By the way, only this kind of thing, and I hope no more weird things happen!
COVID19 is changing the world, did it affect you or your business? Do you think these changes come to stay?
Sure! At the end of the day, we are offering a service, very private, from the tattoo artists to their customers, and we had to adapt to all this new health situation.
Maybe this is not as hard as you think, because in our profession you need the maximum sanitizing standard and security, with no exceptions.
Speaking about the lockdown at home we suffered, it brings us time for drawing and improving our artistic skills, at least, it is what I think.
And advantage, of course: Our work hours went down, buying some tattoo materials and protection stuff as globes was harder, but we always adapt ourselves and we make the most.
Please, tell us a few tattoo artists who are worth today, in Mexico or in the world.
Ufff, hard question.
I admire a lot of tattoo artists, obviously Mexican people, for example Bobby Infame or Sergio Negative on lettering, Darío Toffana and Daniel Rivera doing blackwork but there are a lot of fantastic professionals
Speaking internationally, Sir Twice, from the US, because his work inspires me to do lettering tattoos and Three Tattoo in China, Smeri One in Italy, Huero Tattoo in the US too.
Please, tell something to the people who want to become a tattoo artist, some advice you appreciated when you were starting.
Maybe the key things are respect, patience, and love for this work. Do not pretend to be more than what you are.
Respect the ones who teach you, always listen and observe.