San Judas Tattoo: Meaning, Key Points and a Lot of Designs for You to Get Inspired
Well, San Judas Thaddeus is one of the most prominent figures in Christian religion and, because of this, we wanted to write this guide for you.
Here you can find:
As you can see, we have a lot of work for you, so let's go!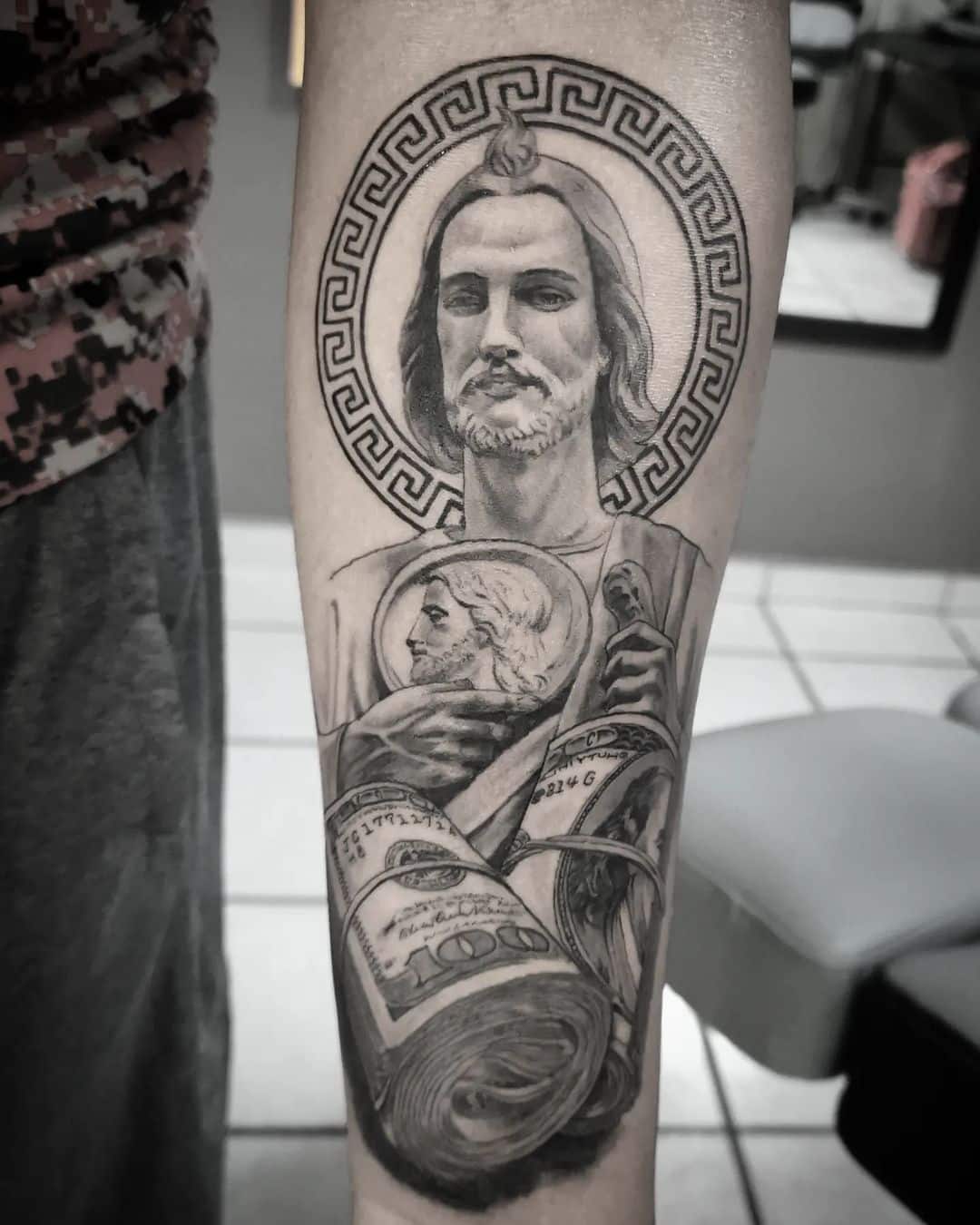 San Judas Black and Gray Tattoo
The first example is a classical one, to keep things simple.
As you can see, a realistic black and gray tattoo with a very nice finish, especially because of the grey/white details.
And, in the tattoo, you can see the flame in San Judas' head, the Jesus image in the chest, the club and, moreover, some money.
This last part should be the thing to ask for.
Nice work for Julio Arguelles, a fantastic tattoo artist working at Clandestino Ink, in Tula, Mexico.
What about San Judas Thaddeus figure?
Yes, San Judas is a well-known figure for Christian faith, and it's perfectly right because he is one of the big guys in the Bible.
But, we are sure you are going to be surprised with this list about the most important facts about San Judas.
Just give us a try:
You know Jesus has the Twelve Apostles, right?
Well, San Judas was chosen by Jesus to be the closest to him, and this is really a point, you know.
Of course, you may not confuse Judas Thaddeus and Judas Iscariot, because, you know, Thaddeus was the closest one but Iscariot was the one who betrayed Jesus, and this is a little more tricky.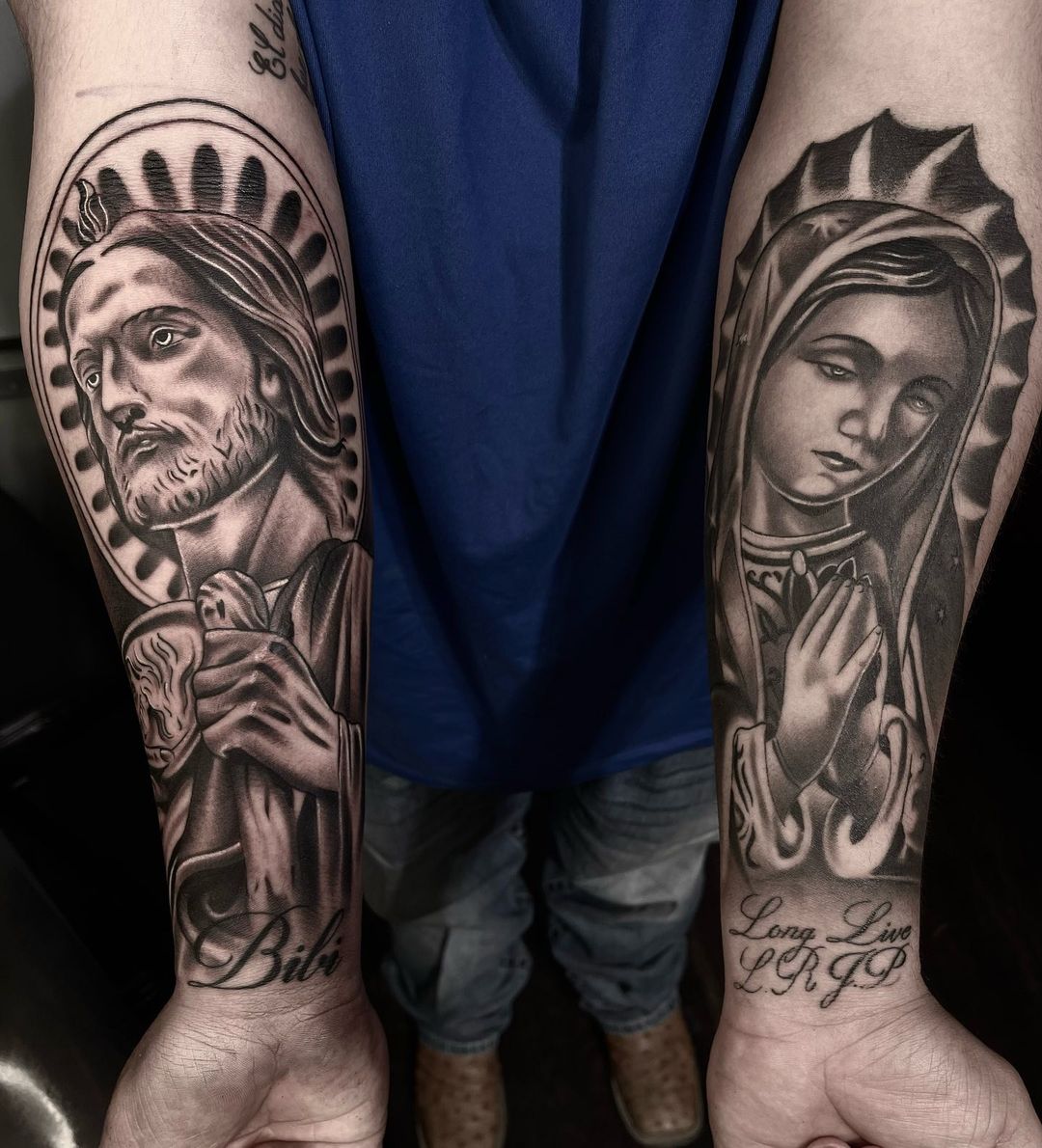 San Judas and Virgin Mary Tattoo
Here you can see, in black and gray too, a tattoo about San Judas on one forearm, and Virgin Mary on the other.
These two figures make all the sense, because they are maybe the two more prominent Jesus fellow travelers.
Moreover, there are two names on the wrists to complete the composition.
This tattoo is done by Auri Oviedo, a wonderful tattoo artist working at Rosemary Lane, a tattoo studio in Houston, Texas.
In the oral tradition it is said that San Judas was traveling through Persia and Mesopotamia trying to expand the faith all around as much as he could.
And this was really a trip in those days.
Because of this, San Judas is the patron for lost causes, because he tried to establish the Christian faith in new places, and this is really hard to do.
San Judas figure is really important in a lot of places
As you may know, the different saints have different knowledge and feelings all around the globe.
Well, San Judas presence is really huge in Latin America, so a lot of people turn to him in times of great need because, as you know, San Judas is for the lost causes.
Mexico is one of the countries with a strong feeling about San Judas.
Yes, the saints can be represented armed.
In San Judas' case, it is because of his martyrdom.
The tradition tells us San Judas probably was martyred with an axe or with a club, and, because of this, sometimes he is represented with these objects.
In his iconography there is room for Jesus too, and sometimes is represented in San Judas' chest to symbolize how close they were.
San Judas Tattoo With Some Color
Now, we keep the most classical San Judas tattoo style but, this time, with a bit of color.
As you can see, there is green for the dressing and gold for the Jesus face in the chest.
The other key elements are there too (the flame and  the club), adding a pigeon, symbolizing peace and the Holy Ghost.
This tattoo is done by Jessie Perez, a traveling tattoo artist based in McAllen, Texas, but working all around the US and Mexico.
Key Points for a San Judas Tattoo
Well, we have a lot to tell you here, so come on
Of course, San Judas image is the first
The first important thing with a San Judas tattoo is to get inked with San Judas image, and we have to agree with this, doesn't it?
As we said just some lines ago, two very characteristic objects of San Judas were the axe and the club.
Sometimes, a flame symbolizing Christ over his chest, or just Jesus' face.
Three very strong symbols.
Religious Symbols are a must too
Well, San Judas Thaddeus is a very important religious figure, so he matches with all the Christian imagery.
Crosses, angels and rosaries are very welcomed in a San Judas tattoo, so don't be shy and let it flow.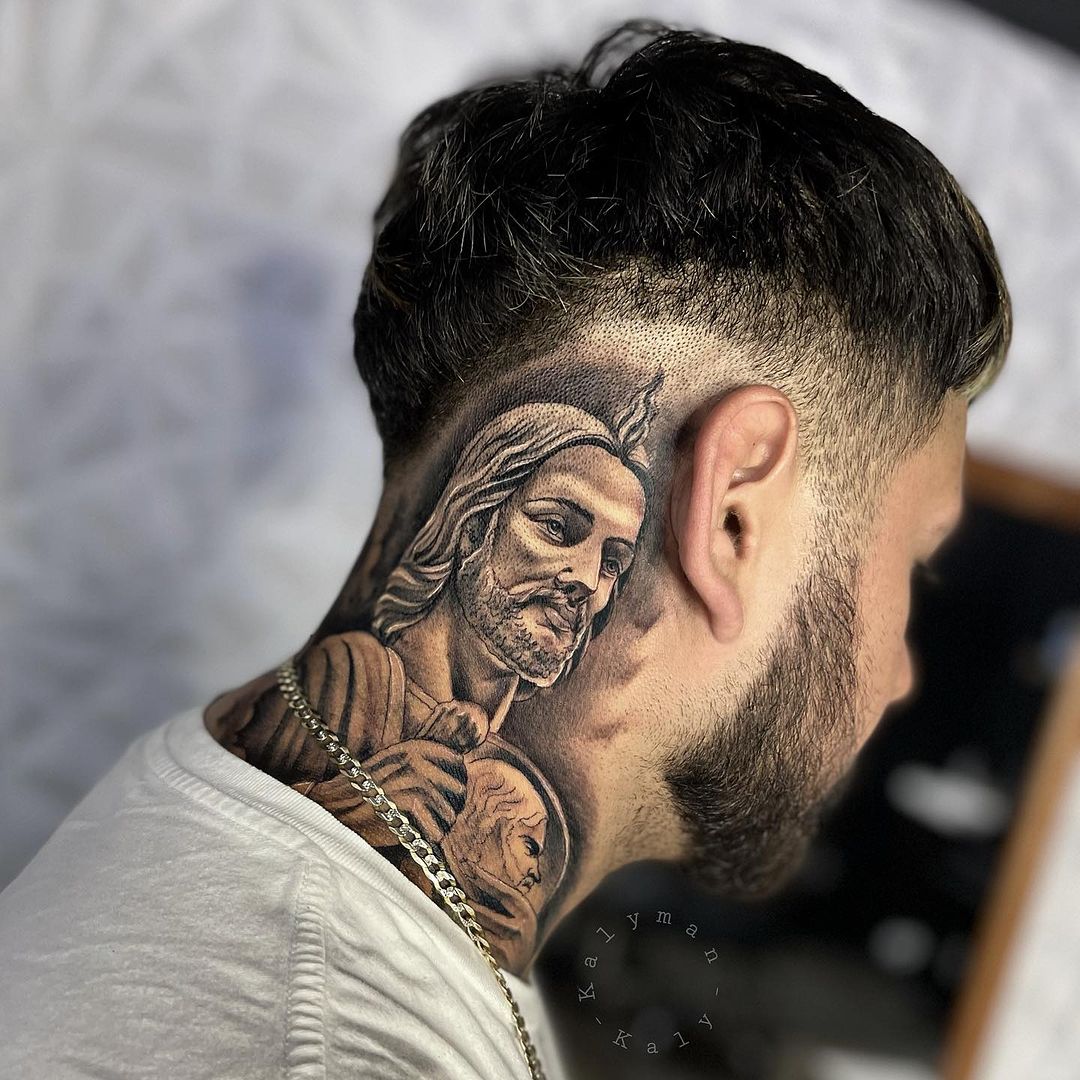 San Judas Tattoo in the Neck
This is another "conventional" tattoo, talking about the style (you know, realistic, black and gray with all the key elements), but the placement is not as usual as the others.
This time, San Judas is tattooed on the neck and part of the head of the person.
Very, very bold, isn't it?
This tattoo is done by Kalyman Kaly.
Flames and Candles for the perfect touch
San Judas Thaddeus was the patron for lost causes, and inside this symbol is about being the light guiding through the darkness.
Because of this, the presence of flames and candles in San Judas tattoos symbolize this hope or this "being with Jesus".
Color or black and grey San Judas tattoo?
Well, most hyper realistic tattoos are usually in black and gray ink, but San Judas can be colored too, as you wish.
We just have to say to you here that San Judas' colors are usually white and green.
You know, white is for purity, green for hope.
And that is pretty.
The background is important too
Because San Judas has this meaning about the lost causes, sometimes San Judas tattoos can incorporate this lost cause as the background of the tattoo.
You know, it is like asking San Judas for help in your skin so he can help you with your needs or struggle.
In fact, some tattoos can incorporate something like a date, a name or a specific event special for you.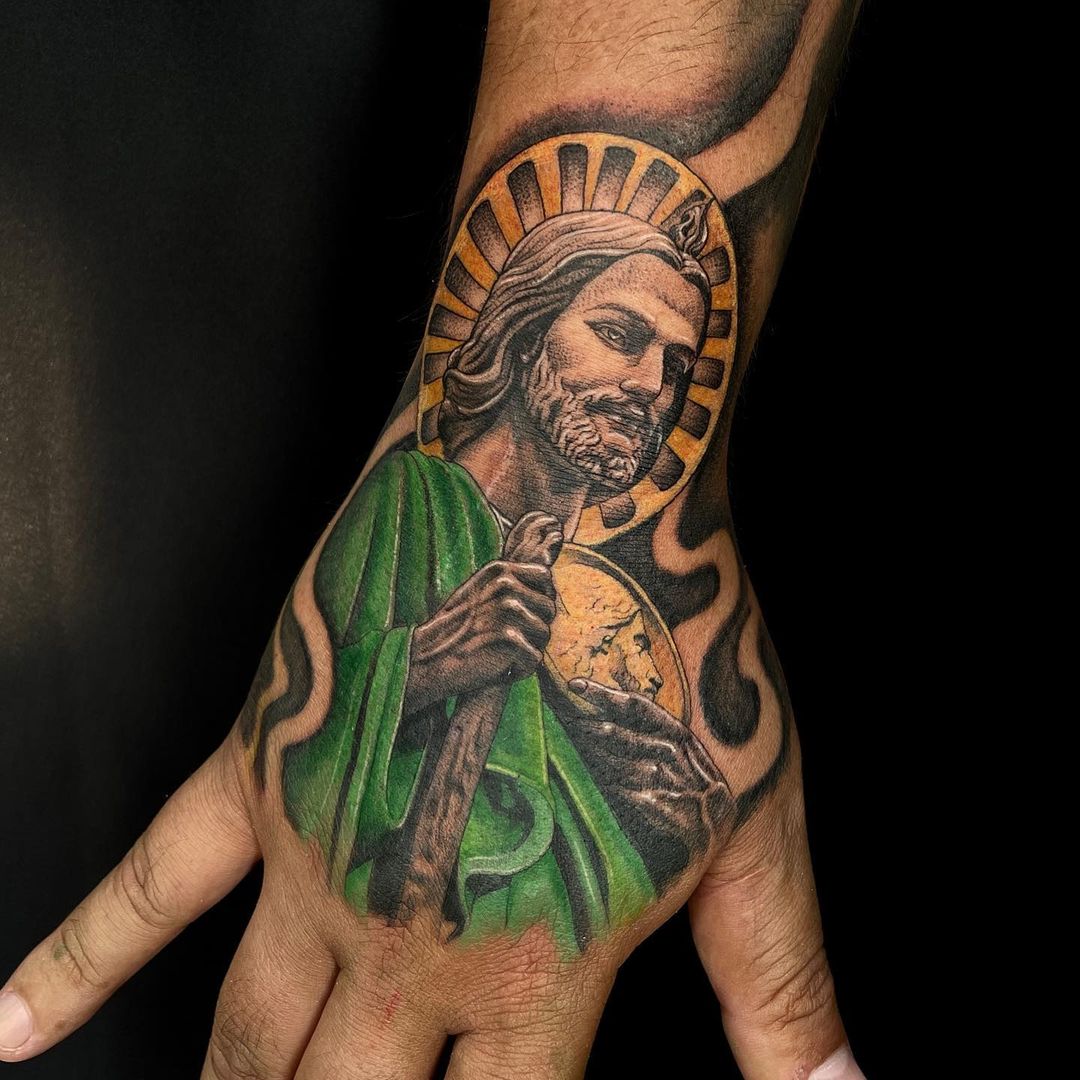 San Judas Tattoo in the Hand
And, talking again about the placement, here you have another option.
This time, San Judas tattoo in the hand, another very bold tattoo design and made to keep an eye on it.
One more time, green color detail, flame and Jesus face in the chest.
This tattoo is done by Gerry Perez, a tattoo artist based in Queens, New York.
Top Three Meaning for a San Judas Tattoo
We are going to keep this simple and sweet.
There are usually three different main meanings for a San Judas Tattoo.
The first one should be to beg or plead for help, especially with very difficult or lost causes, one more time in this guide.
What about you asking San Judas for help and he intercedes for you?
With this tattoo, you can show your gratitude for the Saint too, and this is beautiful.
If you have a strong faith feeling, you can show it with a nice and cool San Judas tattoo.
We can say everyone will look at you. We promise.
Some San Judas Tattoo Designs for you!
Here you can see some more San Judas Tattoo designs for you:
San Judas Tattoo like and Statue
Yes, the spirit is the same as in the other tattoos on this list, but here we want you to look at something.
This tattoo is just between a perfect illustration and like a marble statue.
We do love the finish and the details of this tattoo and, moreover, the textile effect, is just amazing.
This tattoo is done by Danny Polanco, a wonderful tattoo artist working in Los Angeles, California, and we think you should follow him. Now.
San Judas Illustration Tattoo
And, talking about perfection, here you can see something more.
We do love this tattoo because we think the shadowing effect is just perfect.
And shadowing is the most important part in black and gray tattoos, you know.
The result: giving the impression of being a perfect illustration. As it is.
This tattoo is done by Jonas Aguilar, another amazing tattoo artist based in Cali, Colombia, you should follow.
And Now, Some More Shadowing for San Judas Tattoo
Yes, the last tattoo was about shadowing, and, this time, the shadows are darker and bolder, isn't it?
We think this gives the design something more grave, mystic and more solemn, and this, for a religious tattoo, is 100% perfect.
The tattoo is done by Ryan Alexander Verdugo, a very talented tattoo artist working in Los Angeles, California, one more time.
As you can see, San Judas tattoos are really a thing inside the tattoo world.
We hope you have enjoyed this guide and, moreover, you get inspired!