Tattoo ideas for women? Really?
If you are reading this post is because you are looking for tattoo ideas for women, but we need to tell you something about this topic, and it's important.
You know, getting inked is the same for men and women. Ok, women usually have breasts and men do not, but that's the only difference.
The skins are the same, the pain is similar, and it depends on the style you like.
Nothing more.
We must bury the ideas that small or watercolor tattoos, and trash polka is for men, because that's simply not true.
For this, we want to share with you some tattoo ideas that some women get tattooed with, so you can open your mind and see the world's diversity.
1. Perfect design in woman shoulder
Here you got a nice example of a very bold and complete tattoo.
A good size realistic tattoo with several element (you can see a clock numbers, and eye with the reflection in the pupil, a rose and something like a necklace).
The set has a lot of harmony, the tattoo is perfectly done, and the difficulty of that design is high.
So, here you can see and awesome tattoo on a woman shoulder on a realistic style.
This tattoo is made by Lucio Ayuso at El Quince Tattoo Shop in Madrid, Spain, and he have a lot of good tattoo artworks on his Instagram page.
2. Geometrical neck tattoo
Moving some steps up in bold designs, here you can find a geometrical tattoo perfectly done in a very hard place:
The neck.
This tattoo is made by Lady Marion, a woman who does spectacular geometric tattoos usually in Berlin, and the person who get inked is Fibieyewalker, a professional sword swallower.
Cool stuff, isn't it?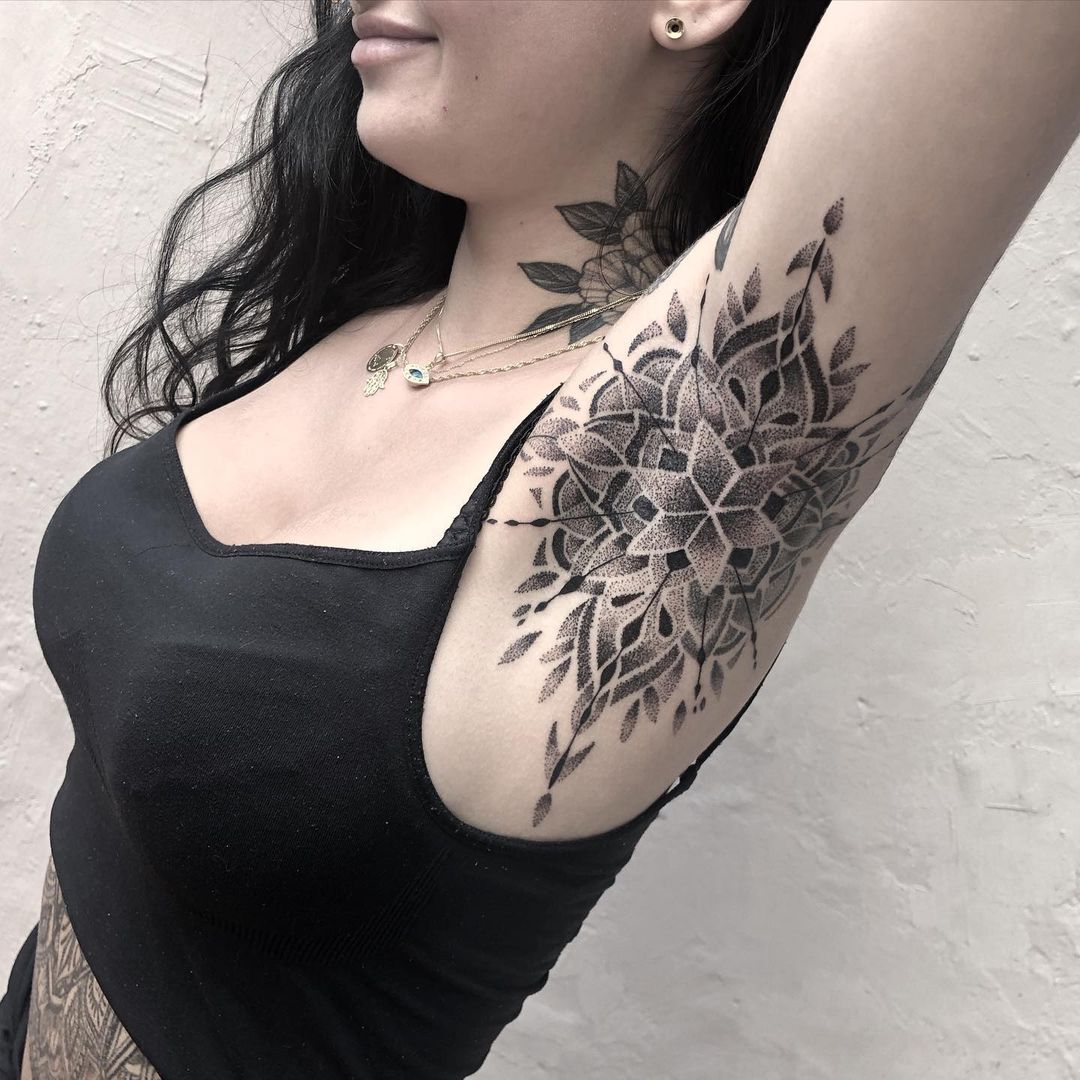 3. Ornamental dotwork tattoo
We do love geometric and dotwork tattoos, for us, these styles have a lot of harmony and the difficulty is really high if you want a perfect finish.
Well, this tattoo has this perfect finish, an awesome design and, moreover, the placement is very bold: The armpit.
You cannot imagine how the pain is in that part of the body, and this increases a little bit more the difficulty of the tattoo.
The tattoo artist who made this piece of work is RobDots Tattoo, from Barcelona, in Spain, and you can see a lot of astonishing designs on their Instagram account.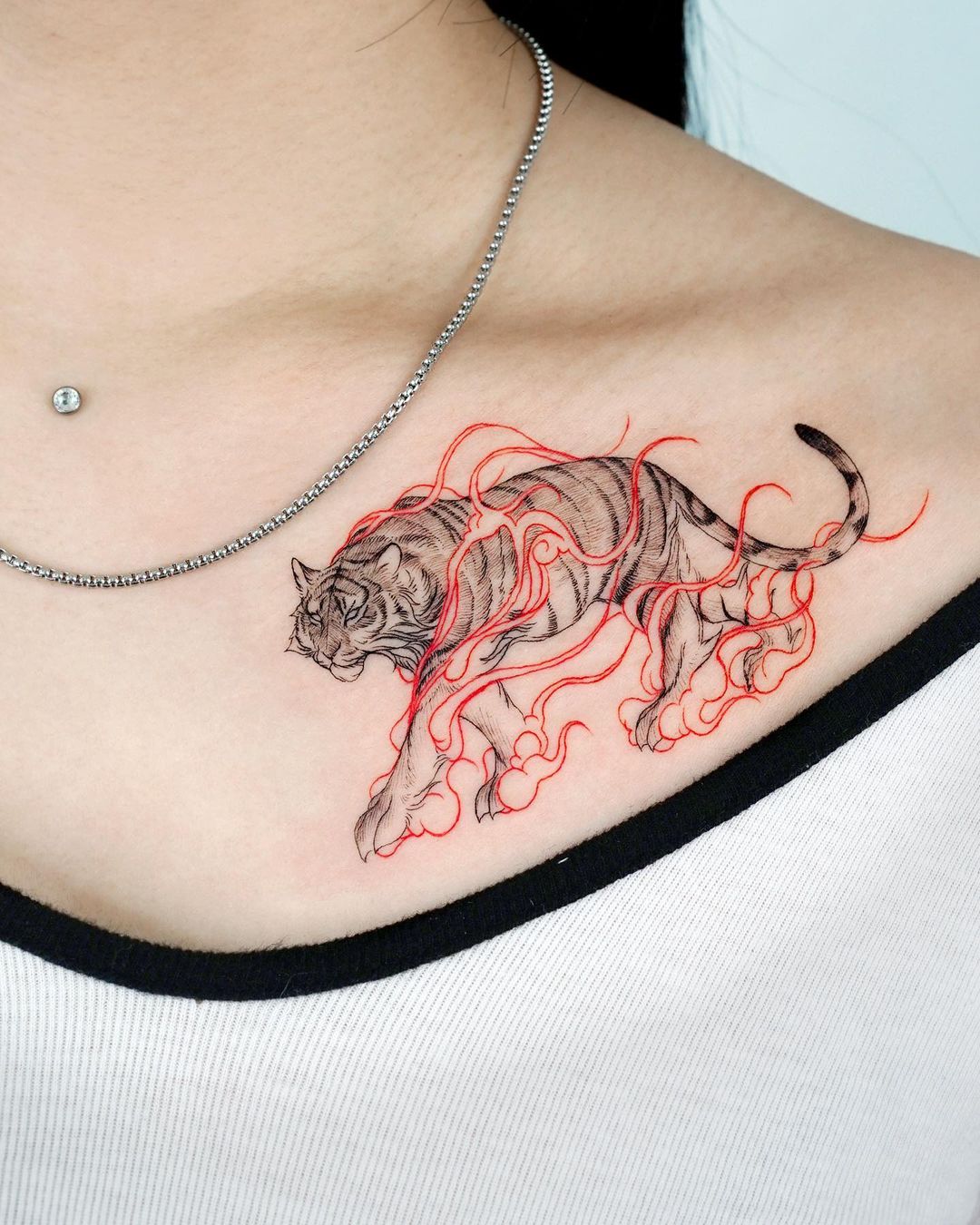 4. Realistic tiger tattoo
This tattoo is quite different because it's done by a Korean artist called Bium, who tattoo in 3layer Tatto Studio in Seoul.
For us, Korean tattoo artist have a special sensibility for their designs, it's like an special tattoo school if you compare it with the rest of the world.
Talking a little bit more about the tattoo, it's a tiger made basically on a realistic style, but with some red ink that gave a lot of personality for this design.
We do like the placement too, just down the clavicle, and it has a good size.
It's simply perfect!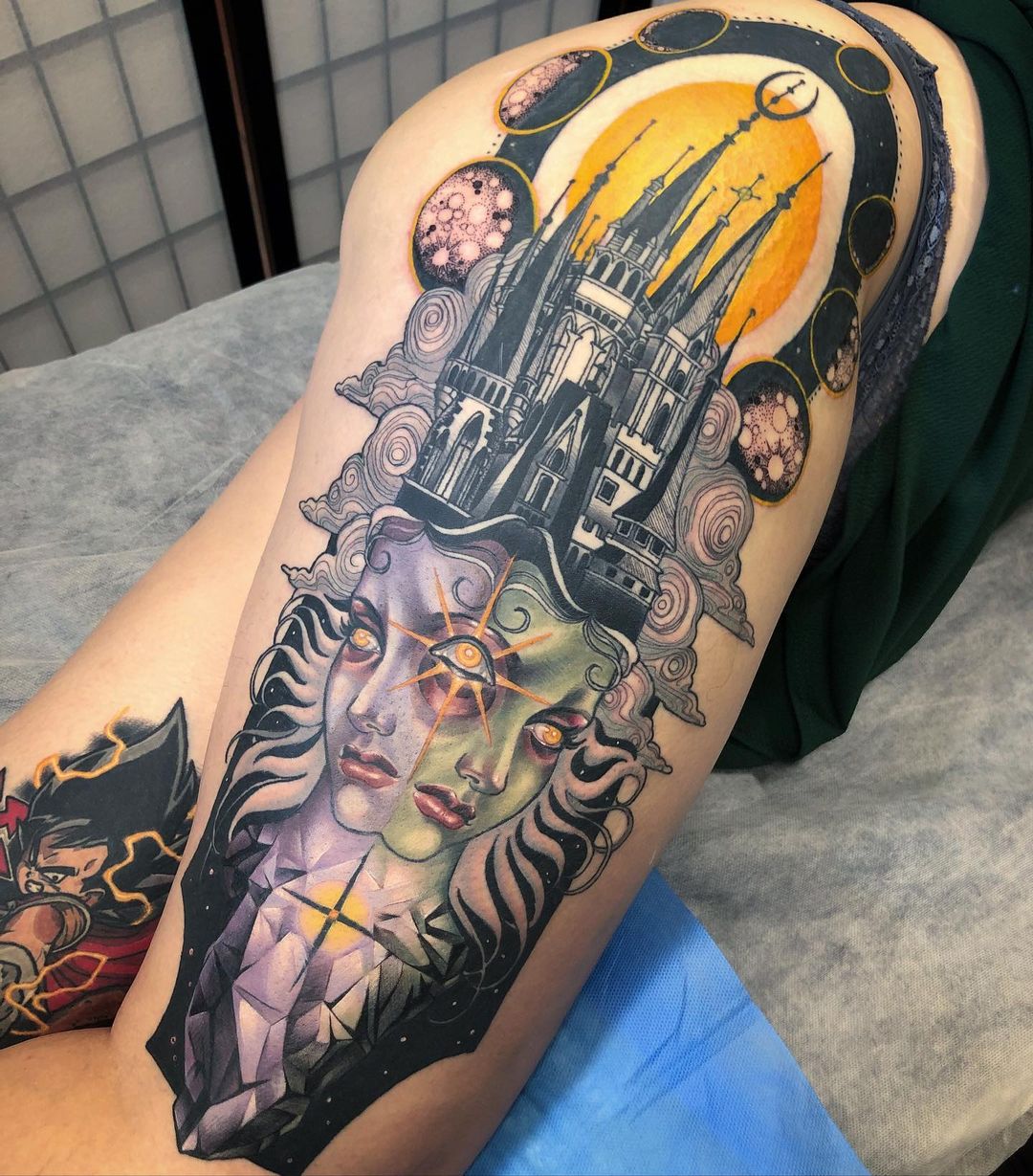 5. Realistic and fantasy tattoo
Another bold and, this time, colorful tattoo is this one.
The tattoo artist who did this spectacular design is Kat Abdy, she usually tattoo in United Kingdom, and we do love her style.
It's something like a mix between realistic style, with a lot of color and some fantasy inside, sometimes with surrealistic style, and with a lot of personality.
And the last point is The Point: Personality and ultra-high quality.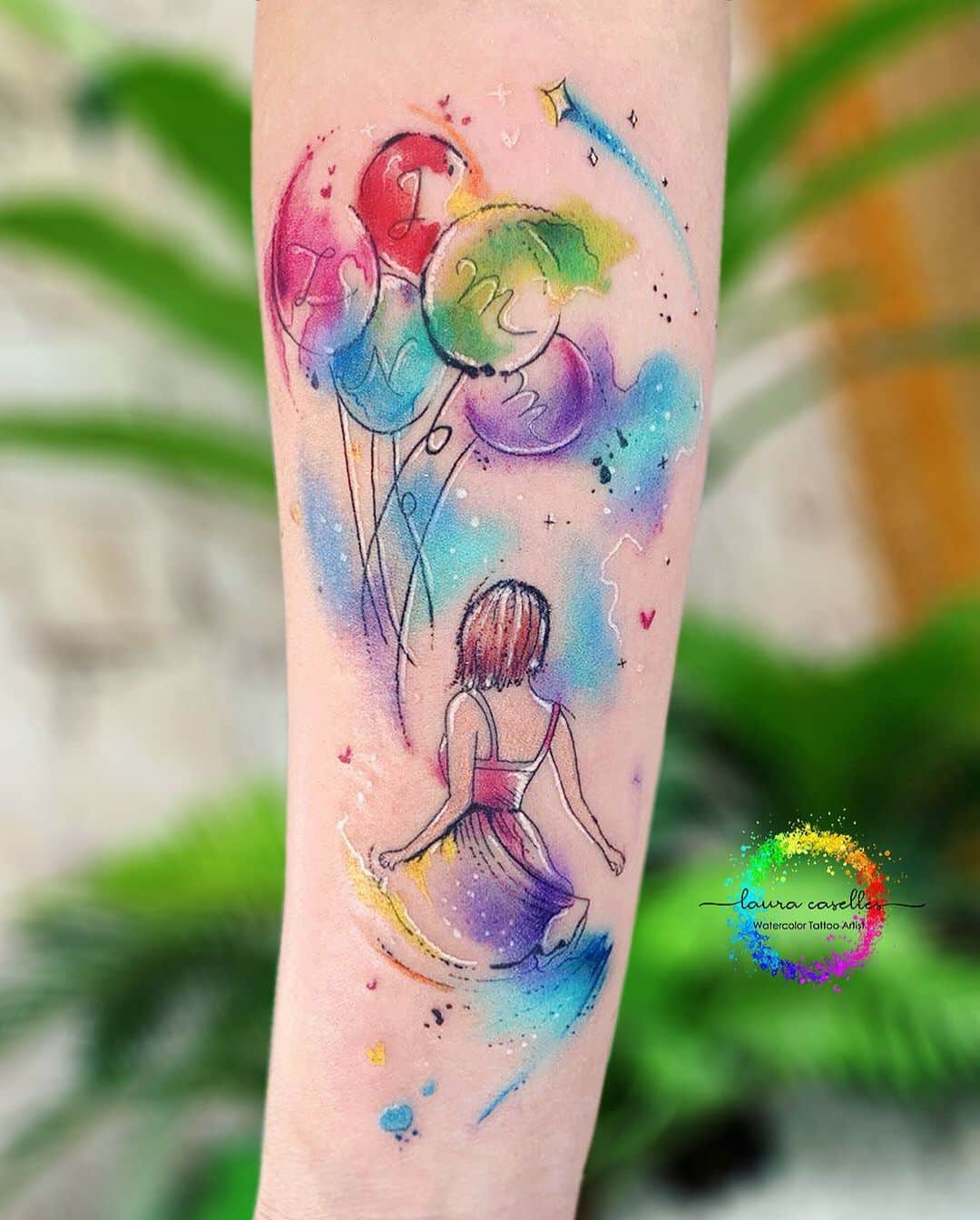 Another great tattoo style, very bold and remarkable is watercolor tattoo.
This tattoo is made by Laura Caselles, a woman tattoo artist with her tattoo studio near Madrid, Spain.
You can see here a woman with some balloons and a personal story, but Laura has a lot of amazing designs, all made with watercolor technique, and she is really good at this.
So, if you are looking for something to be the center of attention, and you like bright and color, please consider this kind of tattoos!
7. Brush Stokes abstract tattoo
Maybe you don't know about abstract tattoo styles and, being more specific, the brush stokes one.
For us, brush stokes tattoo style is something we do like, because it's like transforming your skin into a canvas.
The point here is this kind of tattoos are more complex that you think and, for having a perfect result, you need to be with a true professional of this style.
This tattoo is made by Saskia Kafkova, a tattoo artist from Czech Republic, and we do like her style!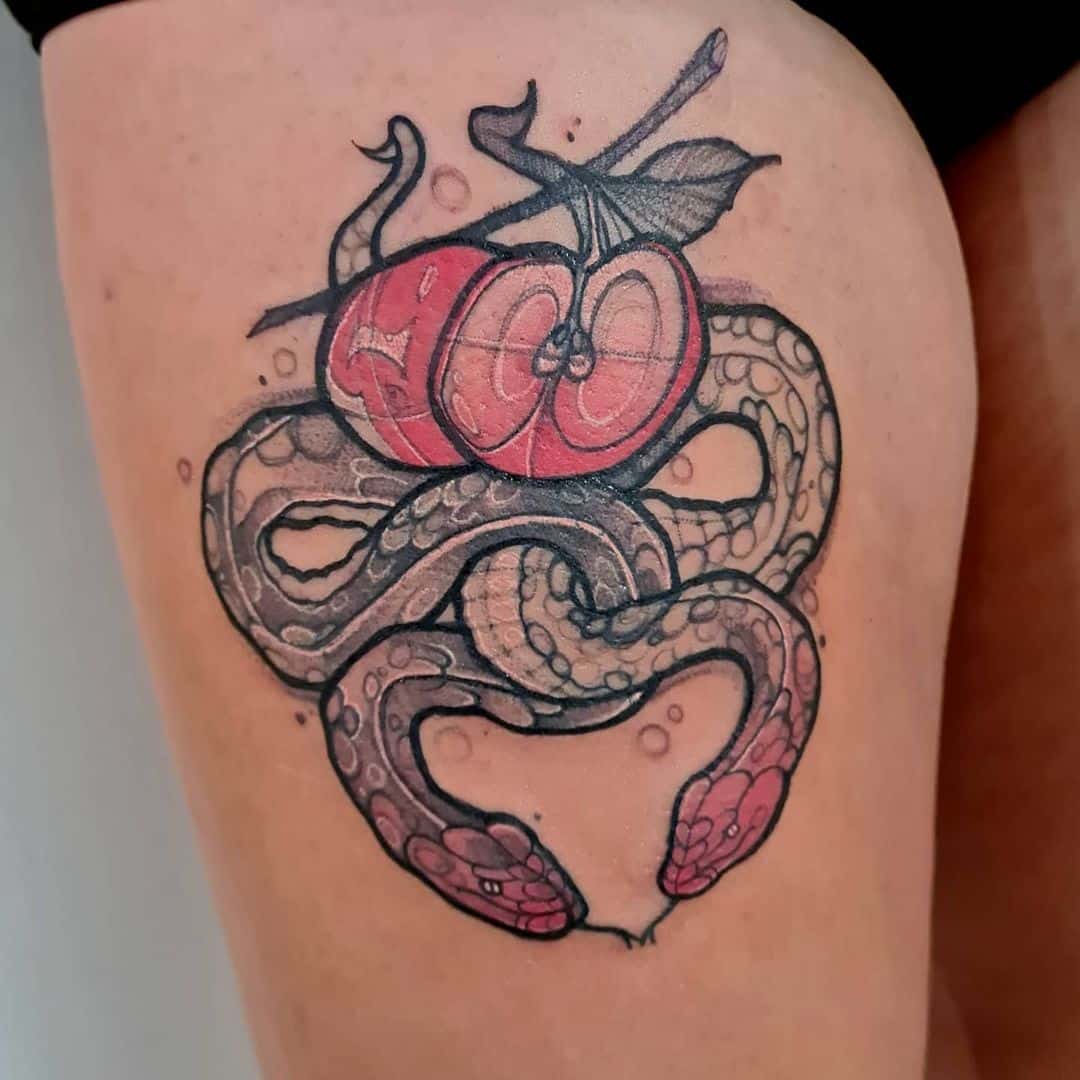 8. Sketch Science Tree Tattoo
Here you can find another tattoo with a lot of personality.
You can see two snakes and an apple in two parts, and you know it's related with the Catholicism story about Eva, Adan, the Science Tree and all this stuff.
The tattoo itself is made by Sara Derbis, tattoo artist from Częstochowa, in Poland, and we do like it because a lot of things.
The most important ones could be the mix between the sketch style with comic aesthetic and the colors.
Sara has a lot of nice works on her portfolio!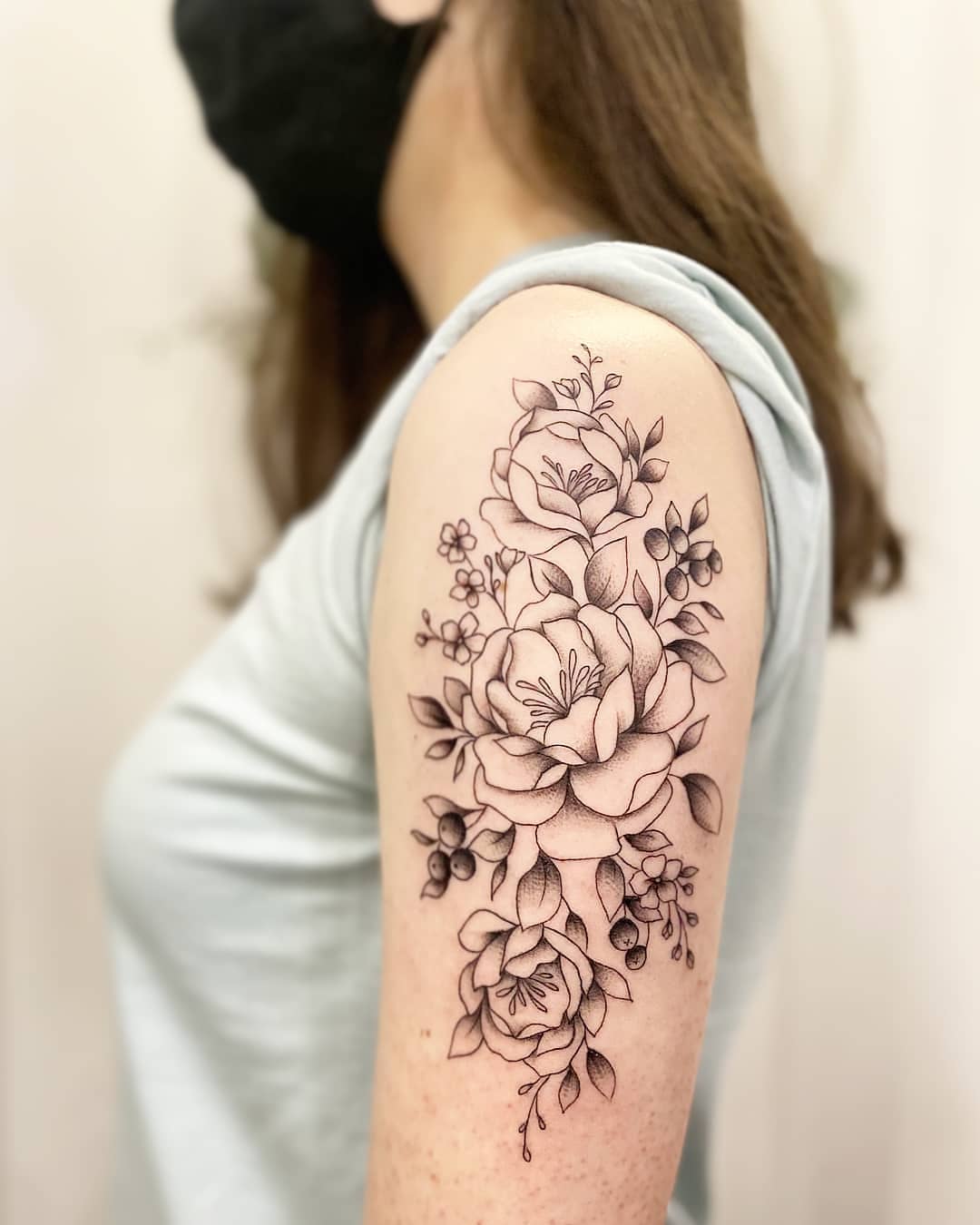 9. Peonies/Flowers Tattoo
In the number nine of this list, you can find this peonies tattoo from our beloved Jamie Kan, from Vancouver, Canada (if you want to read her interview at Ink Happened, just click here).
Perfect flowers are a thing, the have to seem organic and harmonic, and you need a tattoo artist with the proper technique to have the perfect result.
This tattoo from Jamie Kan is just a probe of it, but you have a lot more on her Instagram profile, always fineline ones, and I'm sure you are going to love them!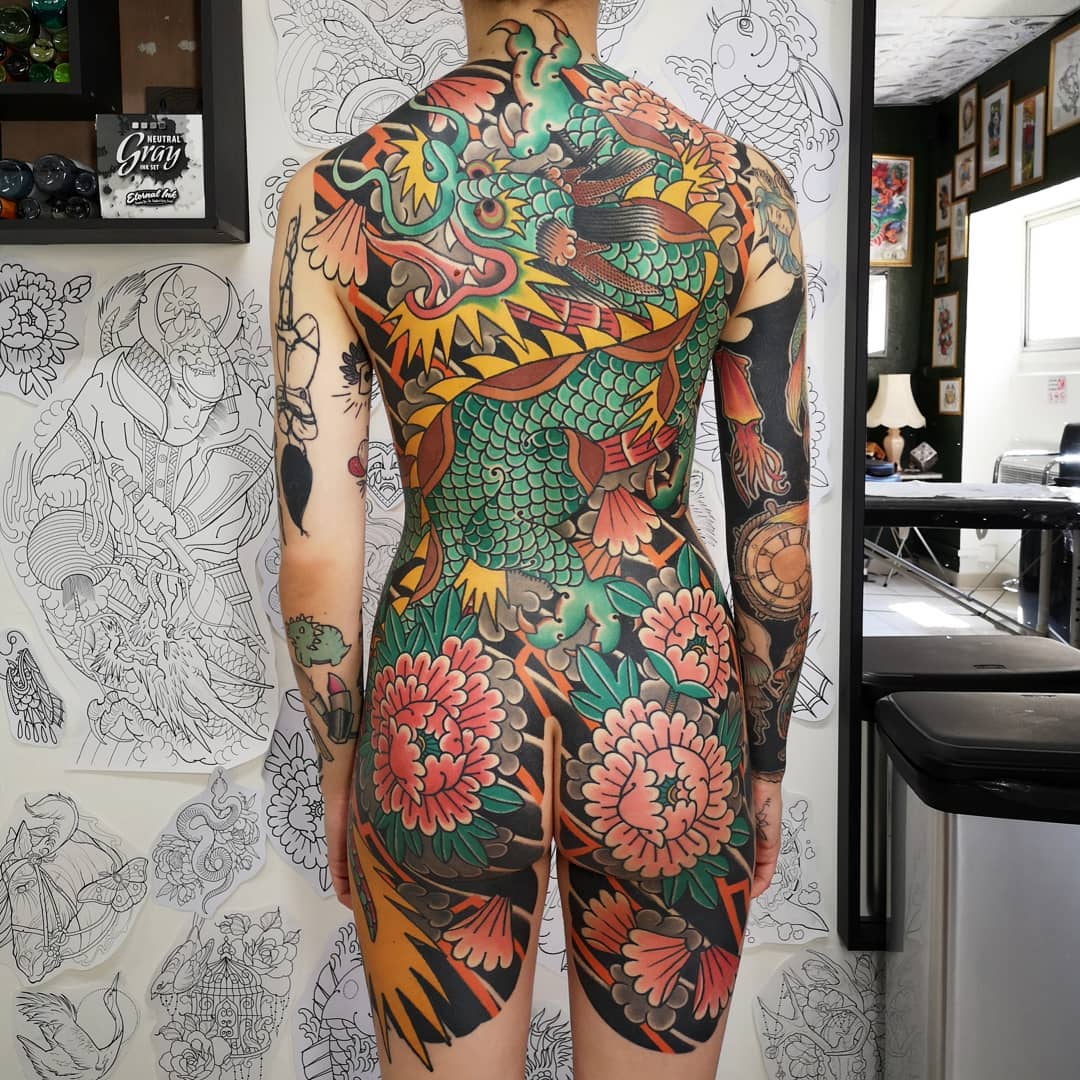 Irezumi, or traditional Japanese style is another of our favorite arts inside the tattoo styles.
This is an example of a huge Irezumi tattoo on a entire back, so you can see this style in all its glory.
Irezumi tattoos are usually big size, with a lot of colors, intricate designs and, of course, with a lot of imaginary of traditional Japanese, their legends, mythology, etc.
They are not for everyone, but we can say traditional Japanese tattoo is something remarkable.
This tattoo is made by Ghis Melou, owner of Half Wolf Tattoo in Montepellier, France, and we do appreciate his art!
As you can see, there are no tattoos for women, they are just tattoo that match your interests, taste, or vital moment in your life.
That's all!