We want to introduce you to a fascinating world: The blastover one!
Yes, blast over tattoo style and, because of this, we want to tell you more on this guide.
But, we want to keep it simple so, on this guide, we want to show you:
What is a Blast Over Tattoo
Blastover tattoos are inside the Cover tattoos, but they have something special and unique.
Yes, you know, a cover tattoo is just covering a tattoo with another one.
Usually the previous one is not good enough or you just do not want to see it anymore, so you get inked with something bigger and darker.
Well, with a Blast Over Tattoo you want to cover another tattoo, but only partially.
Not always, but usually the two tattoos have no correlation and one can have a colorful tattoo and get inked with a black thick line tattoo above that.
This mix usually has a little weird and very eye-catching finish, as you can see in the examples on this list.
Some Blastover Tattoos for your inspiration
Yes, here we go with the list: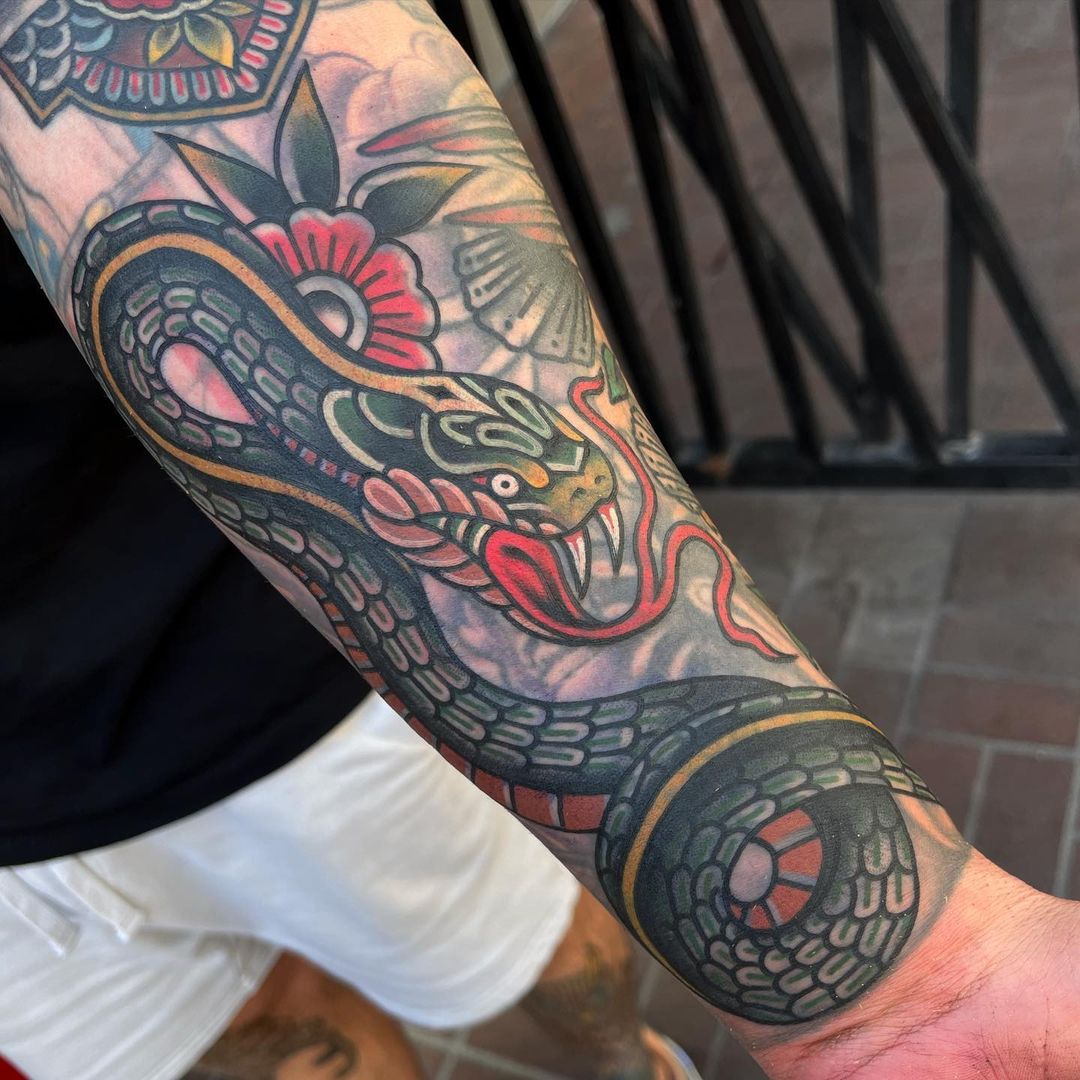 For the first example we want to show you something "classical" (in blast over, of course) and perfectly done.
As you can see, this snake tattoo in an American Traditional Tattoo style is covering another one, so the final effect is mesmerizing.
This tattoo is done by Phil Hatchet, a fantastic tattoo artist working at Tahiti Felix's Master Tattoo, in San Diego, California.
Another perfect example.
As you can see, there are some colorful previous design, in something like a graffiti color palette.
After that, a spectacular monkey tattoo with thick lines and very expressive.
And, if you combine both, you must finish staring at it.
This perfect work is done by Ulises Malave, another fantastic tattoo artist working in Venezuela and Panama.
Geometric Arm Sleeve Blast Over Tattoo
Blast Over possibilities are very, very large, as you can see here.
Before the blastover, you can see something like a nice ornamental tattoo, and then, a geometric one with a lot of black ink, but very delicate.
This artwork is done by Francesco Capro, a wonderful tattoo artist focused on geometry, as you may imagine, working at 1770 Tattoo in Brighton, and Seven Doors Tattoo, in London, both in the UK.
Iron Maiden Blastover Tattoo
Yes, this is an Iron Maiden tattoo but not for the metal band one, just the concept 😛
As you can see, there were some older designs of a tribal tattoo and, after, the Iron Maiden from the medieval times with a nice linework and a very ancient style.
We do love it.
This tattoo is done by Michelle Schmitt, a wonderful woman tattoo artist with a very special personal brand on her designs.
Another classical and amazing example for you.
As you can see, this is a demon tattoo in a traditional way, black inked, just up a very color old design, and the mix works perfectly.
This tattoo is done by E. J. Wiesinger, owner and tattooer at Bicycle Tattoo & Piercing, in South Bend, Indiana.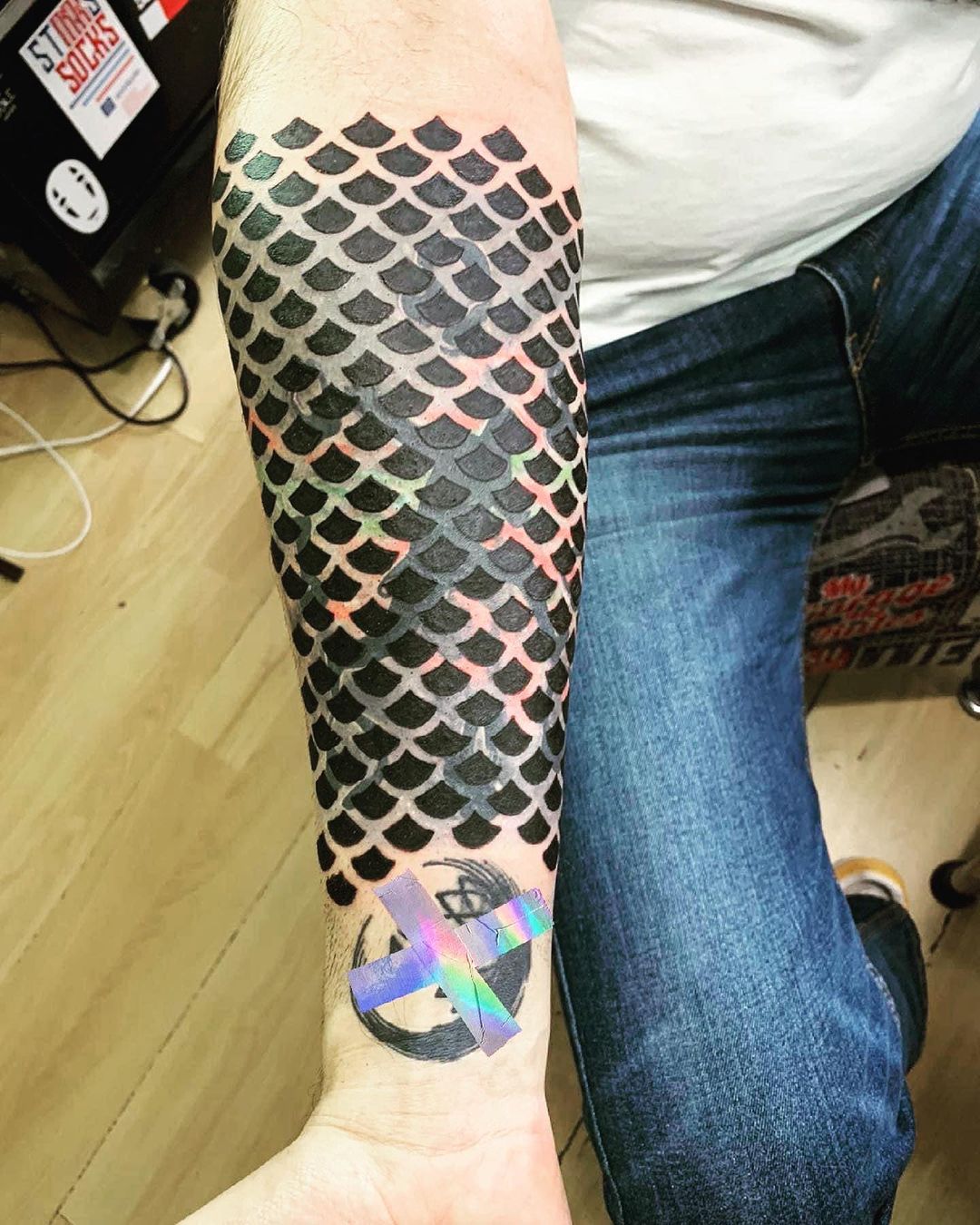 Fish Scales Blastover Tattoo
Yes, in the beginning this is a nice classical blastover tattoo, because you have the colorful old tattoo, and then, a new one in black ink.
But we fell in love with this fish scales design, giving the composition a lot of harmony and power.
This tattoo is done by Pussy Kat Tattoo Studio, nice work there!
What if you want to have a dragon tattoo covering an old one?
Don't worry, the final result is fantastic, isn't it?
As you can see, there are some lettering and old tattoos just below this Japanese Dragon tattoo.
This artwork is done by Luke Robinson, another very nice tattoo artist, this time, working at The Tatt Shop Northbridge, in Perth, Australia.
Another nice and classical example is this arm tattoo.
Is as simple as a rose tattoo covering some black and gray ink tattoo, but the result is perfect, we do love it.
We do love the red color option and the linework, nice work!
This tattoo is done by Dominic Dafoe, a tattoo artist focused on traditional tattoo working at Studio Sans Regret Tatouage, in Montréal, Canada.
Geometric Blackwork Blast Over Tattoo
Maybe the boldest and largest design of this list.
As you can see, it is an organic geometric tattoo with a lot of blackwork for a complete arm sleeve, covering a lot of tattoos below it.
We can say we are in love with the final result.
This tattoo is done by Darkgennesis, a wonderful tattoo artist from Mexico focused on black ink bold tattoos.
Another nice example of a perfect work, a little creepy and fantastic.
This time is a very large skull tattoo with some leafless trees covering a colorful design, and we can say the composition is much better this way.
This tattoo is done by Fabio Baldi Tattoos, working at ABnormal Tattoo, in Firenze, Italy.
We do hope you have enjoyed this list about blast over tattoos!