Centipede Tattoo: The ultimate guide!
Centipedes are not for all people. We know it and we love the special things, and, moreover, the special animals.
Yes, centipedes are insects, are creepy and odd… and they are fantastic creatures too.
And, for this, we want to tell you more about getting a centipede tattoo, because we know it is not easy.
Hyper Realist Centipede Tattoo
Here you can see something like an standar centipede tattoo.
We say it's standar because of the size and the placement (these kinds of tattoos are usually in arms and legs because of their shape).
But, if we see the art, this tattoo is not an standard at all! This is a fantastic job of a wonderful tattoo artist like Kemo, from South Korea.
You should follow this Instagram account, because the work is awesome.
Something more about centipedes
We love insects, it's like a devotion.
Centipedes are living in the entire globe, from the warmest places in the ecuador to the Arctic Circle and there are more than 8.000 different species.
Yes, it is a wow! itself.
There are some more fun facts about centipedes we want to tell you, like:
Fun fact: Difference between centipedes and millipedes
Yes, that is true:
The difference between centipedes and millipedes are not the size or the number of feets. Not at all! Centipedes have 1 pair of legs per section, and millipedes have 2 pairs per section.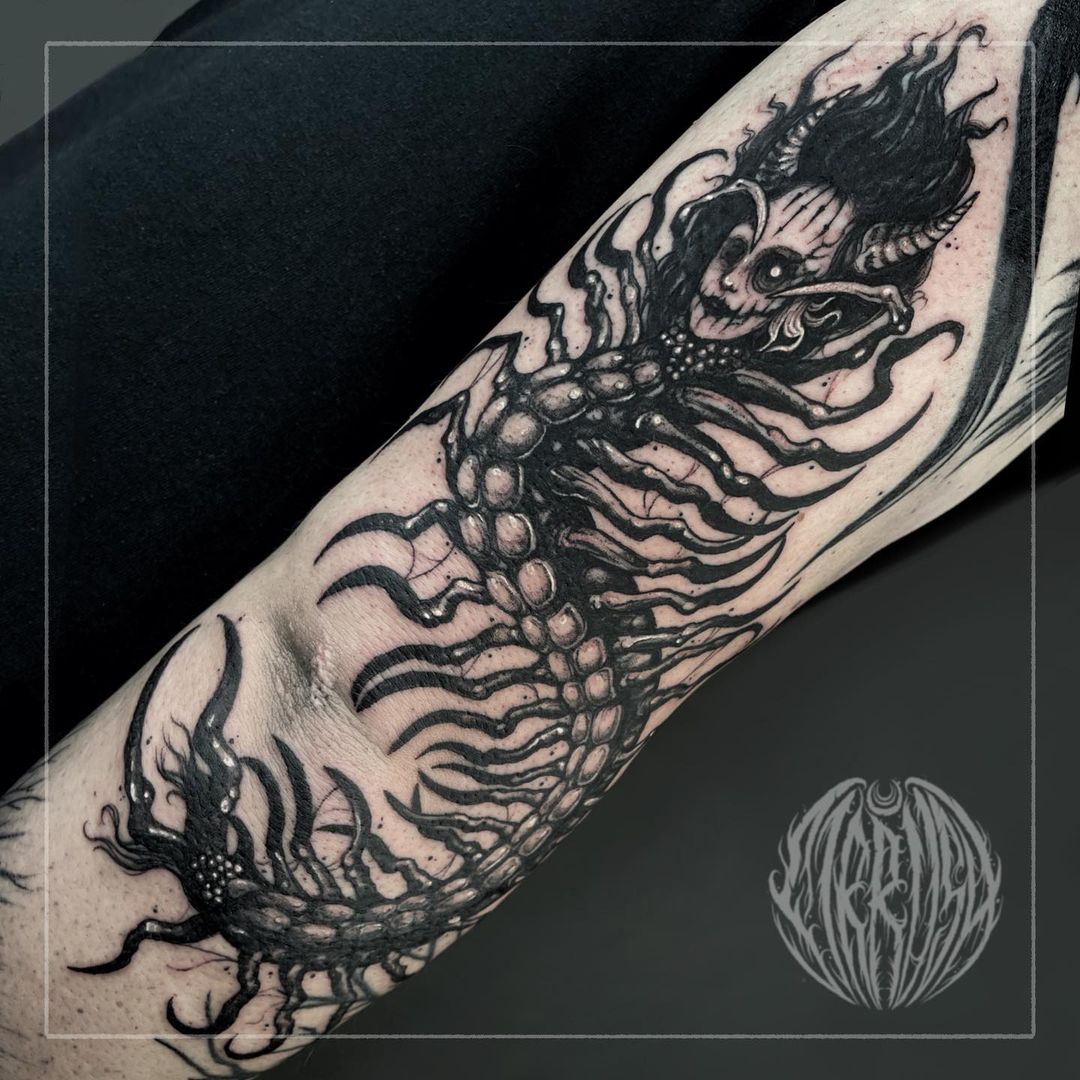 Centipede Tattoo with woman head
Another nice example, this time creepier and darker, is this fantastic artwork.
Here you can see another centipede tattoo design, but this time with a woman head instead of the centipede one.
This dark fantasy is common in centipede tattoos, moreover, with this dark design.
The artwork is made by Catherine Daillet, from Belgium, and she is a fantastic tattoo artist you must follow right now!
More about Centipedes meaning
We know most of you choose a tattoo design because of their meaning, and here you can find some meanings about centipedes so you can know if it matches with you.
Some main meanings about Centipedes tattoos are: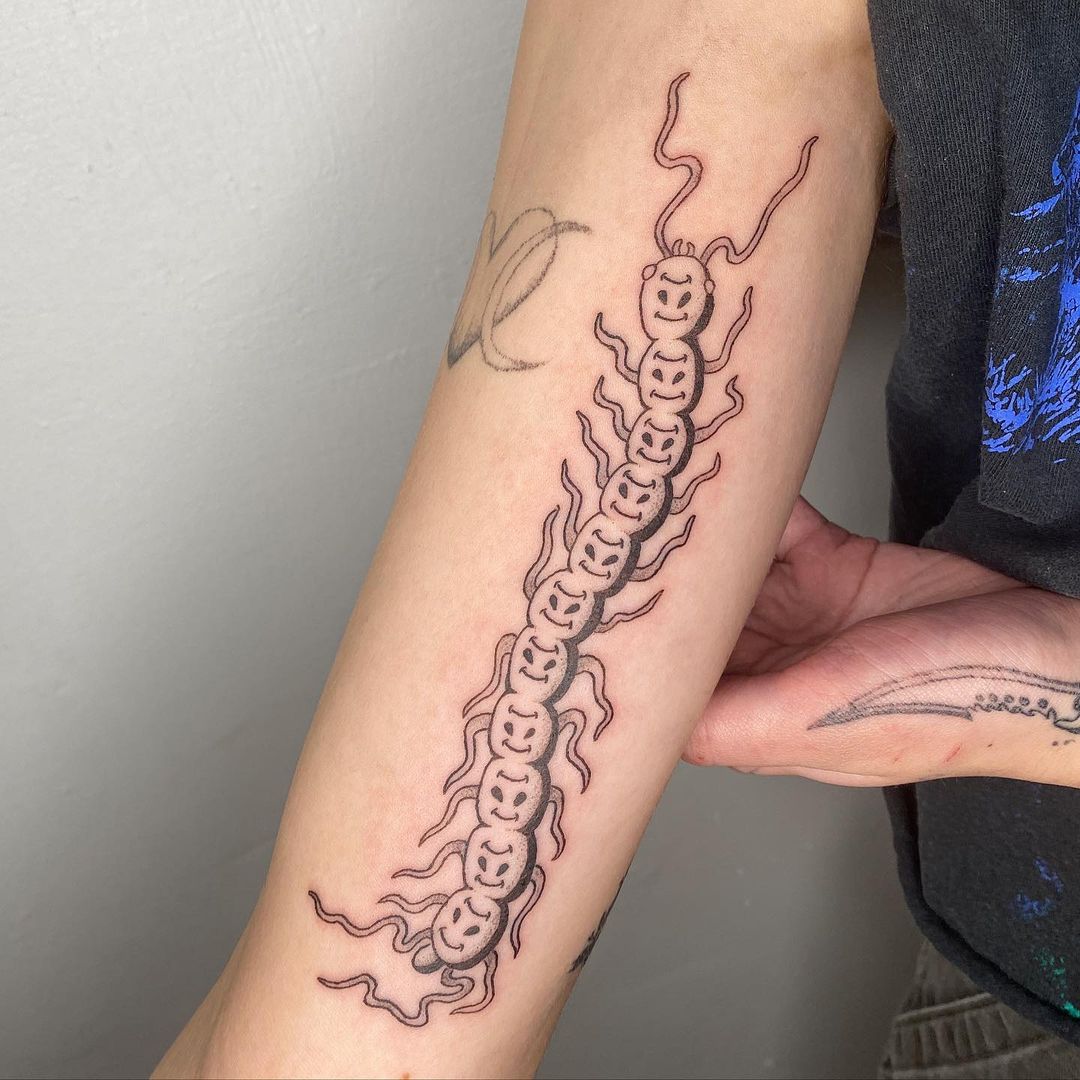 Happy/Sad Centipede Tattoo
Now, another thing completely different.
We move away from the creepy thing and move on into something more happy… or not.
This design of a centipede tattoo in an arm is simpler and the point of  this tattoo is the following:
It depends on the way you look at it, it seems the centipede is happy or sad.
You know, if you imagine the animal crawling forward, it's happy. Moving back, it's sad.
Nice point, isn't it?
This tattoo is made by Michael Guirato, from New York City, in the US.
About Centipedes Spiritual Meaning
But, if you think about the animal itself, you can see some different meanings, for example:
Some Centipedes tattoo designs
And now, here you can find a lot of different centipede tattoos so you can get inspired!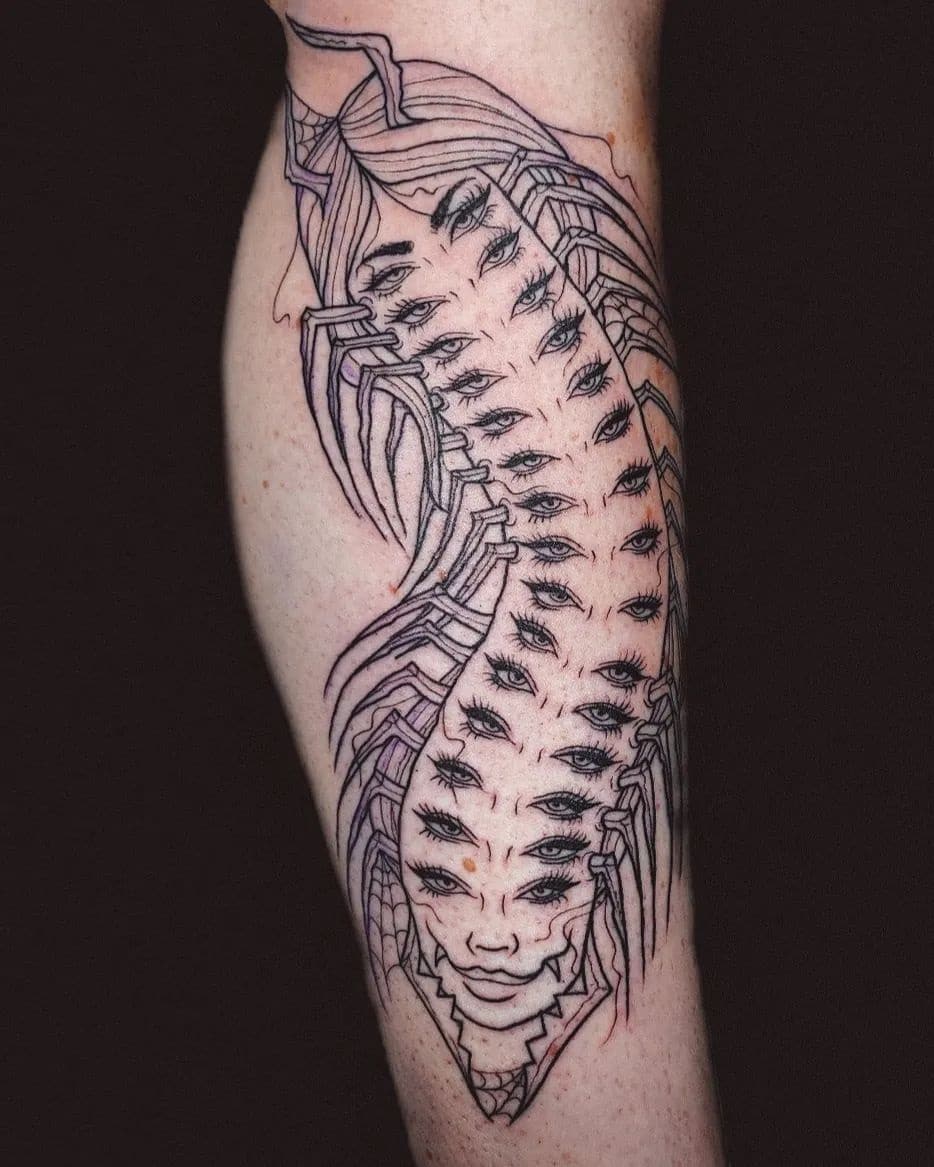 Centipede Tattoo with woman eyes
Another sub-trend, this time in centipede tattoo designs, is to have a pattern for each part of the body of the animal itself.
One of the main ones is to repeat human eyes (or faces), like you can see this time.
This tattoo is a mix of styles, but mainly we can say it is in Neo Traditional style with this woman's eyes repeating.
And we love the result.
About the artist: This tattoo is made by Trinitey, a fantastic tattoo artist from Pennsylvania, in the US. She has a lot of awesomes tattoos in different styles, so go ahead and take a look!
Centipede Tattoo cartoon style
Another example of centipede tattoo with a lot of faces or eyes inside the design is this one.
Yes, it's analog to the last one we show you, but with a touch of cartoon style that gives this centipede tattoo something you want to hug a little
This tattoo is made by Kassunguilaa, a woman tattoo apprentice from Mexico D.F.
Yes, she is an apprentice but she does have her own mark with these nice faces with the red dots, and we think it's fantastic.
Nice work!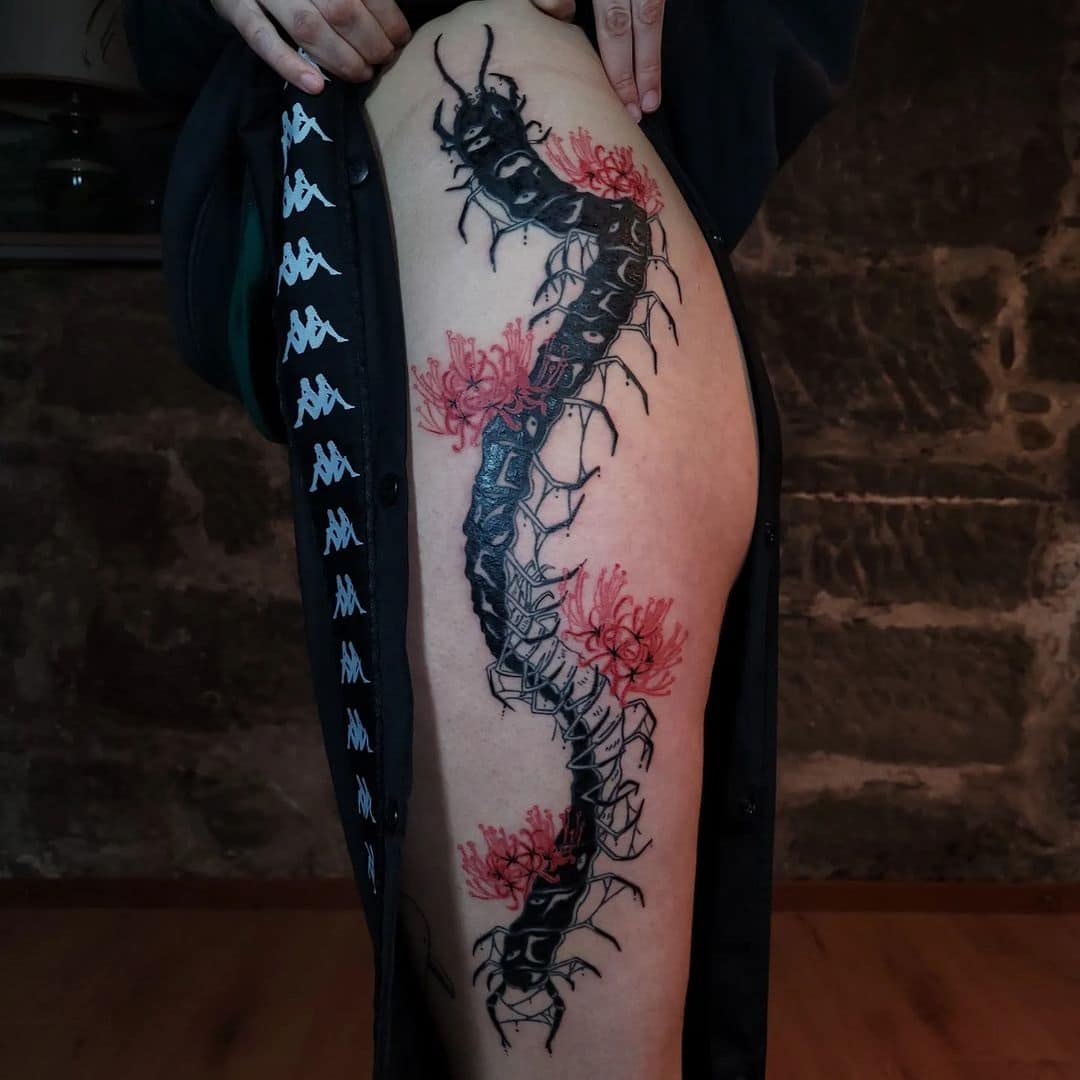 And now, let us go back to more traditional centipedes tattoos like this one.
Yes, this one is really big, a tattoo on the entire leg from up to down, and this is always a very bold thing.
We do like the way it's done and the color touches with the flowers in red, that is a good point!
This tattoo is made by Billy the Big, another tattoo apprentice, this time from France.
Hello Kitty Centipede Tattoo
Yes, a weird and lovely point to mix a centipede tattoo with Hello Kitty, isn't it!
We do love this kind of mixup, especially when you can give some sense to a weird stuff like this, and with an amazing result.
This tattoo is made by Snowflake, from Melbourne, in Australia.
She has a lot of these dark designs mixed with something, and a lot of dark fantasies, so you should go to her Instagram account to see more.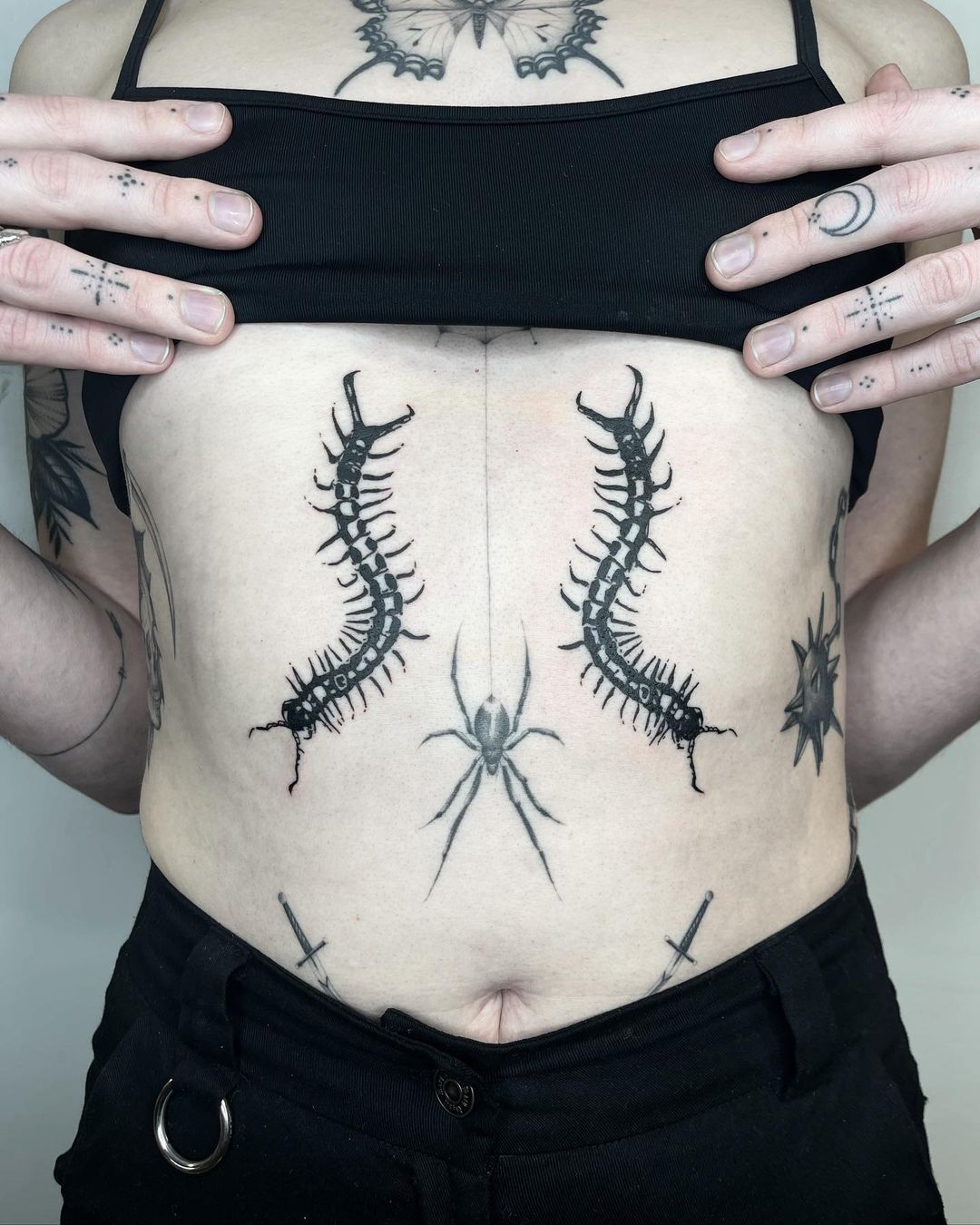 Two Centipede Belly Tattoo
We selected this one not only because of the design, but because of the placement too.
As you can see, you can have some centipedes inked in the belly with a fantastic result.
This time, a symmetric two centipedes with a simple design but with tons of harmony is enough to make the point.
And we celebrate that!
The tattoo is made by The Dutch Punisher, a tattoo artist from London but with some guest spots in Europe.
Centipede and cartoon tattoo
What if we mix a cartoon character inked with a realistic centipede?
Well, the composition itself it's very eye-catching, isn't it?
We love the mix between the color of the cartoon and the blackwork of the centipede tattoo, with a lot of symbolism and a touch of humor.
The tattoo is made by Ape Ink Studio, from Korea, and they have a lot of fantastic tattoos on their Instagram account.
Just go for it!
Centipede love and color tattoo
Isn't it the most lovely centipede you have never seen?
Ok, that is the point.
This centipede design is another thing, something unique and special, with a lot of color and hearts with an amazing design and a lovely work from the tattoo artist.
So, the result is something unique you can be proud of.
The tattoo is made by Butterflies Blood, she works at Beloved Tattoo, at Denver, in the US and, as you can see, she is a glitter specialist!
Centipede Entire Arm Tattoo
When we think about a bold tattoo, this kind of design is what we have in our minds.
As you can see, a traditional centipede tattoo has a fantastic finish, but the design is in the entire arm, so you can show your centipede to the world!
This fantastic artwork is done by Dr. Strange, from Portland, in the US, and she does love to ink insects, so maybe she is your tattoo artist.
Japanese Centipede Tattoo
And, what do you think about this centipede tattoo in Japanese style?
Yes, it's something different, colorful and amazing, isn't it?
We know Neo Japanese tattoos are not for everybody, but that is the point, to have something you are comfortable with.
This work is done by Matthew Clarke, from Empire Tattoo and, as you can see on this work, he has a special style.
Some FAQs about Centipede Tattoos
We hope this guide will let you choose one centipede tattoo for yourself.
Just leave us a comment to let us know what you think about it!