Hydrangea Tattoo: The ultimate guide
You will agree with me if I tell you that the Hydrangea, although it has a strange name, is a super nice flower to tattoo anywhere on the body.
But, in addition, the Hygrangea has a lot of different meanings and styles in which it can be done, which makes it a very clear trend in the tattoo world.
For this reason, in today's post we are going to tell you about it:
Sounds good, doesn't it?
Well, let's get to it.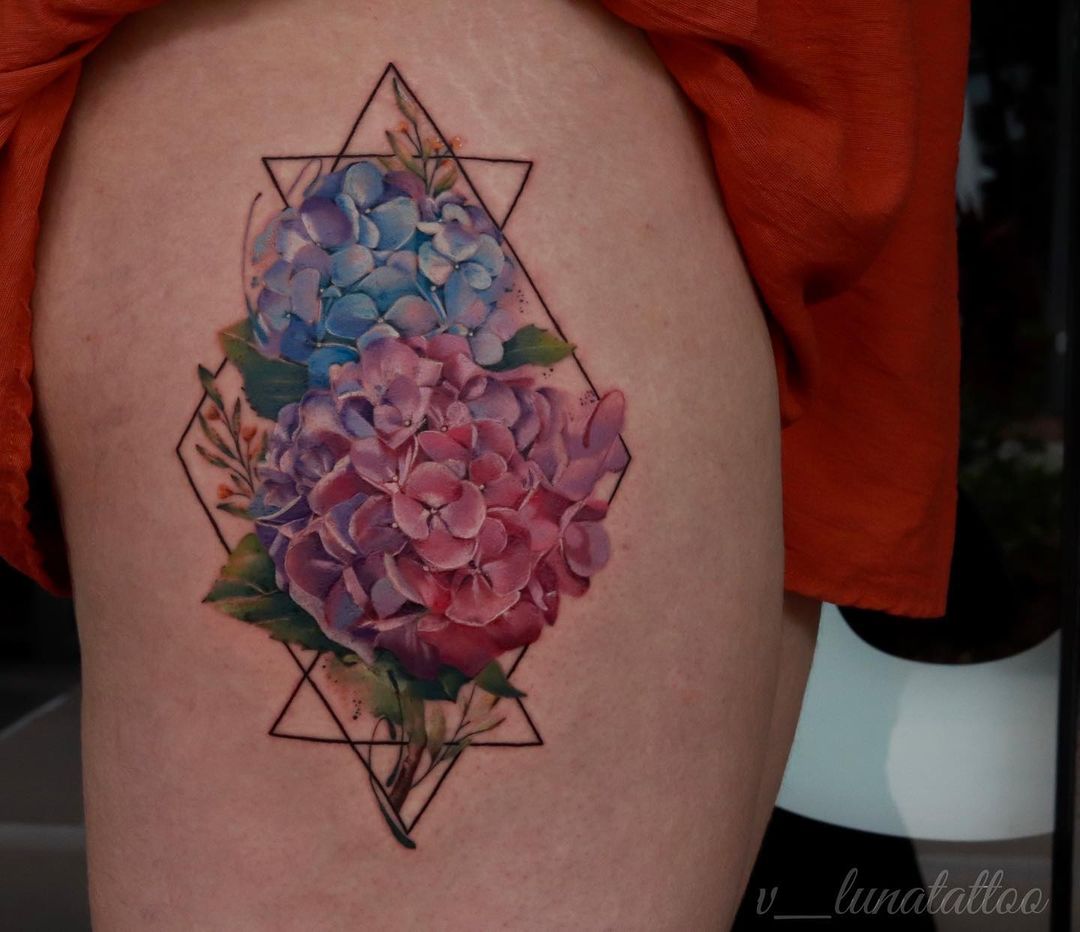 The first Hydrangea Tattoo
Here you can see the first example of a hydrangea tattoo.
In this case it is in a hyper realistic style with a bit of geometry in the back.
The design is made by Vanessa Mross, a wonderful tattoo artist from Australia, owner of Dusk and Moon Studio.
She has a lot of botanical tattoos with fantastic designs to get inspired!
What is Hydrangea and where does it come from?
Hydrangea is a plant native to Japan that, although the flower can stand alone, is usually depicted in bunches.
The plant itself is a very bushy shrub with rather small flowers but, as I said, they are presented in large blocks, which makes them very exuberant.
In addition, this plant spends much of the year asleep, so to speak, and during its flowering awakens and gives a lot of color, producing something like an explosion.
For this reason it has captivated many places, and is now common there, provided there are suitable weather conditions.
Where does the name Hydrangea come from?
The name Hydrangea comes from the Greek and is formed by joining the words Hydro (water) and Angea (vessel).
In Japan it is known as Ajisai, which could be translated as "the one that drinks water", and this will give you an idea of what are the conditions for this plant to develop well.
And yes, plenty of humidity and water and, if possible, not too strong sun and frost.
That is why, in addition to Japan, it can be seen all along the European Atlantic coast, especially in Spain and France, as well as in other parts of America.
In all the places where it occurs, it is very appreciated ornamentally.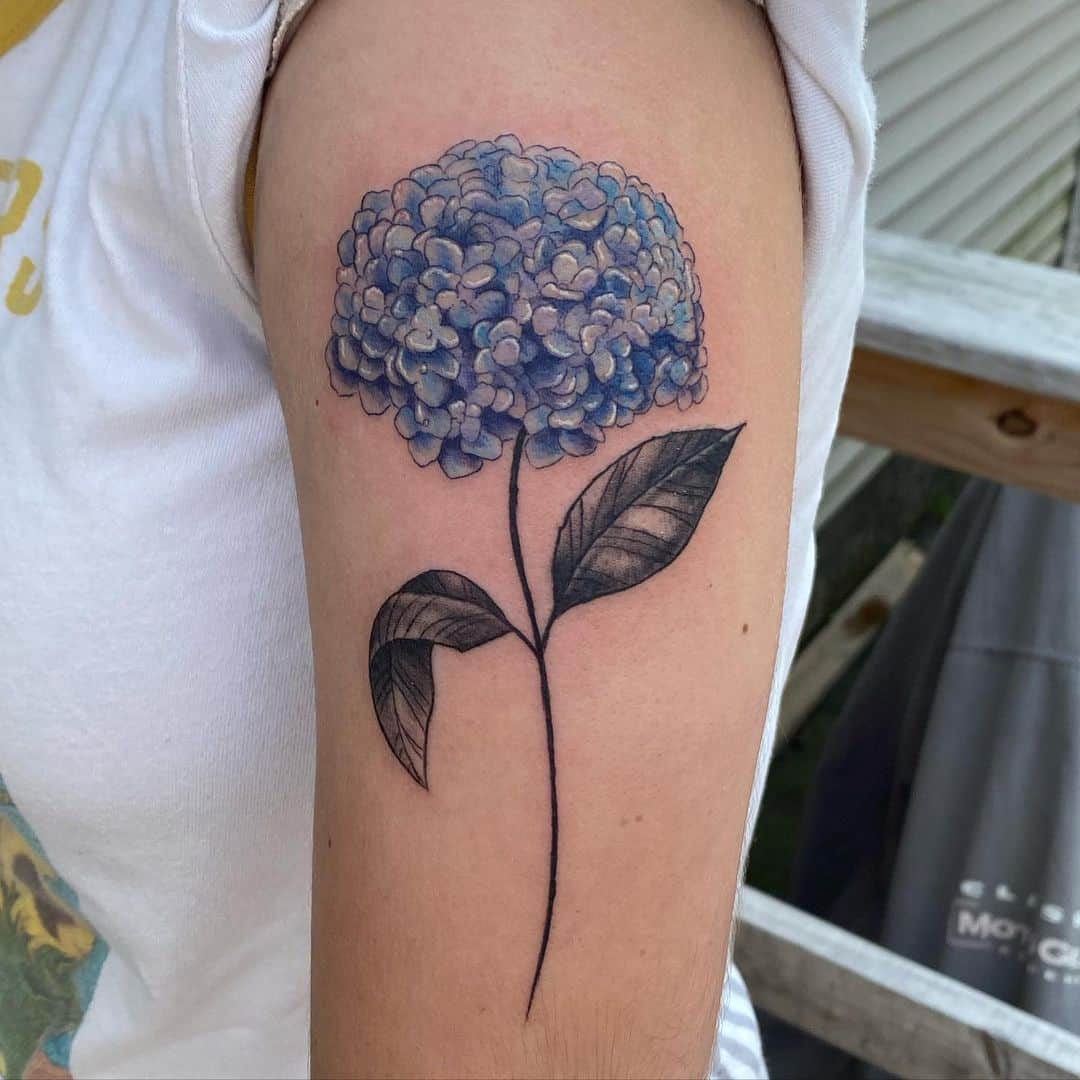 Another Hydrangea Tattoo example
In this example you can find a hydrangea tattoo in a realistic style.
As you can see, the flowers are really representative and iconic enough to perform perfectly.
This tattoo is done by Bosco Layne, from Framingham, Massachusetts, in the US.
The meaning of Hydrangea and its tattoos
Let's get into the subject, because we know that, for many of you who read us, tattoos are very ceremonial and we want to get a tattoo that we feel comfortable with.
The meaning of Hydrangea in Japan
As the flower is originally from the Japanese country, the first thing we want to tell you is the meaning in this country.
In Japan, having a Hydrangea tattoo has a positive meaning and another that we could consider negative, always from the Asian prism.
The positive meaning is that the Hydrangea in Japan means gratitude, especially to the ancestors, a figure of vital importance in Asian culture.
The negative is that it would be associated with asking for forgiveness and, to do so, you must have done something wrong before.
In general the meaning of a Hydrangea tattoo is positive, in fact, in Japan it is customary to make tea with its leaves on March 8, which is considered the birthday of Buddha, calling this tea Ama-Cha.
By affinity, the second meaning that we are going to give you about Hydrangea tattoos comes from China.
In this case, it has a very powerful and very symbolic meaning.
In China, Hydrangea means enlightenment.
But how is this possible?
In China there is a belief that, whoever stares at a blooming Hydrangea first loses your gaze and then loses your mind, reaching that state of enlightenment.
Nice, isn't it?
Black and grey Hydrangea Tattoo
Another example, this time about a different hydrangea tattoo is this one.
Here you can find a black and grey tattooed hydrangea with a whale just at its side.
Nice idea, and fantastic result.
This tattoo is done by Maroko Ueno, from Osaka, Japan.
You must follow here because she has a lot of different tattoos made in a lot of styles.
Hydrangea meaning in Europe
And finally, the meaning of Hydrangea in Europe and the United States.
This story of pretty meanings changes when we come to Europe, and Victorian society is to blame.
We don't know why, but the Victorians considered Hydrangea a negative plant, so much so that they sent it as a sign of rejection before a proposal of love.
In fact, it was said that a woman who had this plant in blue in her garden was a sign that she would never marry, you know, the offense of the time.
This meaning, of course, passed to America during the conquest, although the good part is that the Victorian passed, and that meaning was lost.
Other very important meanings of Hydrangea tattoos
And now, we tell you some other current universal meanings of these tattoos.
The first one would be to show you as a person who is present with emotions, lives happy with it and shows it without shame, which makes an ideal tattoo to represent the new masculinities that are so lacking.
The second one speaks of being a person who follows his instincts and trusts them, sometimes with some other element to enhance this.
The negative part (sometimes) of the universal meanings of Hydrangea is that it is also related to vanity and pride, because it is such an exuberant plant.
It is complicated to have all the meanings fulfilled in you, so if it works for one or two, that's enough.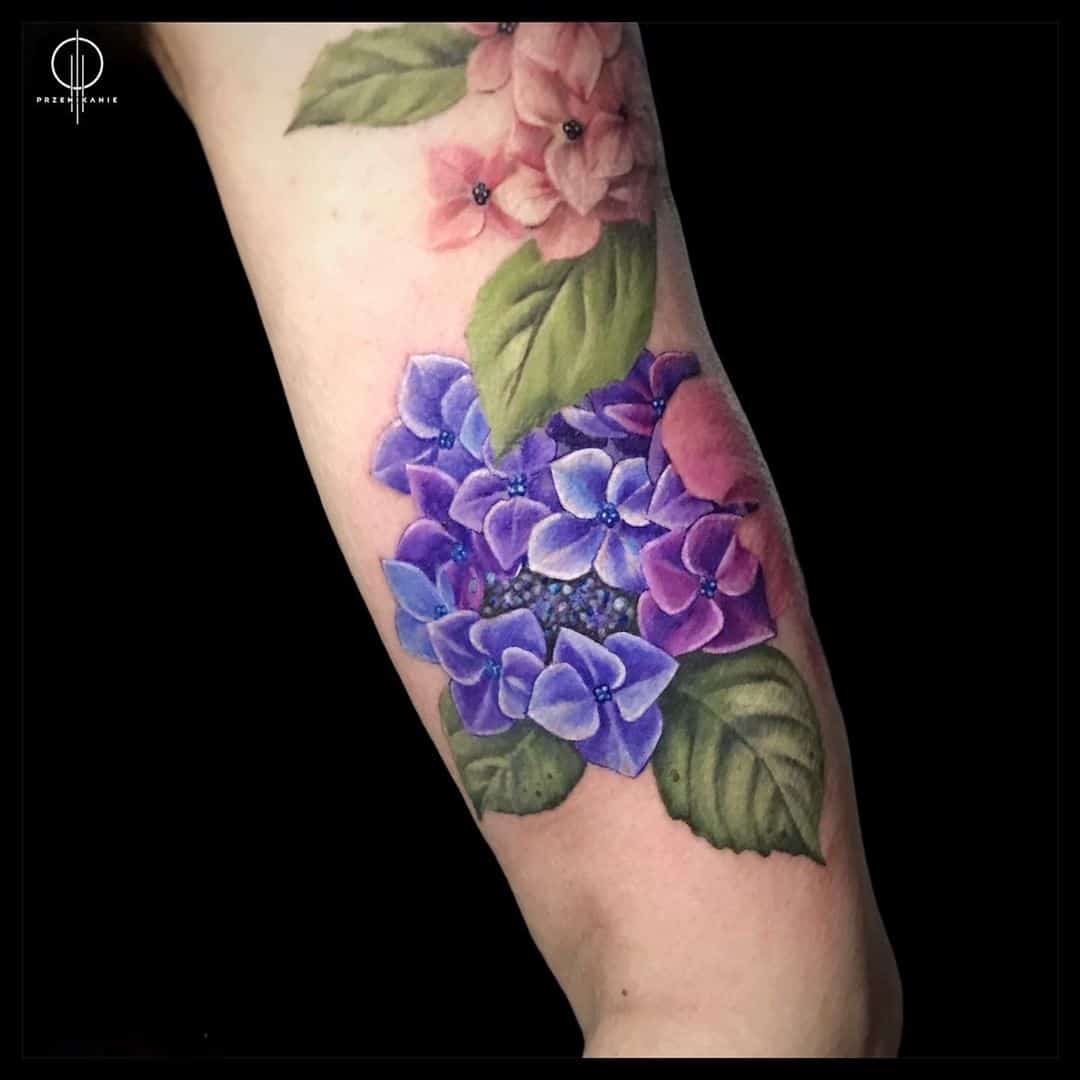 Realistic Hydrangea Tattoo no buckets
As we told you, Hydrangea in nature is a flower made of buckets.
But, on your tattoo, it can be whatever you want.
For this, we want to share with you this tattoo design about Hydrangea as simple flowers.
We do love the tattoo itself, it's made with a perfect technique, very eye catching.
The tattoo is made by 77 Ink Tattoo, in Poland.
About the designs in Hydrangea tattoos
As we told you above, the most normal design is not a single flower, instead, bouquets are usually represented, the designs do not necessarily have to be large and sometimes a single flower is chosen, but it is not the norm.
This is because the flower is represented with large bouquets of flowers, but as I say, the rules are there to be skipped.
Important Point:
To find a tattoo artist who is good at doing flowers, and more so here, color is something important.
To get something beautiful tattooing these flowers is complicated, so put yourself in the hands of a real professional in the field.
As for the place, nowadays it is very common to see this type of tattoos almost anywhere on the body, so it depends more on your preferences than anything else.
It is true that on arms or on the shoulder area they look great, but there are creative designs that can be used for legs, chest or the whole back, and I am sure you will find what you like thanks to the examples we are going to give you.
You will probably have to adapt the design once you choose the part of the body, but it is not a problem.
Meaning of Hydrangea tattoos according to the color of its flowers
In nature these flowers occur white, blue, pink and purple (in two tones, lighter and darker), depending on the acidity of the soil, and can have different meanings according to each of them:
Something nice:
Another very nice thing about this flower is that in nature it sometimes shows flowers in two tones, so you can make very cool compositions thanks to gradients or that the bouquet is of two colors, usually divided into top and bottom.
Examples of Hydrangea tattoo in different styles.
As you can see, you have a whole world to choose from in the case of this flower, but we want to give you even more designs, here we go!
Black and grey Hydrangea shoulder tattoo
We do love this example because several things:
The first, Hydrangea tattoo tends to be a female tattoo but, on this case, is done on a man's shoulder, and we think that's fantastic.
Then, is a black and grey tattoo about a flower with powerful colors.
Instead of giving the flower all the main part of the design, here the leaves make the point.
The design is perfectly done.
So, you can see here a perfect tattoo, made by Sydney Grubb, from Ohio, in the US.
Hydrangea and heart tattoo
Here you can find a splendid tattoo about some Hydrangeas and something more.
In this case, the Hydrangea flower buckets seem to rise from the heart.
We do love the contrast made by the hearth, in black and grey, and the Hydrangea flowers, in red and some orange.
This fantastic piece of work is done by IV Tattooist, from Taiwan, in China.
Hydrangea and skull tattoo
Another fantastic example of how we can do more with Hydrangea is this fantastic tattoo.
Here is mixed the harmonic of a blooming Hydrangea with a snake skull and skeleton rising through the flower bucket.
Yes, and, the composition itself can breath truth and good taste.
Not bad, isn't it?
This piece of work is done by Cindy Lee, from Toronto, in Canada.
Hydrangea ornamental flower
But Hydrangea can be delicate too.
Of course, it's just a nice flower!
Here an example about a minimal ornamental Hydrangea tattoo.
You can feel the flowers and the good work of the tattoo artist on this piece of work, and we do congratulate her for that!
This tattoo is done by Anaïs Seasun, and you should follow her right now!
Hydrangea minimal (and realistic) tattoo
Another delicate one, and made with tons of love and the perfect technique.
Here you can see a very little tattoo (in size) but in a hyper realistic style.
This kind of tattoo are really difficult but, as you can see, this is a piece of work.
The tattoo is made by Haeny Tattoo, from Korea.
Hydrangea and watering can
We told you in the introduction of this guide that Hydrangea in Japan is "the plant who drinks water", and we think this tattoo is the perfect example for  this.
The tattoo itself is done in black and grey ink, realistic style with a bit of cartoon, making the composition very vintage.
A fantastic work!
This tattoo is done by Alex, co-owner of Umbrella Twenty Two, from Germany (we think).
Hydrangea huge and beautiful tattoo
Small tattoos are fine and they have them point, but we do prefer big ones.
And this work is just awesome, not only for the size, but for the finish the artist gets with that.
Just amazing.
This espectacular Hydrangea realistic tattoo is made by Maria Grazia Tolino, from Italy, and you should follow her right now!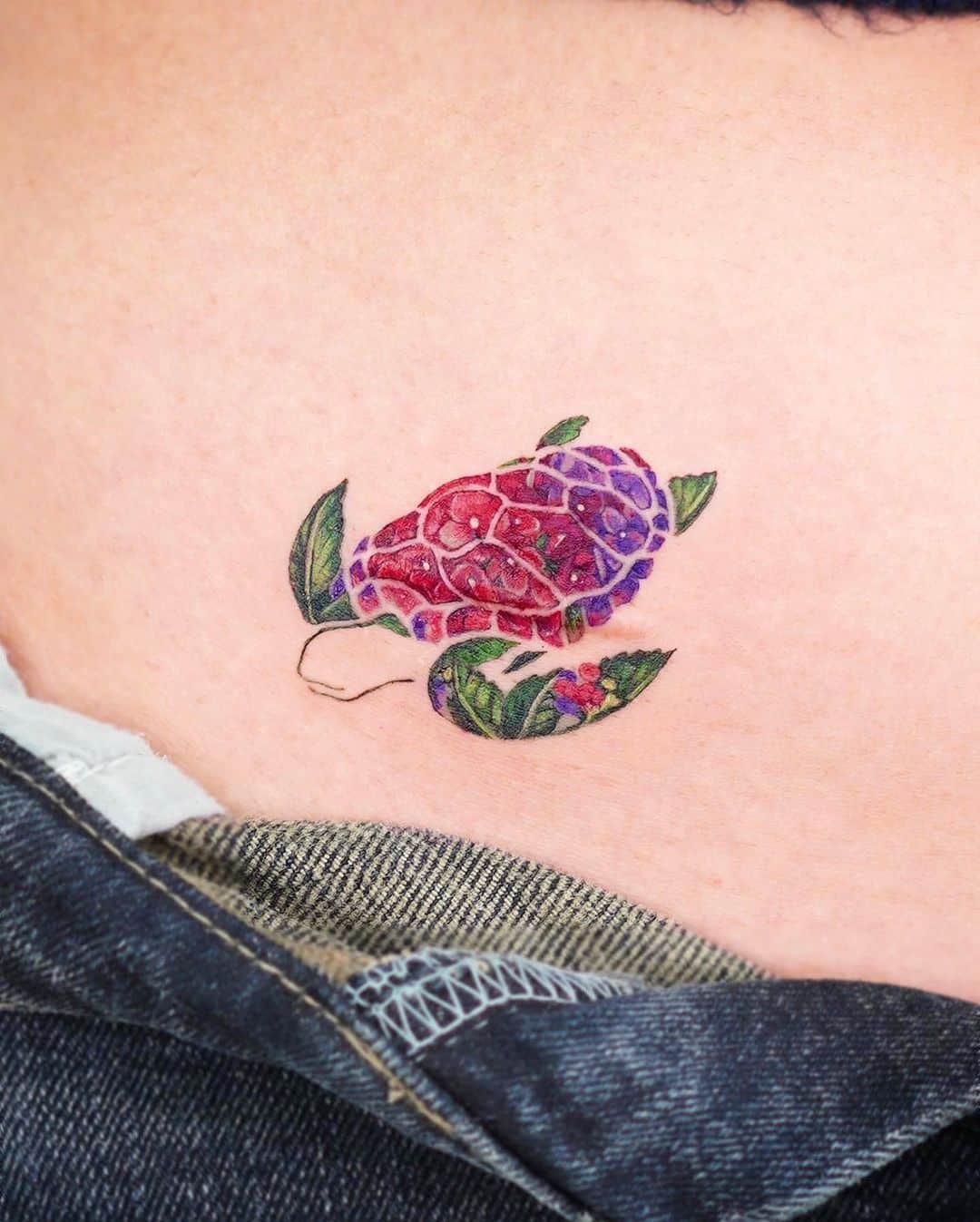 Turtle with Hydrangea design
Now, something completely different and eye-catching.
This tattoo is about Hydrangea design but… inside a turtle!
We do love the idea because it's very original and, moverover, this tattoo is a cover up for a scar.
This work made by StudioBySol_Fluffy is amazing, as is every tattoo on the Instagram account.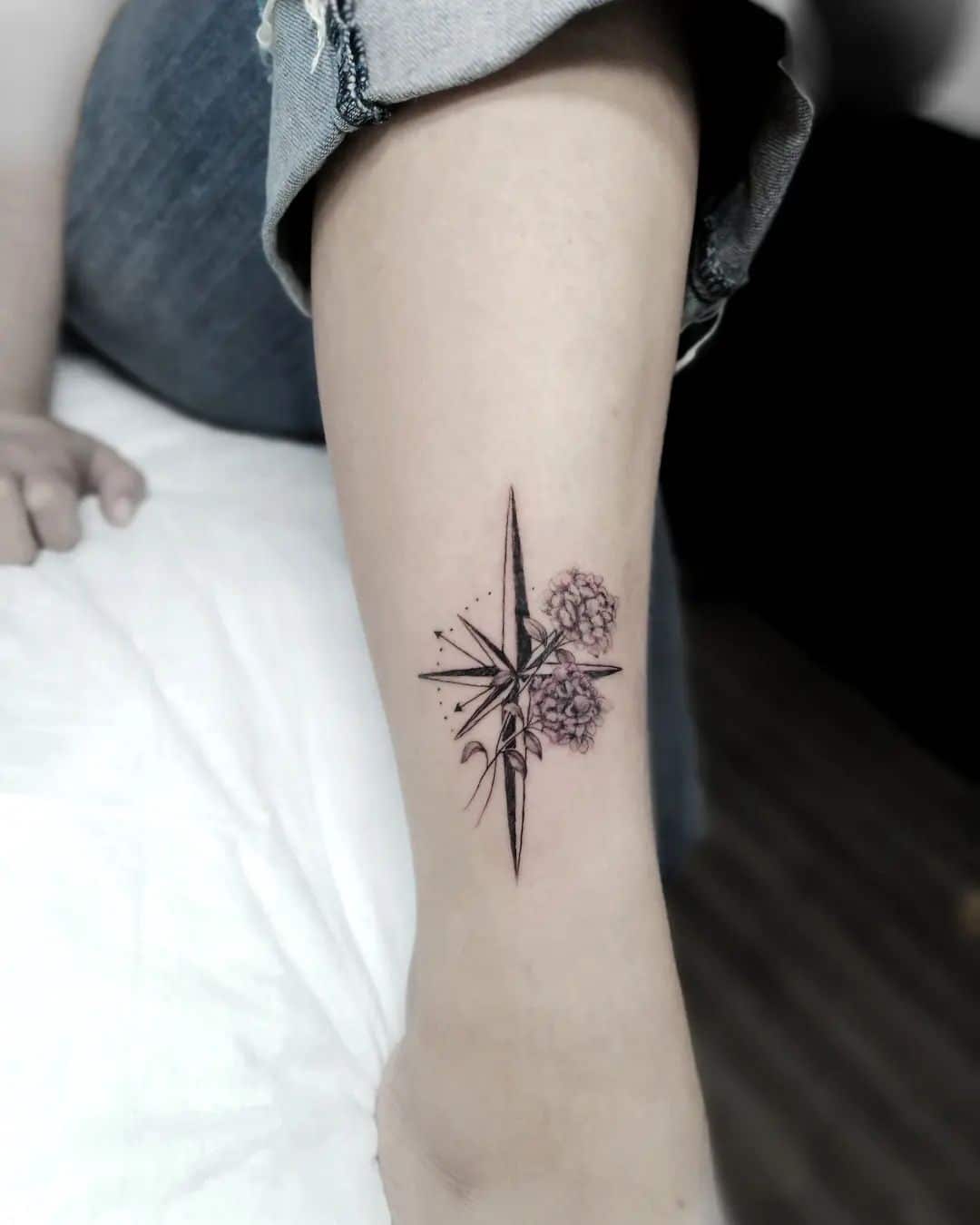 Hydrangea with a compass tattoo
Hydrangea designs are very flexible and it combines perfectly with other elements, as you sawn on this list a few times.
And now, we have another example for this, this time, about a Hydrangea and a compass in the same tattoo.
The design is very harmonic and balanced so, is all we need!
This work is done by Inkspirational Tattoo, in Manila, Philippines.
People are creative, and we love people.
This tattoo seems simple, but the idea is really original and the work is perfectly done, very clean and focused.
At the left, the brain.
At the right, the Hydrangea.
Nice one!
This is done by Kim Kress, from Portland, and you should follow her.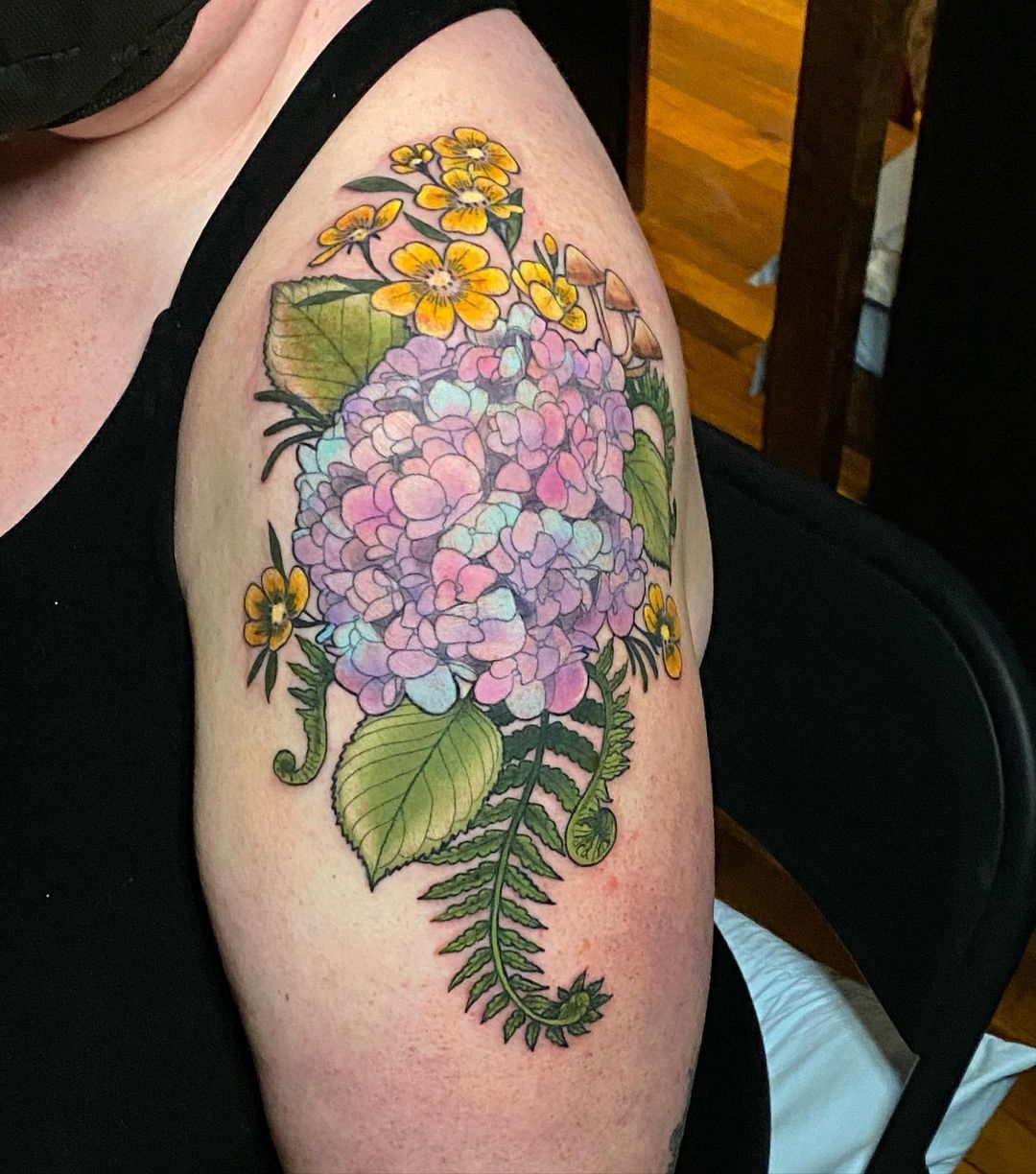 Hydrangea and more flowers in the shoulder
Now we want to present you with a more classical, and beautiful, botanical tattoo.
As you can see, the Hydrangea is centered on the design with more flowers and leaves around, making the composition something big, balanced and with a lot of definition.
This work is done by Selah, from Asheville, in North Carolina, and you should follow her to see her art.
We mean it.
Hydrangea and a goat skull
Well, sometimes the line between something delicate and hardcore is not clear, and this tattoo is a very nice example of that.
Usually, a goat skull tattoo is not something delicate but, covered with flowers and with this perfection in the lines, we are not sure at all.
The tattoo is done by Rachel Trusko, from Wilmington, Delaware, and we are amazed with her work.
Hydrangea hyper realistic tattoo
Another cute example about a Hydrangea bucket, this time, a standalone design with tons for good work.
This tattoo is made in a hyper realistic style with a lot of definition and something supernatural because the colors and the shape of the flowers.
This tattoo is made by our beloved Irina Shapiro, from Somerville (Massachusetts).
Going back to the delicate Hydrangea tattoo, we have this one.
This minimal, realistic, colorful and perfect tattoo with a bucket of Hydrangea flowers missing some petals.
The technique for doing this petals is just fantastic, we are speechless.
This tattoo is made by Joo Young, in Korea.
Something different, original and with a lot of personality for this tattoo.
As you can see, the tattoo is about something like a perfume bottle with some Hydrangea in the back.
We do like the design, but we do like more the way it's done.
As you can see, this is the work of a professional.
This tattoo is made by Perrine Canine, from Lons le Saunier, in France.
Yes, it is what you are watching.
This tattoo goes one step further with an amazing design and a perfect work.
The tattoo itself are just a couple of stamps about two different flowers, one of them a Hydrangea, but the idea is completely original and fantastic.
The tattoo is done by Yojo, from Korea, and you have to follow the Instagram account.
Hydrangea in a bag tattoo
Here you can find another nice and cute idea about a Hydrangea Tattoo.
In this case the concept is to put hydrangea flowers cutted inside a bag.
This is to remind the way it is done to preserve the scent of this flower and to decorate too.
And, you know, we think this idea can fit with you too!
This tattoo is done by Stace Miao, a woman tattoo artist from Taipei, in Taiwan. She has a unique tattoo style so we think you should follow her right now!
Hydrangea and katana tattoo
Hydrangeas are full of color, but this tattoo is a perfect linework in black ink of some hydrangea flowers with a katana in the middle.
And, if you think about it, it makes a lot of sense because hydrangeas are from Japan, as are the katanas, and both symbols are adopted by Japanese culture as well.
The tattoo is made by Madame Medusa, from Erfut, in Germany, and she has wonderful works on her Instagram account.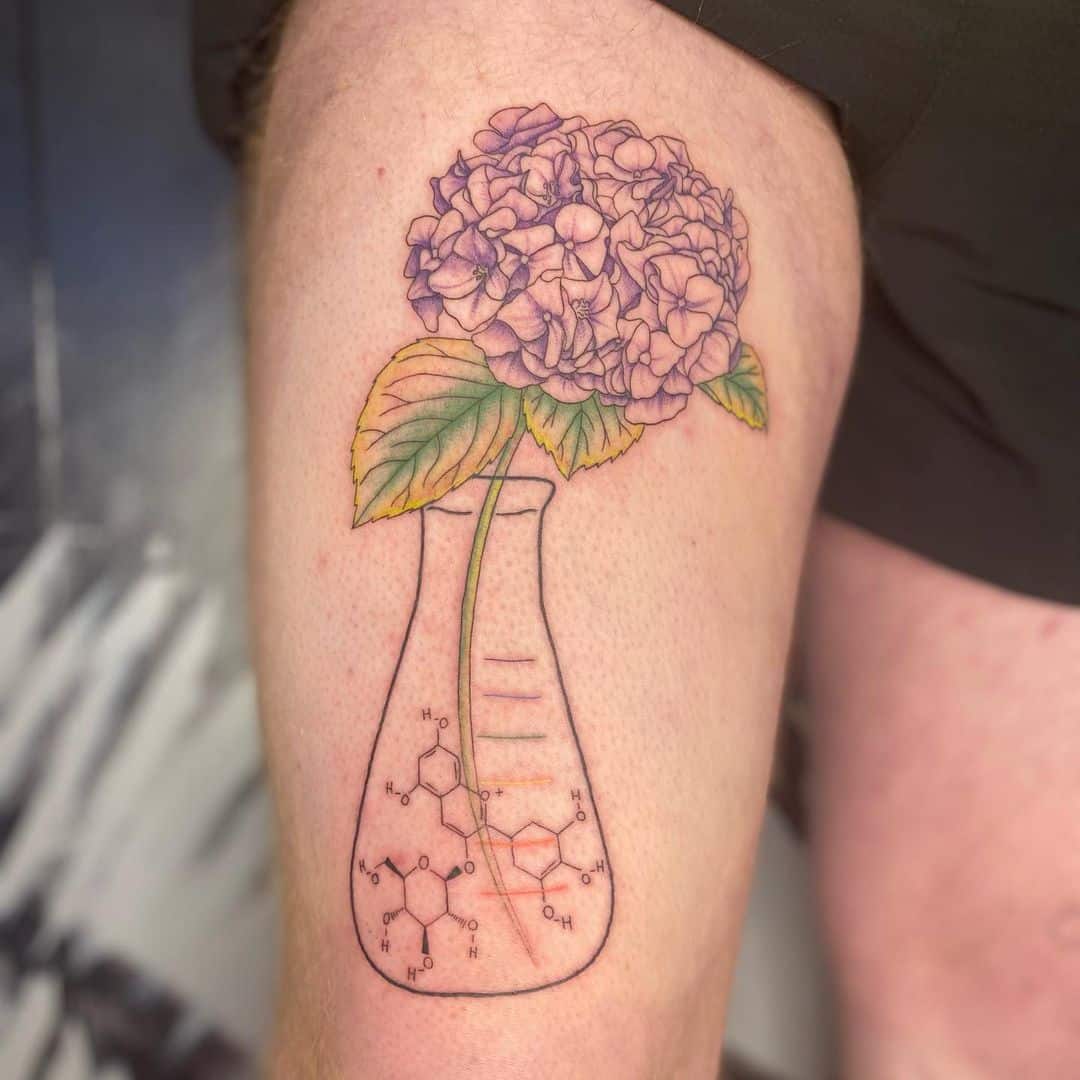 Hydrangea Chemistry tattoo
Something different now, making a merge between chemistry and the tattoo world!
As we told you before, hydrangea flowers' color depends on the pH of the soil, so, if  the soil is more acidic the color changes.
Mixing this you can see a hydrangea inside a flask with some molecules on it.
This fantastic job is made by Dylan, a tattoo artist from Chicago, Illinois.
Nice one!
Hydrangea with geometry tattoo
And know something like a classic Hydrangea tattoo but with a different point.
This tattoo is about a colorful hydrangea, very delicate as you can see, with some geometric shape around it, like if it was on a kind of cage.
This work is done by Dani, from Atelier Eva Studio, in Brooklyn, New York.
Good job!
What do you think about this Hydrangea tattoo guide?
Please, let us know by writting a comment for us!