Japanese dragon tattoo: The complete guide!
If there is something universal in mythology on both sides of the ocean are the dragons, and in this guide, we want to delve into them, especially in Japanese and Asian dragons.
Therefore, in this guide you will find: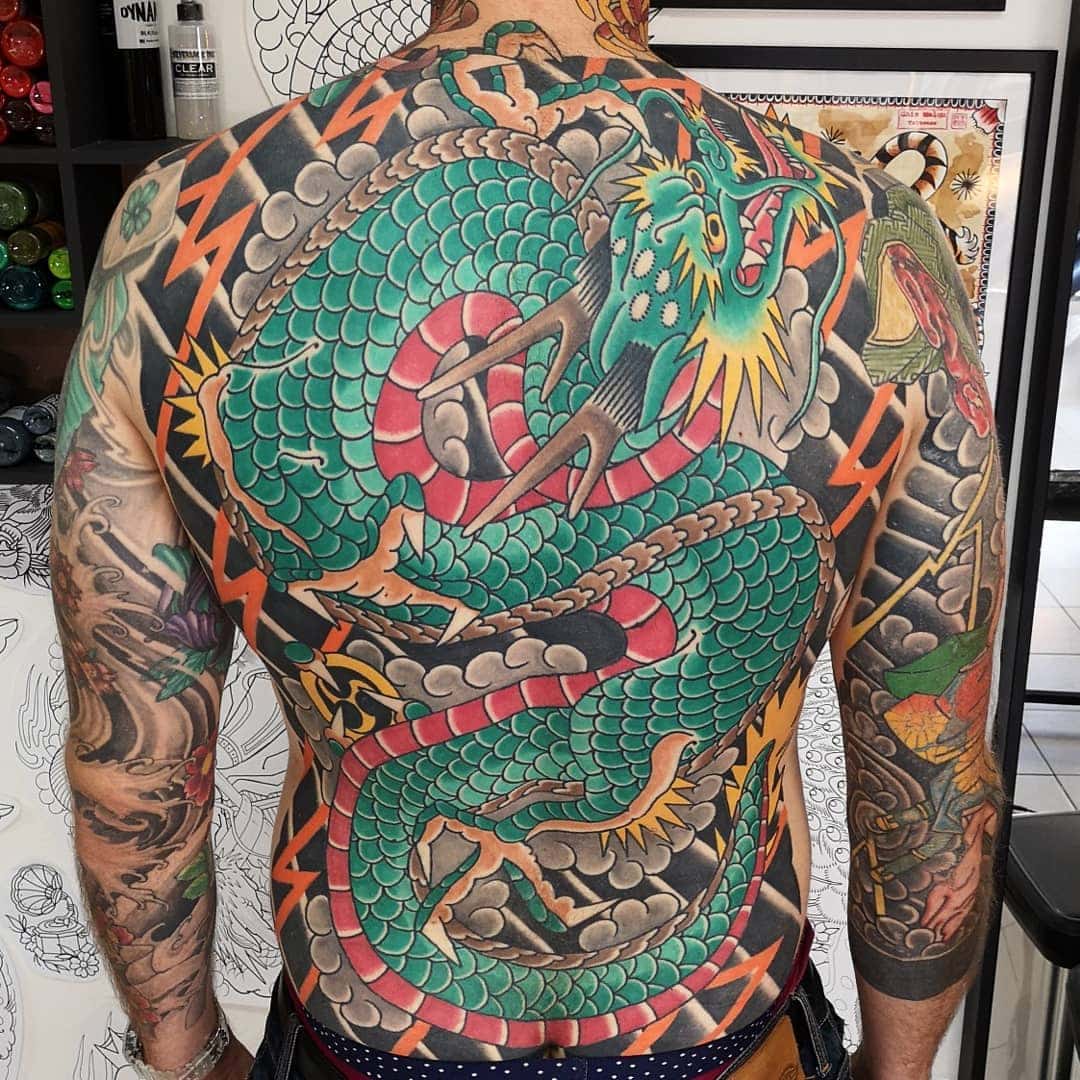 Ghis Melou Japanese Dragon Tattoo
First, we want to share with you a huge design made by our beloved Ghis Melou.
This tattoo is a green dragon on an entire back and you can see all the elements of a Japanese dragon tattoo.
Ghis Melou is tattooing in Montpellier, France, and you should follow him right now!
Jesse O'Brien Japanese Dragon
Here you can find a Japanese tattoo in the entire back, only in black ink.
The tattoo is made by Jesse O'Brien, in Queensland, Australia.
Before we delve into their meaning, let's start with the basics.
The concept of Western and Asian dragon is very different, and these differences are the first ones you should know.
While in Western mythology dragons are usually the bad guys in the movie, big, greedy villains, tremendously strong and powerful, in Asia it has a connotation that, we could not even say that it is antagonistic, it is simply different.
Throughout Asia the dragon is closely linked to the Taoist concept of yang, the dark part of the symbol.
Therefore, the dragon in Asia represents flexibility and adaptability and, according to this philosophy, flexibility and weakness always win out over strength and toughness.
I know it can be a bit confusing, as Asian and Western symbology are far apart, but the dragon is one of the two great symbols throughout Asia and, of course, Japan.
If you are curious, the other great symbol would be the Tiger, which symbolizes yin.
With the characteristics I was telling you about earlier about what the dragon means as a concept in Japan and other countries, dragon tattoos are usually supported by the concept of balance and adaptation, but, as always, there are many nuances to this.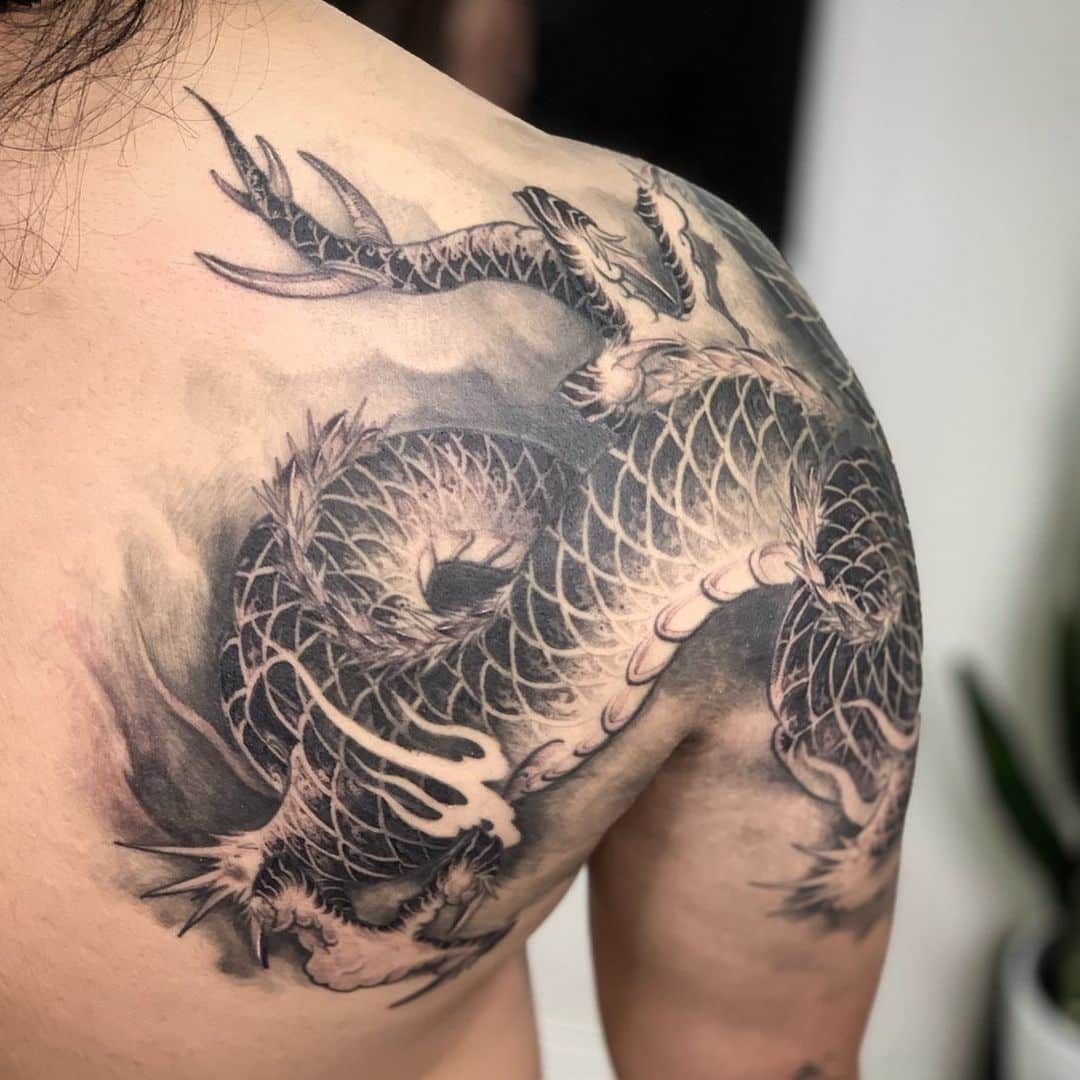 Danny Ong hyper realism dragon
And here, and hyper realistic japanese dragon in black and grey with an amazing design.
The work is made by Danny Ong, from Toronto, in Canada.
And now, the different meanings of the dragon in Japan
The dragon as a symbol has many variants, something that usually happens in Japan and all over the continent.
So much so that we have differentiated the meaning of dragon tattoos according to 3 different concepts:
Hosni OZ red japanese dragon tattoo
This is another one, this time a red Japanese tattoo only in linework with red ink.
No shadows, nothing more.
It's made by Hosni OZ, from Lebanon, tattooing in California and Texas.
Meaning of dragon tattoo by color
Five are the main colors of dragons in Japan, and here you can find all the explanation about what does it means:
Grand Kub Neo Japanese dragon tattoo
We do love this one.
This neo Japanese tattoo style dragon is fantastic, a huge design with a lot of details, perfectly finished.
This work is made by Grand Kub, and he tattoo in Nantes and Bordeaux, in France.
Now let's go with the dragon according to its Asian typology
In total we want to highlight for you 8 different types of dragons according to their characteristics, let's see what you think: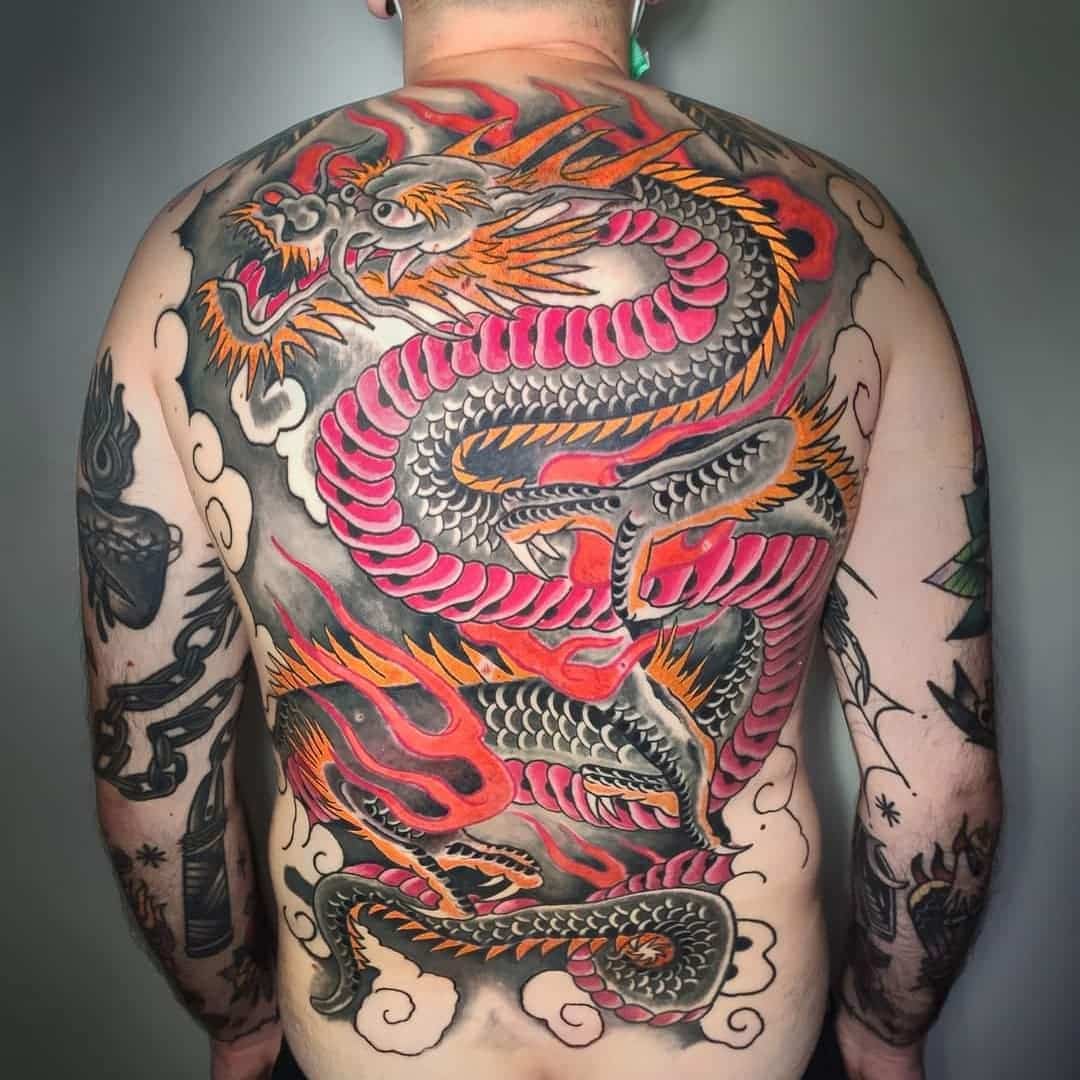 Japanese Dragon Tattoo by Sara Samez
Here you can find a spectacular dragon color tattoo made by Sara Samez.
This amazing design is perfectly done, huge size, and we do love it.
She is tattooing in Italy, and you should follow her!
The 6 dragons of Japanese culture
Finally, there are the 6 typical dragons of Japanese culture that, together with the other two concepts, give you the overall idea of the dragon you can tattoo.
Let's go one by one.
Neo Japanese dragon and tiger tattoo by Marcus Rocha
This colorfull design about a dragon and tiger tattoo in the entire arm is a fantastic example of neo japanese style.
The design is made by Marcus Rocha, in Porto Alegre, Brazil.
Here is the end of our guide about the meaning of Japanese dragon tattoos, we hope you liked it and that you tell us how your next tattoo will be in the comments.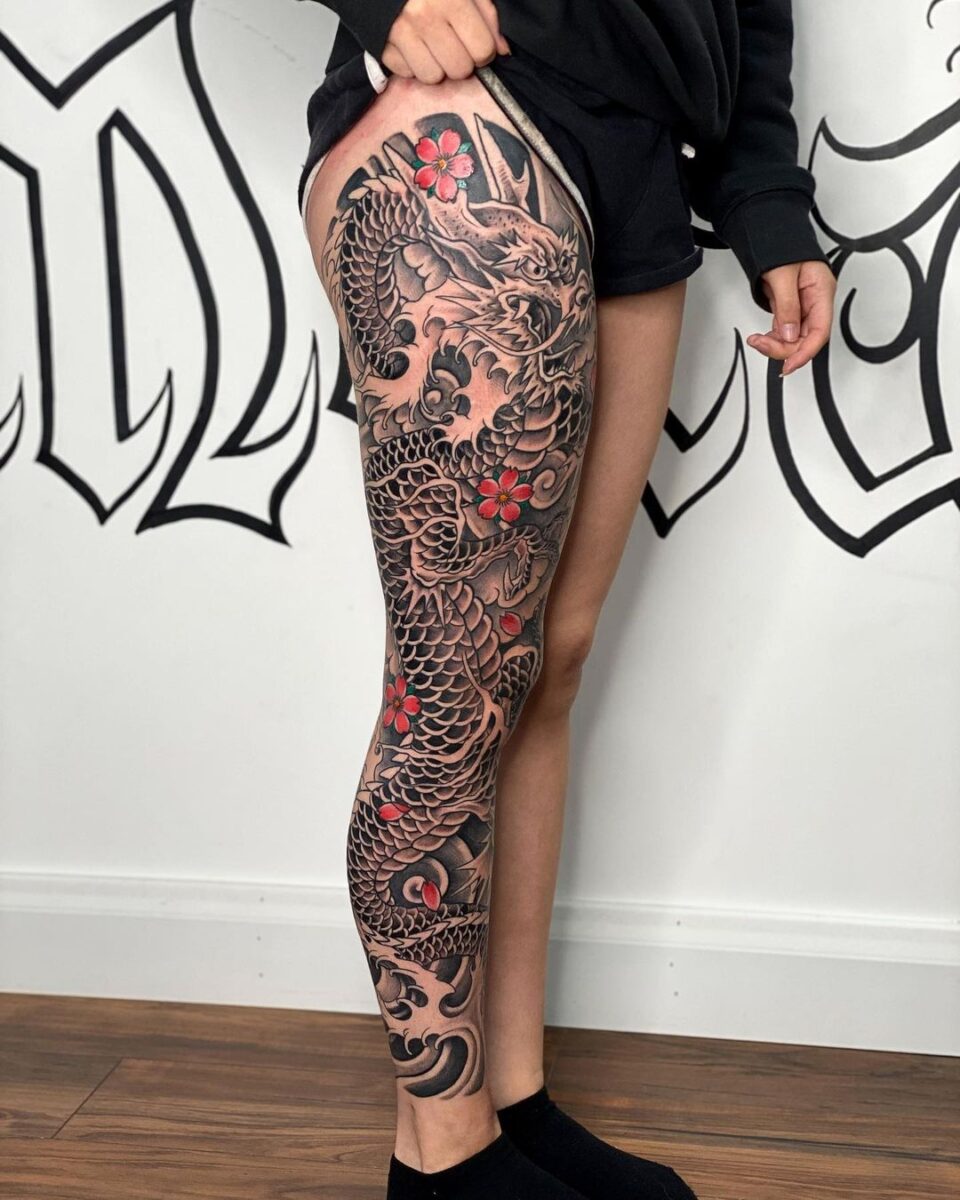 Black Japanese Dragon tattoo by Mark M Tatts
Finally, here you can find another amazing design, this time, a black (and huge!) dragon on a entire leg.
This tattoo is made by Mark M Tatts and it's just perfect!
Some FAQ's about Japanese Dragon Tattoos