7 woman tattoo artists in Johannesburg you may follow
Johannesburg is a very special city. The largest city in South Africa and one of the Top 50 megalopolis in the world with an amazing mix of cultures, languages, and people.
And, of course, with a vibrant tattoo artist scene.
On today article we want to show you some of the women tattoo artists in Johannesburg so you can know more about them.
Let's go!
Embla is the Studio Manager (and one of the tattoo artists, of course) of Golden Tiki Tattoo Parlour.
She is focused on illustrative tattoos and linework, and she prefer flash tattoos, but always made with tons of love.
She is a fantastic tattoo artist and a better person, so you may follow and visit her is you have the chance!
Tie is another amazing woman tattoo artist, in this case, with her own parlour called Empire Tattoos, founded twenty years back (2001) and still alive.
Of course, with 20 years alive, Empire Tattoos is one of the oldest in Johannesburg.
Tie obtained her first tattoo at young age, then she became tattoo artist due a mentor (this is common, isn't it?).
But Tie moved to Netherlands and she mastered the art of Surgical Tattooing (Dermatography), this means Tie is not only a fantastic tattoo artist, but she can also do things like adding realistic looking to nipples after mastectomies.
And we think this is just amazing.
We just hope Tie could be, at least, 20 more years making South Africa beautiful.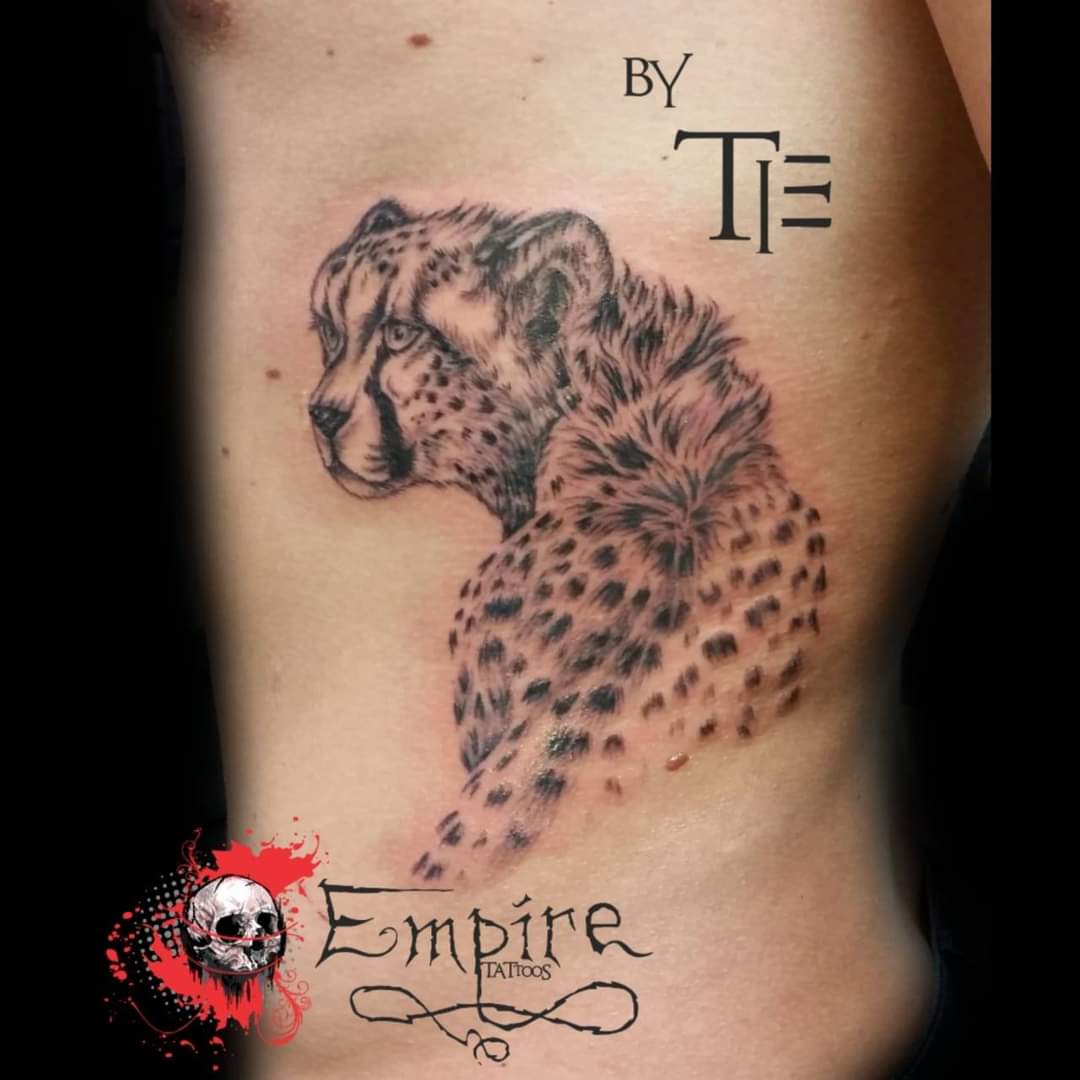 Ethel Laka is another woman in a million.
She was apprenticing by nine long years, but then she opened her own studio, and we are glad to write that.
She run a private studio with tons of work and, moreover, on a feminist approach, something really difficult in almost every country, but maybe in South Africa is harder than the average.
Ethel has wonderful tattoo works about fauna, flora and portraiture and she used to talk a lot with her clients to deeply understand their feelings for making something harmonic into their skins.
We do need more people like Ethel in the world.
Rocio began as an apprentice 10 years ago (in 2011) and now she works in The Black Lodge with another spectacular tattoo artists.
We can say her style is unique, mixing new school and neo traditional, but with very intricated designs with tons of work and nice colors, always with a high definition of the lines.
What we love about Rocio work is the mix between color, realistic draw but with surrealistic or fantasy element, making Rocio's tattoos something remarkable and very recognizable from the first time you see it.
The next one on this list is Candice van Niekerk.
She owns a private studio in Midrand, of course, in Johannesburg, and her style is, one more time, a mix of different things.
One point about Candice's art is she can do a lot of different styles, and all of them are with good results.
You can see on her Instagram account realism, flowers, portraits, fauna, and surrealism, both in color (even watercolor) and black and grey.
Her lines are usually with fine detail, and her work is fantastic.
Bianca Uyttenhoven works at Handstyle 7th Street Tattoos and she has a fantastic technique, specially with neo traditional and newschool designs, both in color or black and grey.
Maybe she is the less experienced on the list, but her art speaks loudly, and that's the point, isn't it?
On her Instagram you can see a lot of different examples of her art and, it's true than neotraditional works are the most, you can see portraits (human and animals one) and some nice works on other styles.
So, you must follow Bianca, that's it.
Kaylene story is something you may know about, so we just want you to read what she has to tell:
My name is Kaylene Padayachy, I was born on August 16th 1997 in Johannesburg South Africa, and I am a 23-year-old, female tattoo artist by profession.
Ever since I was a kid, I have always had a passion for art.
I still remember being in primary school, I'd do small drawings (doodling) in the back of my homework book and I'd keep them in a small box in the back of my wardrobe.
Once I started high school, I realized how much I actually enjoyed drawing and painting. It brought out a different kind of happiness in me. It became very therapeutic and a way to express myself creatively, it became my playground.
In the year of 2015 from Mondeor High School with my Art results being my highest grade on my report card. I went on to studying Fine Arts through the University of Johannesburg and soon realized that it was not really a field I pictured myself.
I consider myself a free spirit and don't particular follow the rules. I see the world differently.
As a college dropout, I started selling my artwork to friends and family as a way to make an income. In 2017, I went on to study Special Effects Makeup and Prosthetics, yet I could not see myself working in that particular niche, although I enjoyed playing with different make up looks.
I looked for different ways of keeping my creativity flowing and putting my passion for art to good use. It was then I met my current girlfriend who introduced me to the world of tattooing, and this is where I found my true passion.
I studied through Southern Ink in 2019 and obtained my certification as a professional tattoo artist. I worked for Southern Ink for a year but then the pandemic struck and turned all our lives upside down, that's when I decided to venture out on my own and started my very own Kaylene's Ink Tattoo Studio in December 2020. One of the best decisions I've made for myself.
I've based my work at Kaylene's Ink on realism, black work tattoos as well as dot work. I've found that this is my best style of work and I enjoy doing big pieces that include these styles.
I enjoy the attention to detail and the challenge it brings; it allows me to think differently, not to mention the satisfaction my clients get when they leave my shop.
Venturing on my own has also taught me a sense of entrepreneurship and I've become very business orientated.
My hope is to inspire other young, female tattoo artist that no matter what, you're able to stare adversity in the face and you're able to make a name for yourself even within a male dominated industry. The Future is Female!