What does the Medusa tattoo mean and a lot (we mean it) of designs for you 
Sometimes it is surprising how things work and how something becomes a trend, and we can say that this is the case of Medusa tattoos that, since the end of the year 2021, is creating a spectacular trend.
In this article you are going to meet:
Medusa Black and Grey tattoo
This piece of work is made by Beneventes, from Brazil.
The design is into realistic way with illustration, done in an arm, with a big, bold design.
Follow him on Instagram for more!
The Medusa Tattoo Trend and TikTok
Medusa tattoos, the largest of the gorgons, comes from afar, but it was always in the background.
What happened is that, back in the last quarter of 2021, the TikTok account @r.bree.xo publishes a video in which he tells the meaning of this type of tattoos (or, at least, one of them), and it is something with a lot of emotional charge:
It is related to a sexual assault.
And this tattoo goes super viral
Other accounts start telling their experience, showing their Medusa tattoos, and sharing that they also wear it for that meaning.
And of course, TikTok is one of the social networks with the most movement at the moment and, without a doubt, the most dynamic.
This launches the popularity of the Medusa tattoo to numbers never seen before, and we are very happy about it.
So, What is the meaning of a Medusa Tattoo
If you have read just above these lines I think you have the meaning in your mind, but, we are going to explain it again.
This symbolizes a Medusa Tattoo
A Medusa tattoo symbolizes this person has suffered a sexual assault, of one or another kind.
Yes, it is not a cool thing, but the symbol is there.
But, how can we explain this:
This symbol itself is not a negative one, in fact, it is just the opposite.
To get a tattoo with a Medusa design symbolizes you are strong enough to wear it.
Of course, usually the sexual assault is going to be there for a long time (sometimes, forever), but you can deal with it because you are a fantastic and strong person.
Not all Medusa Tattoos symbolizes it
Of course, not every Medusa tattoo symbolizes a sexual assault, a lot of people get inked with a Medusa design because they love the myth, or the design itself, or just because they want.
But please, be gentle, especially if you are going to ask for this topic, it is not a happy one!
And, for course, support every sexual assault victim, all of them
Doesn't matter if you are a man, woman, LGTBI+ member or whatever.
You are a person.
And none should suffer a sexual assault, this is not about genders or ideas, is about human being.
So, if you know about someone who had suffered a sexual assault, just be empathic and support them, without judgement.
This tattoo is made by Nick Stegall at Amulet Studios, near Tampa (Florida) in the US.
As you can see, there is a lot of illustration on this artwork, perfectly done by Nick.
We do love this design because it shows you another different kind of Medusa, isn't it?
A brief history of the Medusa myth
Medusa is a myth that is encompassed within classical Greek mythology, and is very present in European symbology, especially in Mediterranean countries, where practically anyone of age knows the story.
What the story tells, to make it as brief as possible, is that Poseidon fell in love with Medusa, but his love was not reciprocated, so Perseus decided to rape her.
Yes, you know that, in classical mythology stories, abductions, deaths and rapes happen non-stop.
Moreover, Perseus raped Medusa in the temple of Athenea, who was furious, not only because of the fact, but also because her temple had been desecrated.
Athenea turned the gorgon into what we know as Medusa, a woman who, instead of hair, had snakes and had the power to turn anyone who looked at her into stone.
Some context on this power of Medusa
For many years the concept of Medusa had to do with an evil being, but this conception changed (thank goodness) as a gift from Athenea for her protection, since, thanks to the power to turn into stone every man who looked, it would not happen to her again.
Moreover, Athenea did not allow her to give birth to her children, the fruit of that rape, as long as Medusa was alive.
So, Medusa is the victim, not the evil.
The end of Medusa's story
Everything was going like this until Perseus killed Medusa by cutting off her head, and from her blood flowed her twin sons:
On the one hand, the winged horse Pegasus.
On the other, Crisaor, also known as "The one with the Golden Sword".
This amazing design in fineline is made by Mayra Guerrero, a woman tattoo artist from México.
She do master fineline tattoos with very harmonic design, and this Medusa tattoo that seems and statue is just another example of her art.
You should follow her.
The meaning of Medusa tattoo today
As I told you, the meaning of Medusa has evolved from being considered something evil to being considered a survivor, and this is the point that interests us.
Today, the symbol of Medusa has several connotations:
The Ultimate Meaning of the Medusa Tattoo
And, on top of all this, the most important thing:
The true meaning of the Medusa Tattoo
The meaning that @r.bree.xo was referring to is that Medusa is a design that people who have suffered situations of sexual harassment or rape get tattooed, to make it visible and to keep in mind that they have overcome it and are now stronger. As you can see, something very important and that we should all keep in mind, always trying to help from empathy.
More Medusa tattoo designs
Let's go for more Medusa tattoo designs: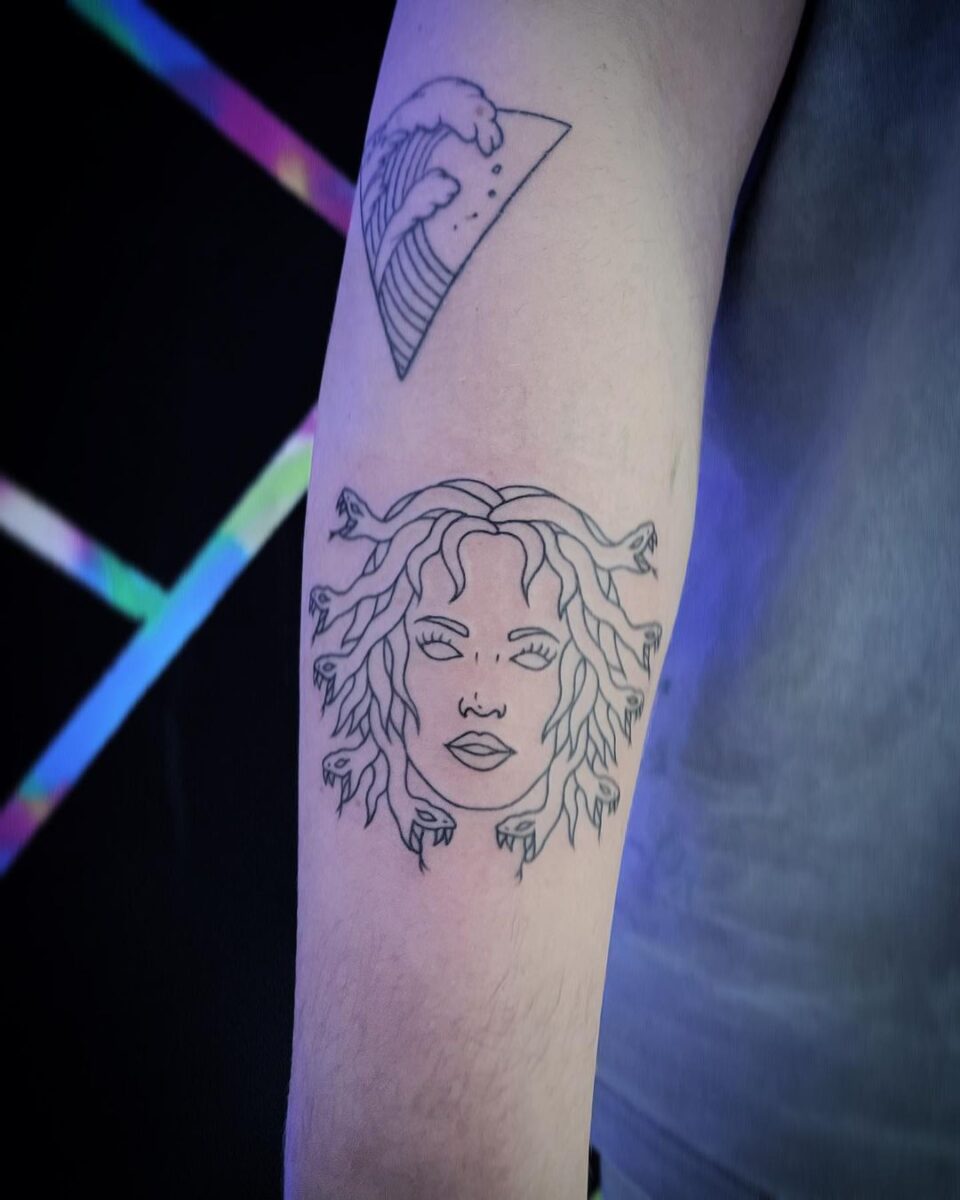 Simple designs are usually the hardest ones because you have to engage and communicate with less and, with this work, Agata Maria does it perfectly.
She is a polivalent and fantastic tattoo artist you should follow, so just go for it!
Neo traditional by Barbara Alattyáni
This Neo Traditional Medusa head tattoo is done by Barbara Alattyáni from Old London Road Tattoo, in Kingston, United Kingdom.
It's a nice example about you can have a simple tattoo with a lot of personality.
This tattoo is simple, but not easy.
We are trying to explain this.
As you may see, this tattoo is very clean, with just the lines in the eyes to get the composition stronger, and a lot of dotwork.
To get that illustration effect using dotwork style is really hard, because you have to ink one by one all the dots in the tattoo, and this is just a thing.
So, having this clean tattoo with this dotwork technique and this eyes, is not easy at all, just a masterpiece.
The tattoo is done by Dough Tattoos, owner of Astana, from Canoas, in Brazil.
This is not one but two connected Medusa Tattoos, and we do love the way it looks!
Yes, we like having two connected tattoos in different parts of the body because we think it truly connects one to each other, giving the composition something unique.
This time you can see a simple Medusa head tattoo in the arm, and the detail in the leg, near the ankle, and we think this is a fantastic idea.
The tattoo is made by Edirne Dövme Tattoo Piercing, in Edirne, Turkey, near the Greek border.
Nice one!
Neo traditional hand tattoo
The first hand tattoo about Medusa we want to introduce is this one, made by Aide Tattoo, from México.
We do love the white ink detail and the iconic of the drawing.
Nice work, Aide!
Neo traditional angry Medusa
The second is a piece of work made by Victoria Baker, from Santa Barbara, in California.
The spirit of the gorgon is there, look at the eyes.
Realistic tattoo by Brianna Connell
This tattoo is made by Briana Connell and we think it's awesome.
Nice design, with intrincated parts, fantastic integration of all the elements, and a bold result.
We do love it!
Medusa Head realistic style
What do you think about this Medusa head tattoo?
Amazing, isn't it?
This spectacular design is made by Eva Mad, she is a tattoo artist with a lot of sensibility for the beauty, and this is just and example of her work.
Medusa Head with geometrical detail
Something different, isn't it?
This Medusa Head tattoo has a different design with geometrical detail in the face of the Gorgon.
Moreover, a lot of illustration in the drawing.
This tattoo is made by Lew Smith, a tattoo artist who work at St. Louis and Brooklin.
Another Medusa Head tattoo
Lastly in Medusa head we want to introduce you this work from Harry Weiss.
This one is on realistic style too, but with ton of personality, because of the shadowing of the design and the white ink.
Nice one, isn't it?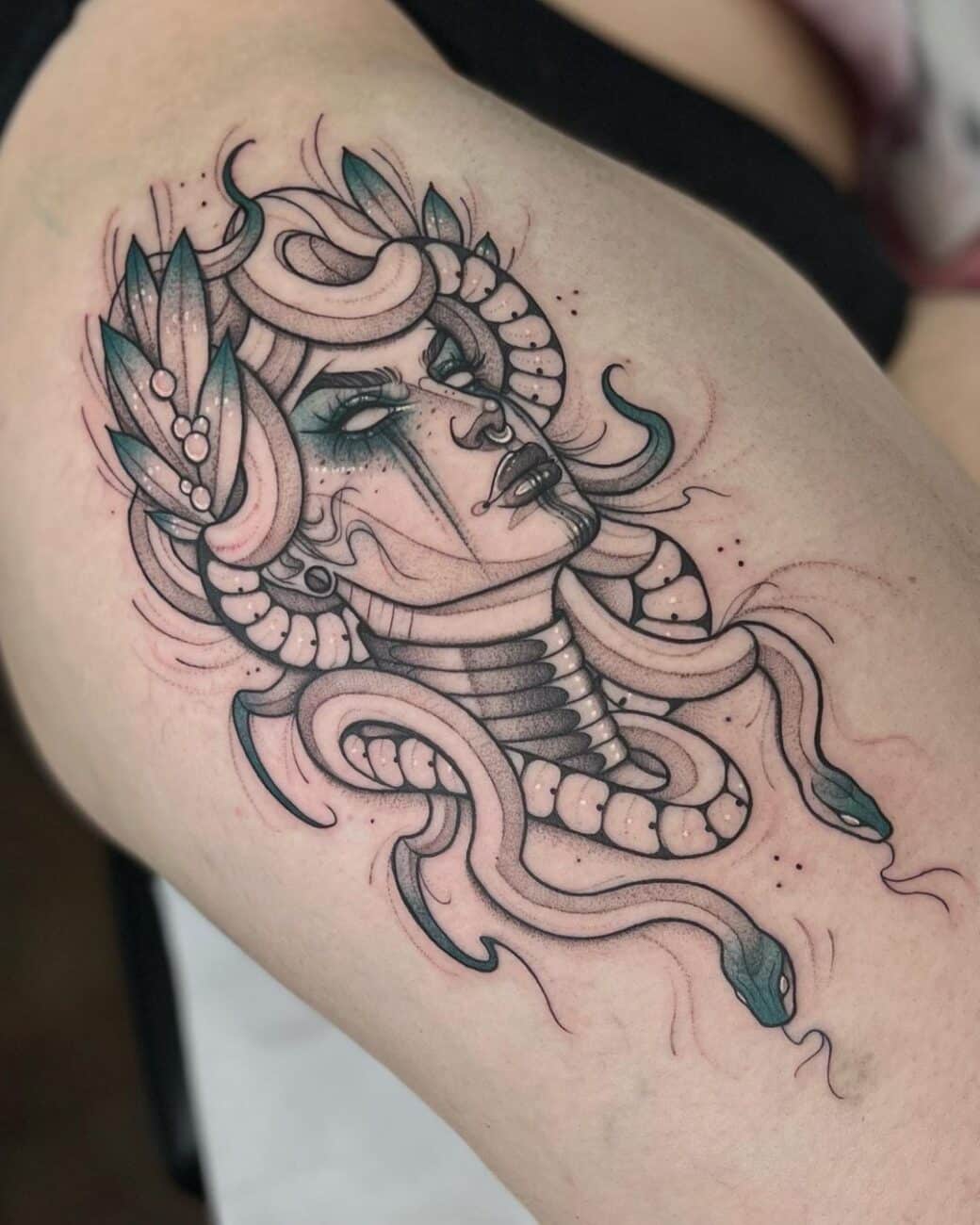 Medusa Illustration leg tattoo
Let's do something modern with Medusa, as you can see in this photo.
In this amazing tattoo you can see a fantastic illustration tattoo in black and grey with some dotwork making all the composition harmonic and balanced.
Just a perfect work with really clean lines done by Uve.
She is from Valencia and she has a lot of style, work and is very talented, you should follow her right now!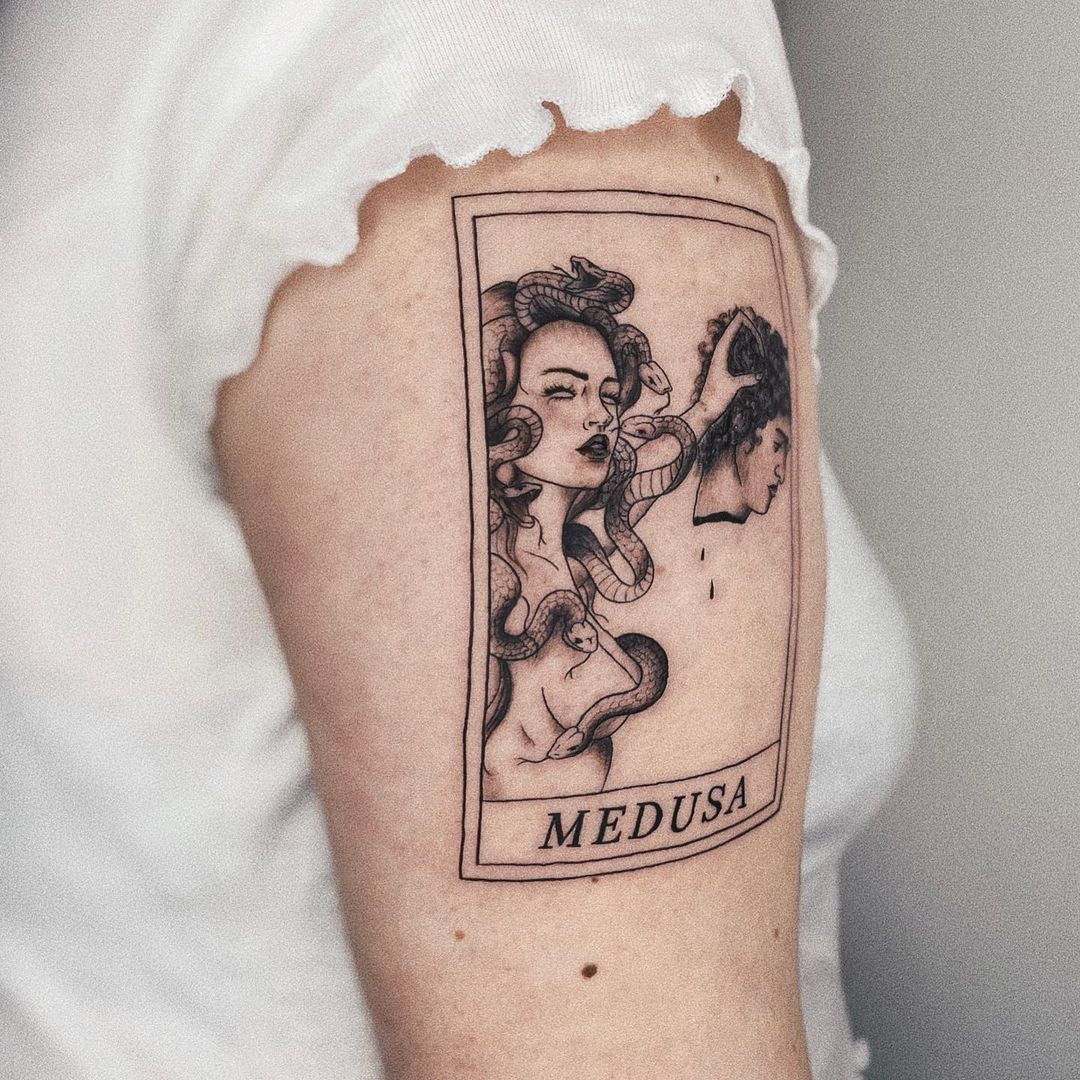 We are here to give you some good ideas, and we do think this is a real one.
You already know about Medusa's myth but, what if we turn the History down and make Medusa win against Perseus?
Well, with this idea you have this tattoo, perfectly done by Oksana, from Düsseldorf, in Germany.
The tattoo itself is very clean, with perfect lines and a balanced composition, nice job!
Medusa head with white eyes
This is another hyper realistic Medusa head tattoo with all the snakes tattooed in the arm but, as you can see, the result is astonishing.
Perfect definition, very bright black ink (yes, we have to wait until it is healed, of course), very eye-catching and we do like the way the snakes are represented, ready to attack.
This wonderful piece of work is done by Leo Black, a fantastic tattoo artist from Dublin (Ireland) with a lot of hyper realistic and surrealistic tattoos.
Nice job!
And another one for you, this time, different.
Yes, this is a Medusa head tattoo in an arm, but with its own point.
This time, the design is kind of an illustration of Medusa with the snake scales, but with a Pin up style, more cute.
We do like the style itself and the final result, very clear and well balanced.
This tattoo is made by George Lupu at Sailor's Ink Tattoo, from Denmark.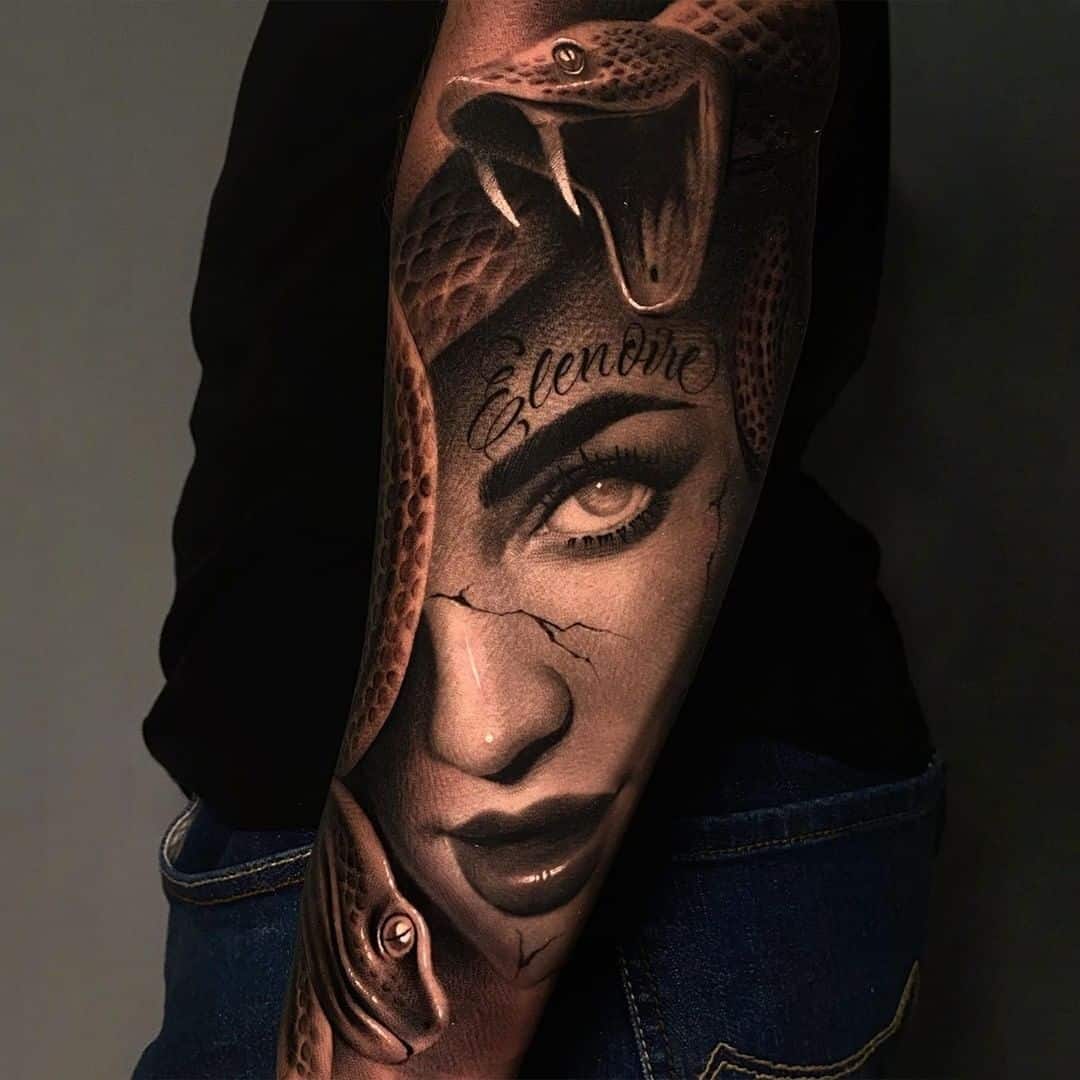 Medusa hyper realistic style
Wonderful, isn't it?
This hyper realistic Medusa tattoo head is just a thing, a piece of work, just art and not a tattoo.
We do love this piece because it is, how can we say it.. Just perfect!
The detail level of this tattoo seems more like a painting, and a good one, and we think this is remarkable.
This tattoo is made by Denis Casella, AKA Posco Losco, he works in Milan, at Remember Me Tattoo, and in Bari as a guest, at Macko Tattoo Shop and, if you have the possibility to get ink by him, the result is going to be great.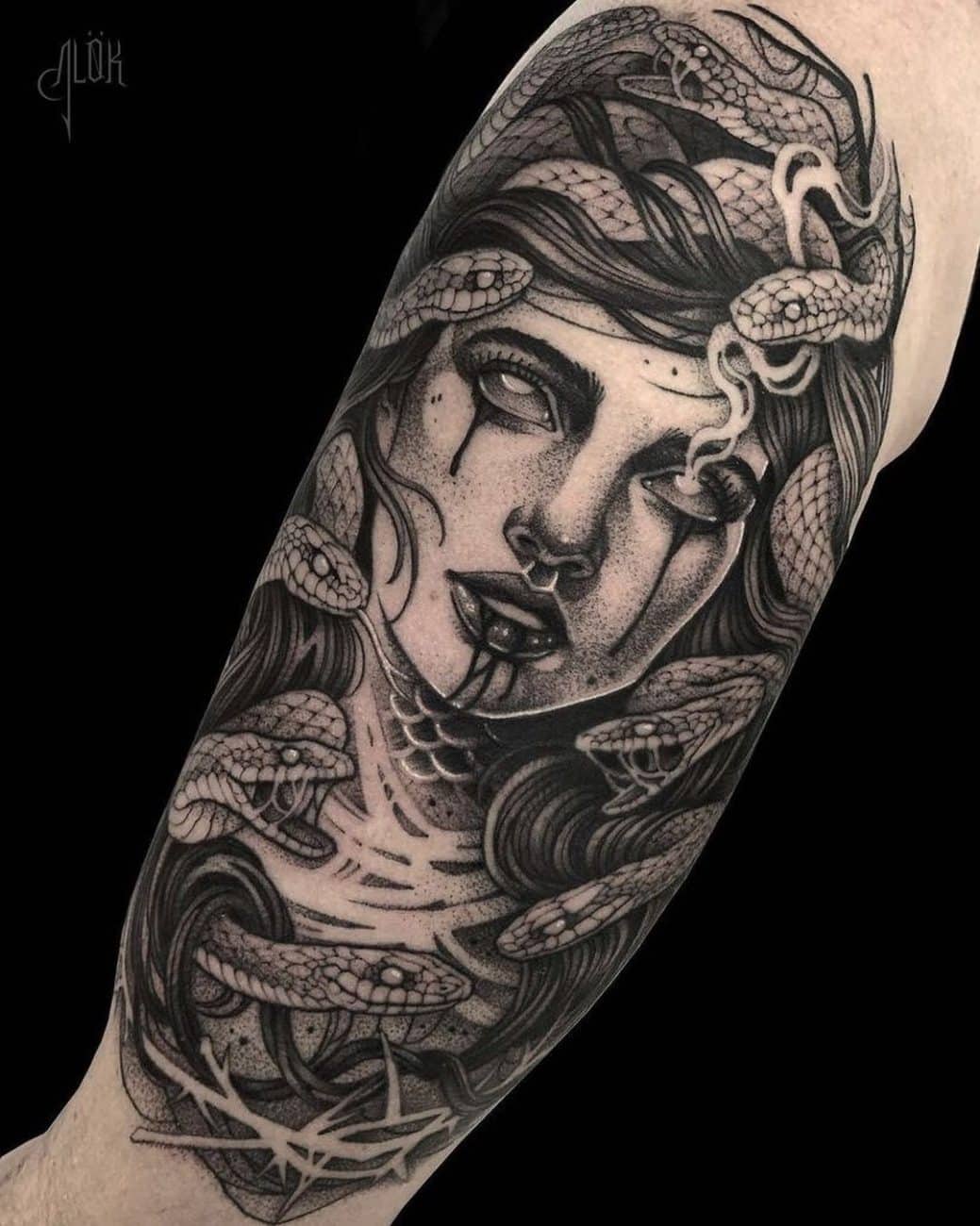 Realistic Medusa Tattoo in Black and Grey
Another nice and classical tattoo design is this one.
As you can see, this tattoo is done in realistic style only with black and gray ink, and the result is just perfect.
We do love the way the expression of the face is taken, with the tears, and the way the snakes are inked.
This tattoo is done by Carina Alok, another wonderful woman tattoo artist. She is focused on realism and we can say she does not tattoo, she makes art!
Just a few Medusa sleeves
Realistic (and huge) Medusa sleeve
Well, this is the kind of tattoos we really do love.
Big tattoos, perfectly done, all integrated and with tons of harmony.
This piece of work is done by Elyssa Beers, she is a fantastic tattoo artist so you may follow her.
Neo Traditional Medusa tattoo
This sleeve is made by Studio Jan Tattoo, in Roterdam (Netherland), and we think it's just funtastic.
Formarly speaking we can say it's made on a neo traditional way, but we love the design and the integration of the snakes.
Beautiful job!
Medusa tattoo sleeve with yellow eyes
Another Medusa tattoo sleeve with a fantastic design and perfect finish.
This time, this realistic tattoo has some details in the eyes and leaves in yellow color.
The illustration of this tattoo is awesome, with a lot of personality and good taste, just the way we do love tattoos.
This piece of work is done by Victoria Blue Tattoo, in Barcelona, Spain.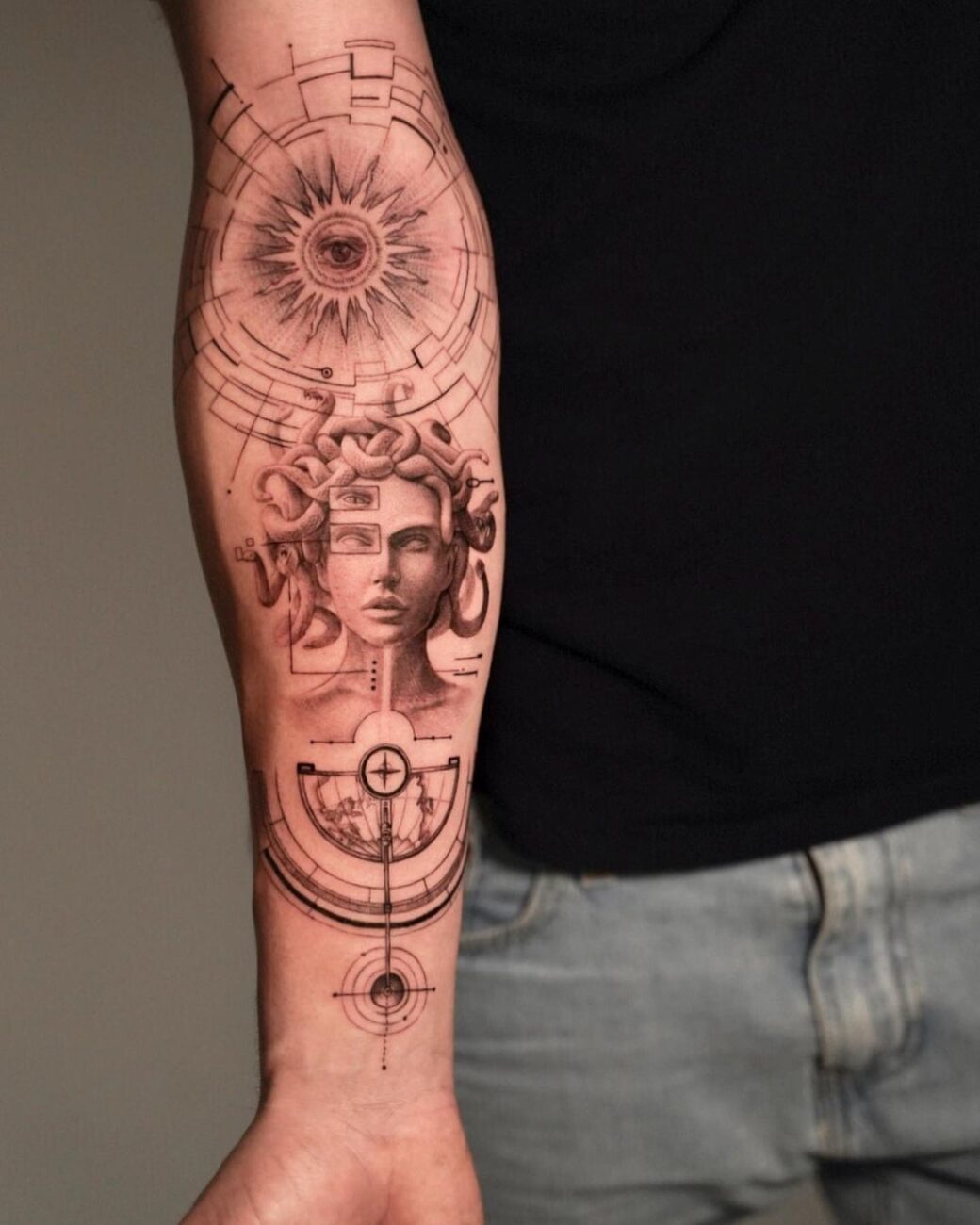 Medusa Classical (and Surrealism) style sleeve
This is an arm sleeve about a Medusa Tattoo, but something different too.
We didn't know at the first time if we should write this inside the classical or the sleeve ones, but you know, we have to make a decision.
As you can see, this is a half sleeve but with classical elements, because Medusa seems to be from a statue, with some elements up and down the main design of the tattoo.
We do like the eye detail and the work itself.
This tattoo is made by Hami, a tattoo artist from Seoul, in South Korea that you should follow.
A couple of traditional Medusa tattoo ones
Medusa Statue-like Tattoo
Yes, this is a tattoo.
Elegant, fine, harmonic, beautiful. Just it.
It's done by RIK, from Lido di Ostia, near Rome, in Italy.
We do love the statue-like design, white ink detail, and the perfect technique.
Another beautiful tattoo, this time, from Aurore Visceral, a fantastic French tattoo artist.
She works at Avignon and Aix-en-Provence.
We do love this realistic design because the effect of the stare she get, just hypnotic!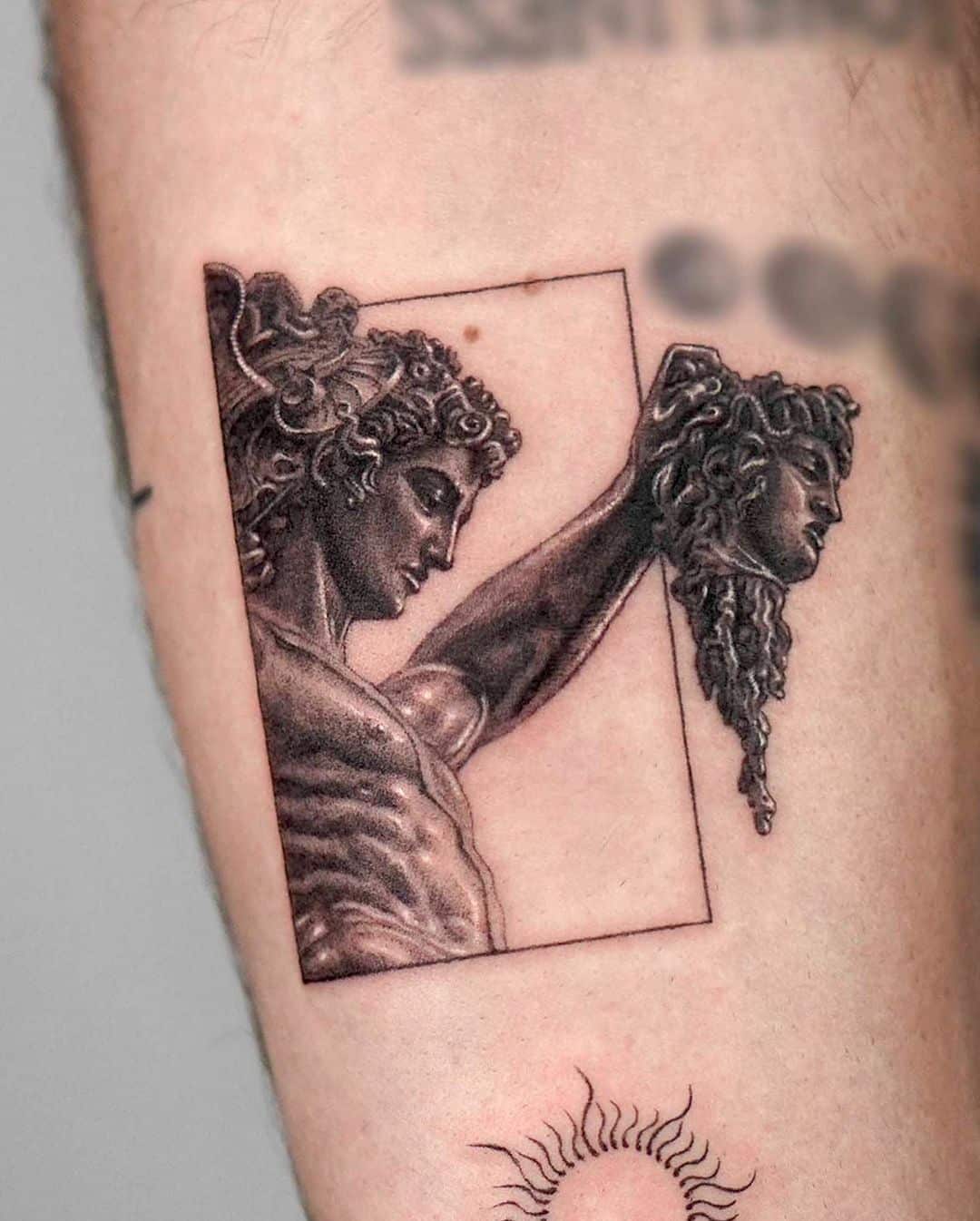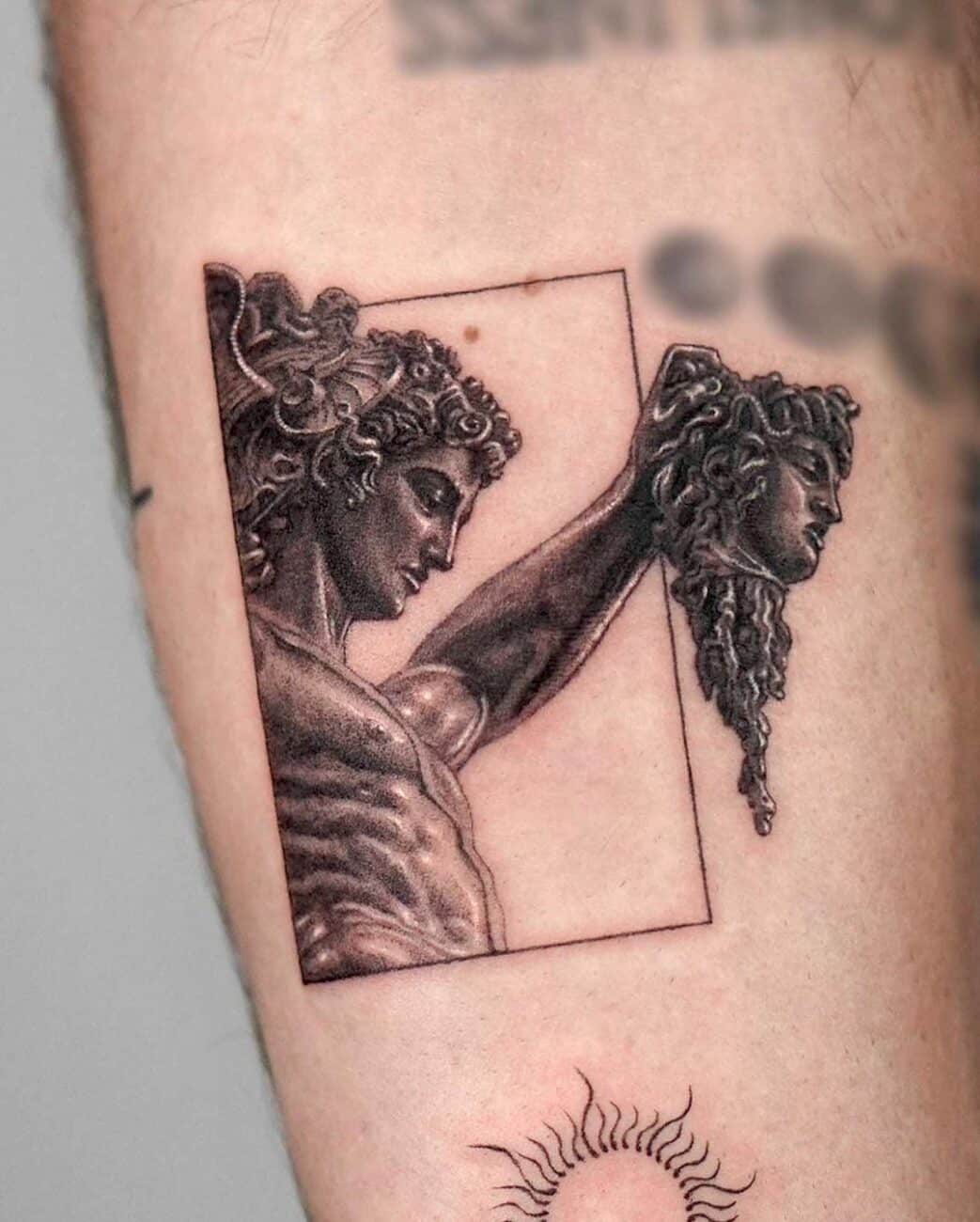 Medusa and Perseus classical tattoo
If you want something even more classical to illustrate the myth, here you got an awesome idea.
In the photo you can see the moment when Perseus cuts Medusa's head, maybe "the moment" of the myth.
The tattoo is made by Graycode Tattoo, really a specialist about giving the tattoos this classical effect, very eye-catching, and very difficult to make with this perfection.
Medusa tattoos in the back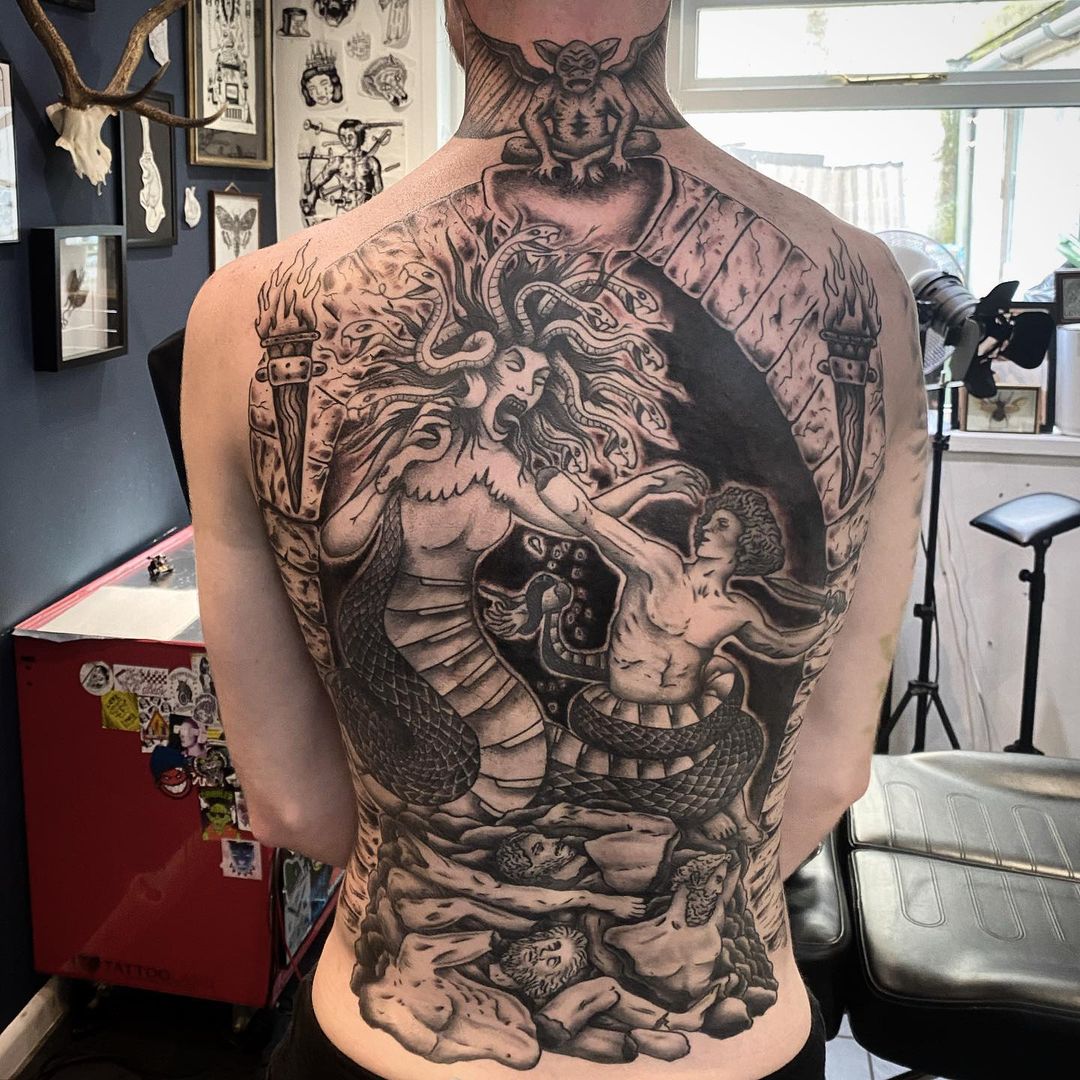 Yes, this is not the part of the mith we like more, but this tattoo is just artwork.
It represents the moment of the fight between Medusa and Perseus, just before he cut her head.
This piece of work is done by Benjamin "rumple" Pearce, in the UK.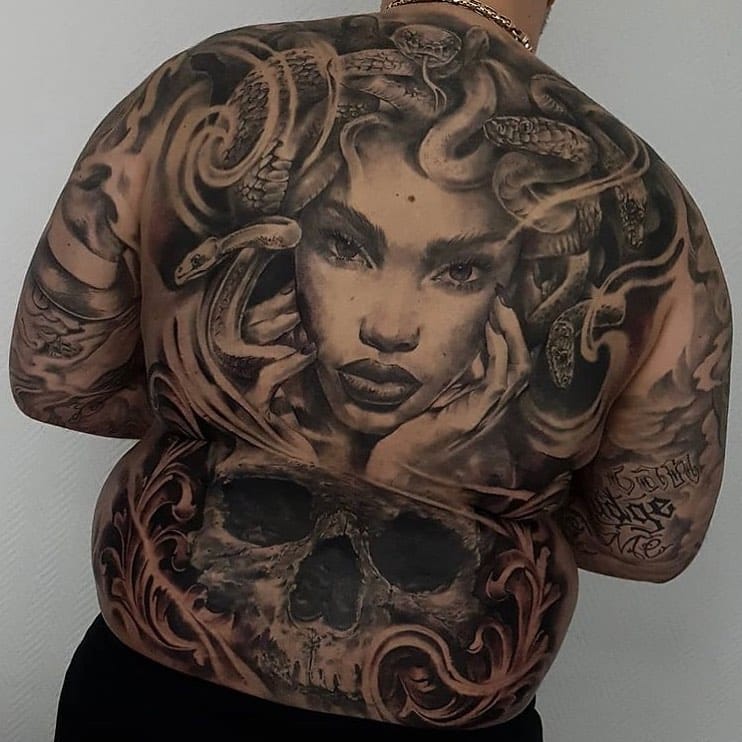 Medusa tattoo in the entire back
This could be the example of the realistic style, and it's fantastic.
This piece of work is done by Wiktor, from Drunken Monkey's, from Aschaffenburg, in Germany.
We do love the definition and the feeling this tattoo has.
Just amazing.
Illustration Medusa Chest tattoo
The first chest tattoo we want to introduce you is this awesome piece of work from Angela Laely.
She is a tattoo artist from Switzerland, and she work at Aarau and Brugg.
So, if you need a bold tattoo, she is the one!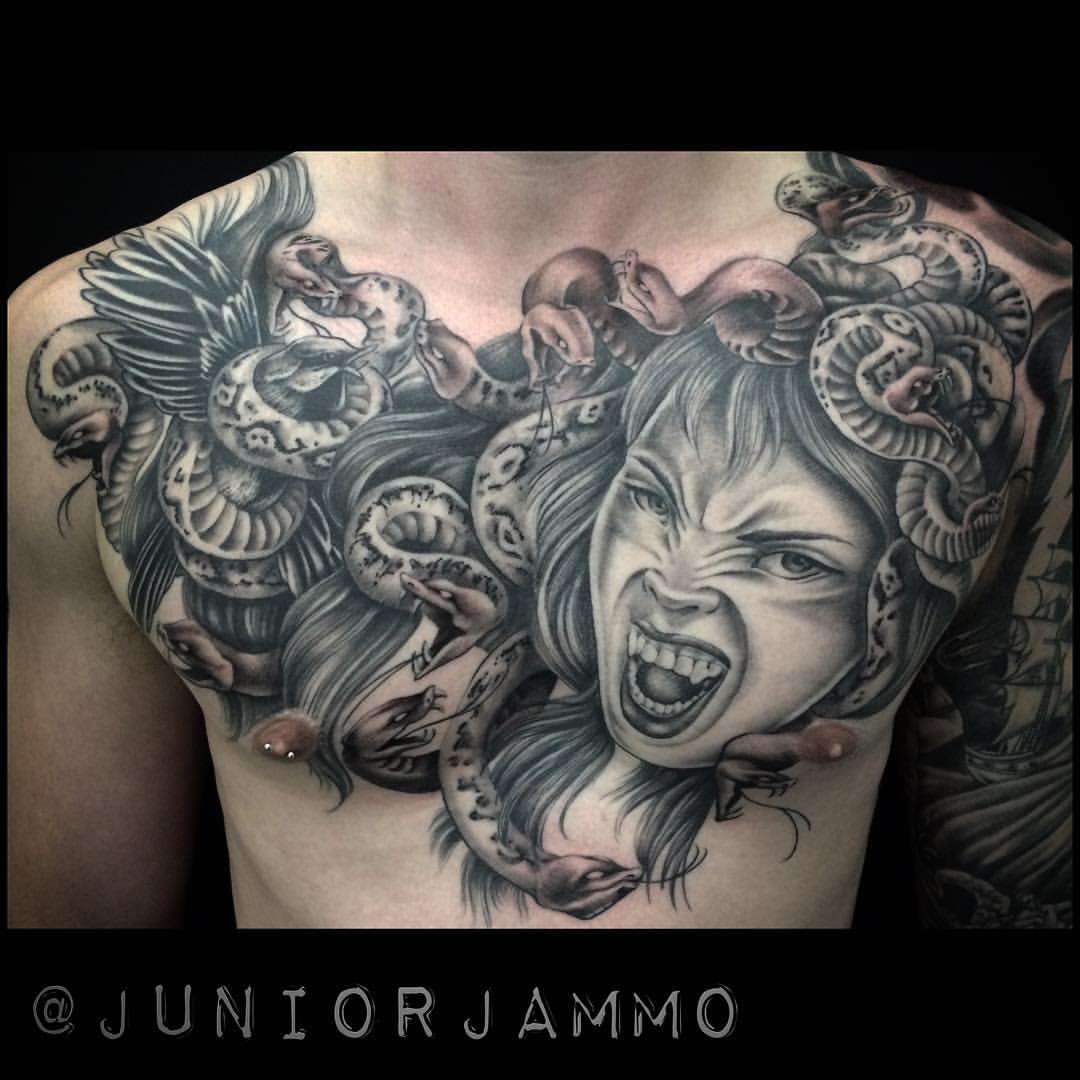 This fantastic work if made from Junior, a tattoo artist from Queensland, in Australia.
We do like the technique, the design and the size, with a different approach of the Medusa mith.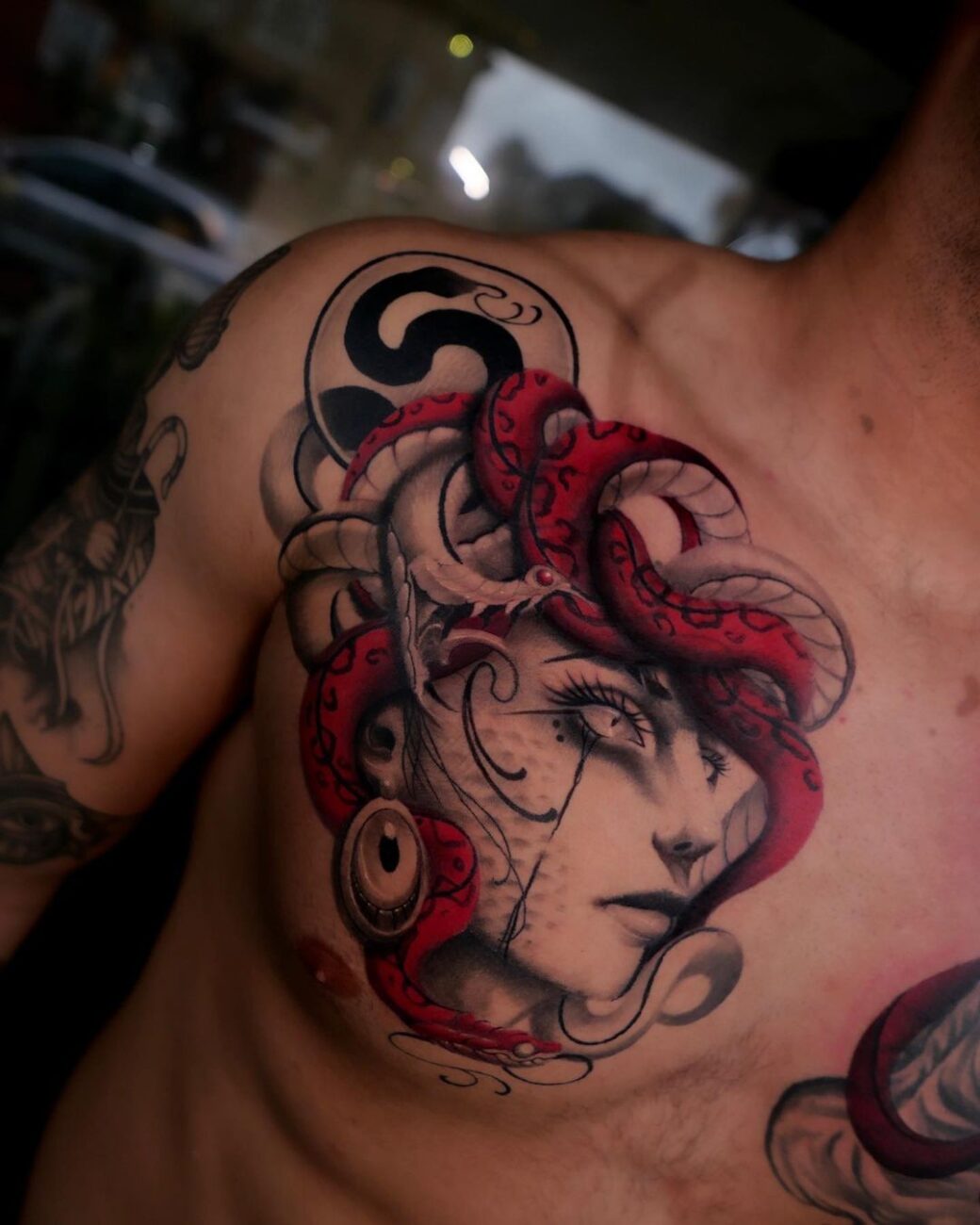 Chest Medusa tattoo in red ink
Another astonishing design is here for you.
In this case, a huge Medusa tattoo covering half of the chest, done in a fantastic hyper realistic design with tons of personality.
This fantastic job is done by Romo Ink, a fantastic artist in neo-traditional tattoos.
What do you think about it?
Some FAQ's about Medusa Tattoos
Medusa tattoo has a very strong meaning, it's related with has suffered sexual violence, in one way or another.
Not at all. It's true that Medusa tattoo has a strong meaning, but you always can do a tattoo just for the design.
What do you think about this Medusa tattoos? just let us know in the comments section!