Pineapple Tattoo, the complete guide with the hidden meaning!
Well, we have a tricky one this time.
Pineapple tattoo is a trend from 2018 until today because it has a hidden meaning and you may know it before getting inked with this kind of designs.
Because of this, on this article we want to show you:
First, what is a pineapple tattoo
Yes, we are not going to make it too long at this point, because, you know, we do think it explains itself just a little bit.
When we think about a pineapple tattoo, we are thinking about all  the different possibilities about styles, colors and placement.
That is the point.
The main meanings about the Pineapple Tattoo
There are usually a few meanings about what a pineapple tattoo may be, all of  them are good enough to list them:
As you see, everything is clear and nice, because it is like a positive vibe itself, like being in some tropical country, you know.
And, the hidden Inverted Pineapple Tattoo Meaning
Let's move to the interesting part of this guide.
Nobody knows why and when, but pineapple tattoos started meaning other completely different things, and this is the point.
Hidden Pineapple Meaning
An inverted pineapple tattoo is related to swingers.
Yes, as you can read it.
So, an inverted pineapple tattoo is like a very discreet symbol that you are in the swinger lifestyle.
Surprise!
Of course, not everyone should consider or know this symbol, but we think you may know it if you are looking for a pineapple tattoo, isn't it?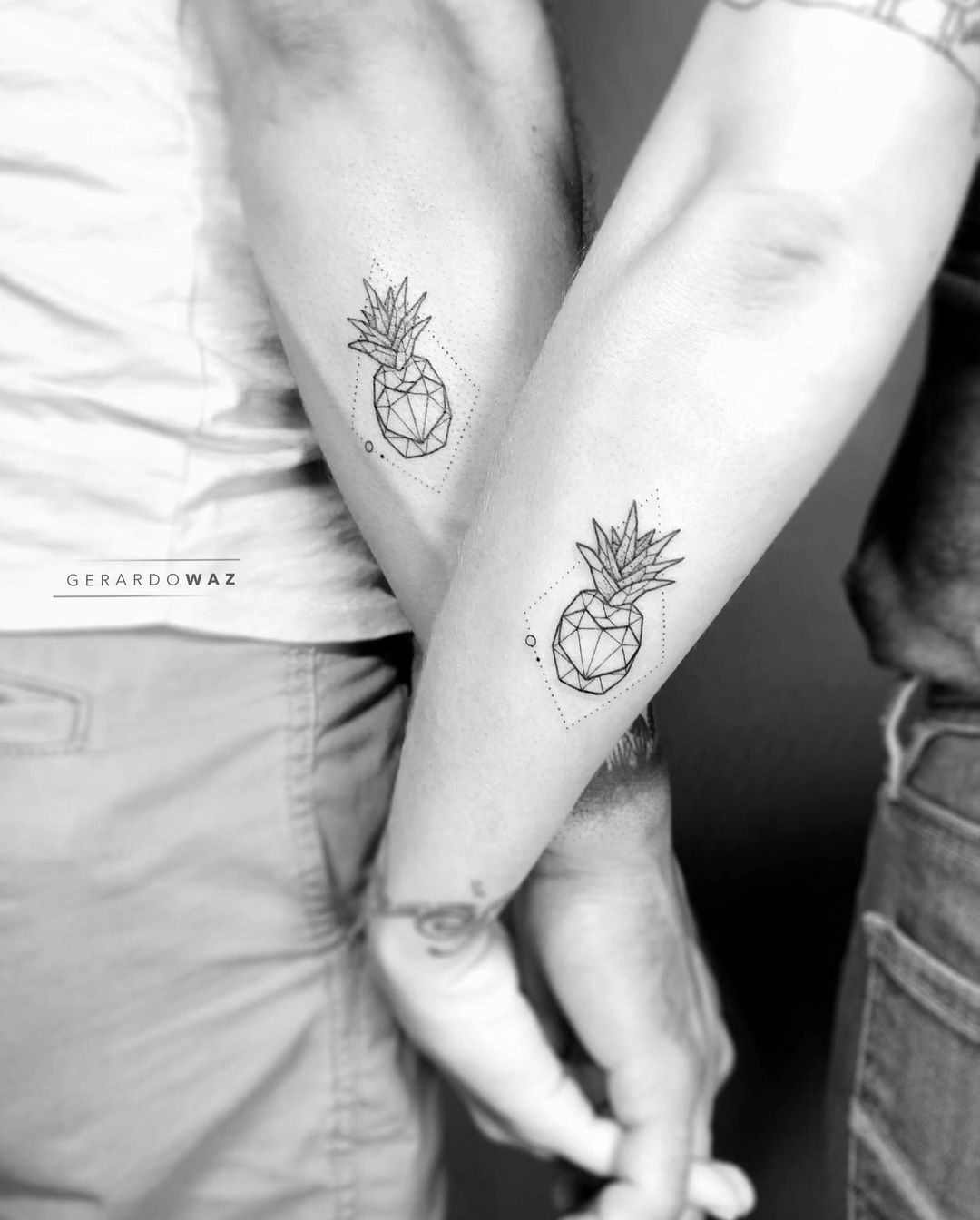 Geometric Pineapple Tattoo
First example we want to show you, something simple, sweet and perfectly finished.
As you can see, this is just two tattoos in fineline, black ink with geometric pattern, that's all.
But, when you can tattoo with this perfection, everything is harmonic.
The tattoo is done by WAZ, a very talented tattoo artist focused on fineline and geometric tattoos you should follow right now, so come on!
Realistic Pineapple Tattoo
And, if you want something more realistic, take a look at this delicious piece of work!
In this shoulder tattoo you can see a realistic (or hyper realistic, we cannot say!) pineapple tattoo with geometric patterns just in the upper part, and some flowers, more geometrical patterns and dotwork below the main part of the composition.
As you can see, a very complete work with a very nice finish.
This amazing tattoo is done by Hunter Schuon, working at 1Point Tattoo in Kailua, Hawaii.
Colorful Pineapple Tattoo (with a beach)
Let's move on to something completely different.
Yes, this pineapple tattoo is about color, and we can say the palette is spectacular, isn't it?
A lot of bright colors, a beach, some sea waves, a sea light, a shark and some beer, just the perfect summer day, isn't it?
The tattoo is done by Matt Grosso, a talented tattoo artist working at Ink and Iron Studios, in Midlothian (Virginia). He is focused on illustration and high contrast color palette, doing something unique, bold and real.
Pineapple Under Construction Tattoo
The idea itself is fantastic, but the tattoo is even better!
Yes, this is an under construction tattoo about a pineapple in the plant, with some workers trying to grow it up.
Moreover, this tattoo mixes perfectly several tattoo styles like illustration and realism for the workers and the pineapple itself, and the perspective with the cranes and the blue spots.
This perfect tattoo is done by Noa Margalit, owner of November Studio, in Tel Aviv, Israel, and we do think you should follow her. Now.
Life is too serious, so we want to have a little fun.
In this tattoo you can see a pineapple and a pizza with something like an affaire, because you know, the pineapple pizza is something like a guilty pleasure (or so).
Done with a comic and illustration style, only with black ink, we think this is a perfect example of something simple but fantastic.
The tattoo is done by Studio Tatuażu Tygrys, in Krakow, Poland.
Microrealism Pineapple Tattoo
If you do not know it, microrealism is a trend in the tattoo world, and this kind of tattoos are really hard ones because it combines the hyper realism difficulty with very small size.
Just one simple error and all the tattoos are a complete disaster.
But, as you can see here, if the tattoo is perfect, the finish is just bold and eye-catching.
This tattoo is done by Minji Seo, working in a private tattoo studio in LA, and we can say this person has a perfect harmony and style sense.
"Traditional" Realistic Pineapple Tattoo
And, from microrealism to a large realistic one.
Same idea, different in… everything else, you know.
We do like this tattoo because we think it is just perfect, not only in the drawing and the details, but the color palette too is just fantastic, isn't it?
You can even smell the pineapple and want to bite it.
This amazing tattoo is done by Anthony Jenkins. He works at Epitaph Tattoo in Ontario, Canada, and we think you should follow him right now.
SpongeBob Pineapple Tattoo
Yes, that's is.
You know, the one who lives in a pineapple under the sea, SpongeBob!
What can we say about this tattoo, maybe that this is the perfect one?
We do love the illustration style, the colors, the idea and the finish.
This tattoo is done by Pencil Tattoo, a fantastic illustration and microrealism tattoo studio in Seoul, South Korea, of course, and you should follow their Instagram account.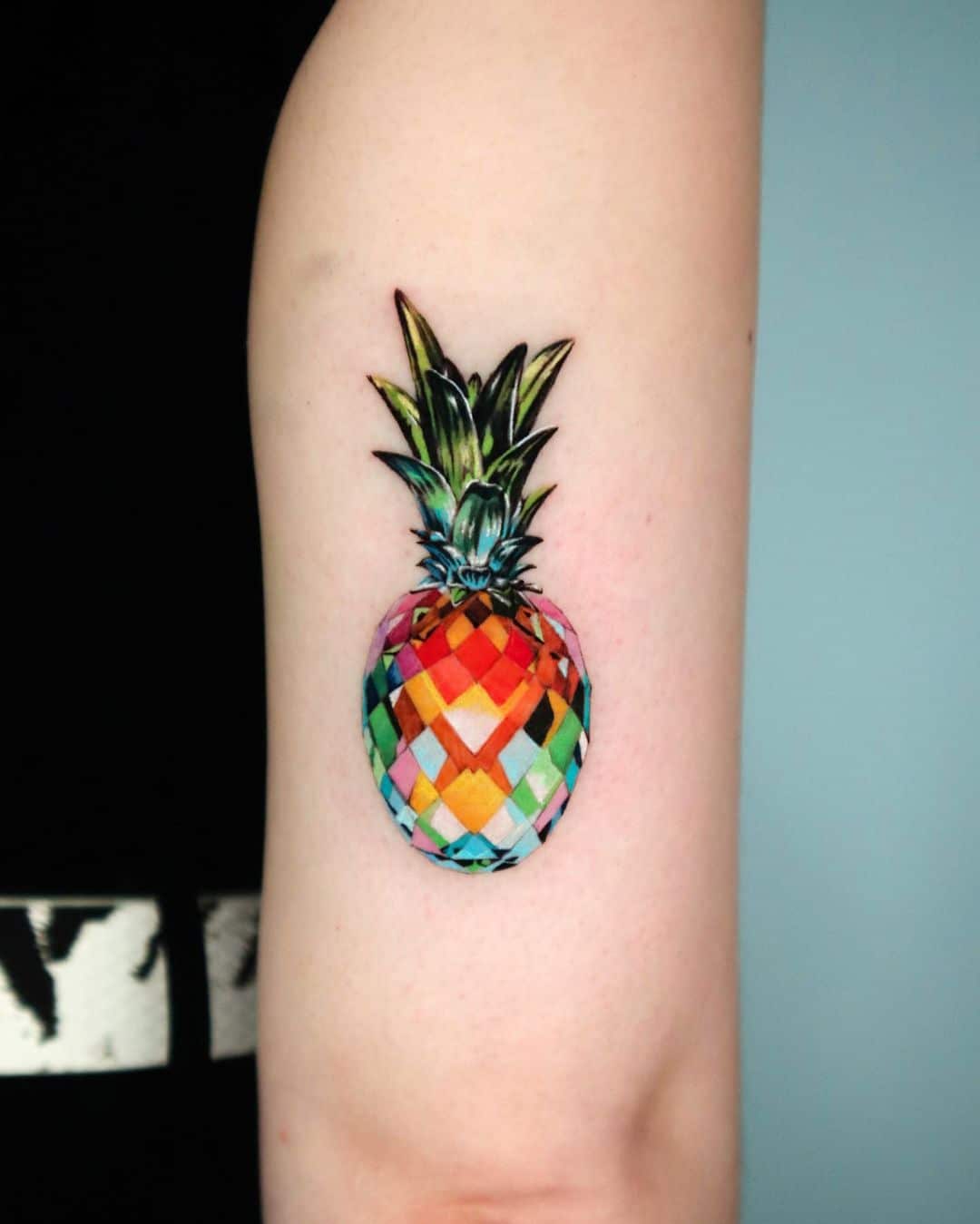 Gemstone Pineapple Tattoo
Another realistic pineapple tattoo with a different touch, isn't it?
Just in between from micro and regular(?) realism, with a very personal touch and a perfect finish, here you can admire this gemstone pineapple tattoo.
The tons of details and different color and white ink gives the composition this light, completely different from the other tattoos on the list.
The tattoo is done by Nonlee Ink Tattoo Studio, one more time in Seoul.
Another different one, yes.
This time, an illustration pineapple tattoo but with a different touch or being cutted just in the middle.
We can say we do love the colors used here, for the outside part and, moreover, for the inner one, and the touches of the leaves.
It reminds us of arcade video games and illustrations from one decade ago (or two), and we do love it!
This fantastic artwork is done by Matt Stebly, another fantastic tattoo artist you may follow.
We hope you have enjoyed this list about pineapple tattoos because, as you can see, there are endless possibilities here!