Band tattoos are really popular all around the globe and, because of this, we want to share with you this complete guide about this sub-style tattoo.
On this guide, we want to talk you about:
Well, there are a lot of different meanings for band tattoos depending on the context.
For example, a celtic band tattoo meaning is the one for the iconography of the celtic element, as well as a viking one.
But, what about the black band tattoos?
This is the point
we want to share with you, because there is a hidden message there.
Black band tattoo meaning
The point and the special meaning of a simple black band tattoo, usually in the forearm but you can get inked in the place of your body you want to be, is:
Simple Black Band Tattoo
The black band meaning is usually related to a missed one, by death or by love.
It can be a parent, sibling, a pet or even a partner or a project.
The point is it has to be really a strong miss for you enough to get inked.
Beautiful, isn't it?
A lot of Band Tattoo Designs for you!
And now, let's go for a lot of different band tattoos to get inspired!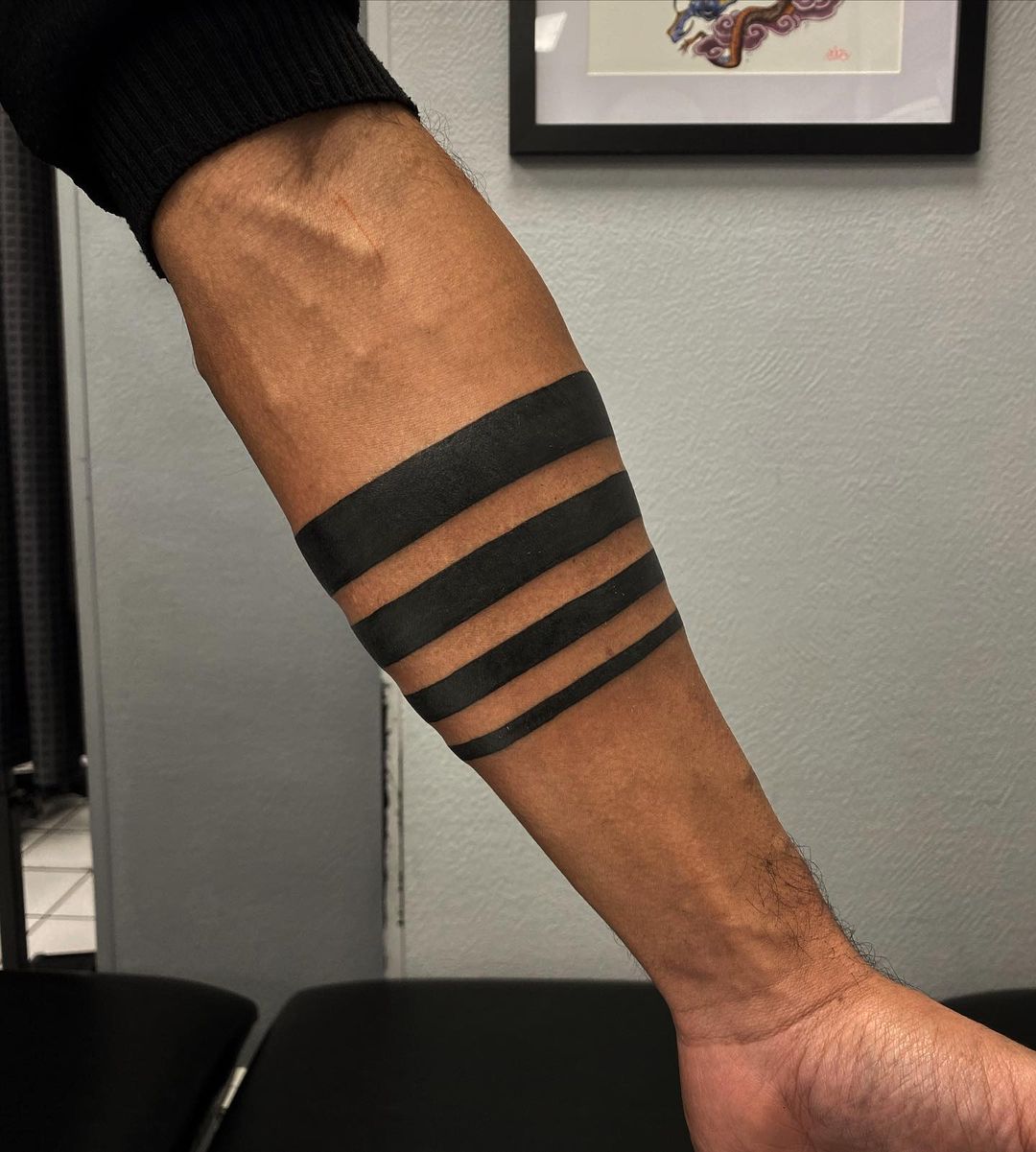 Armband tattoo with 4 stripes
This is the first example for this list about band tattoos.
As you can see, is the perfect example for the more traditional one but, instead of just one band, with 4.
We selected this for you because, in the beginning, we want to share with you the most typical one.
Moreover, this tattoo is perfectly done, straight and with the black ink perfect by Cristos, a talented tattoo artist from the US working in Nantes, France, for Studio54 tattoo shop.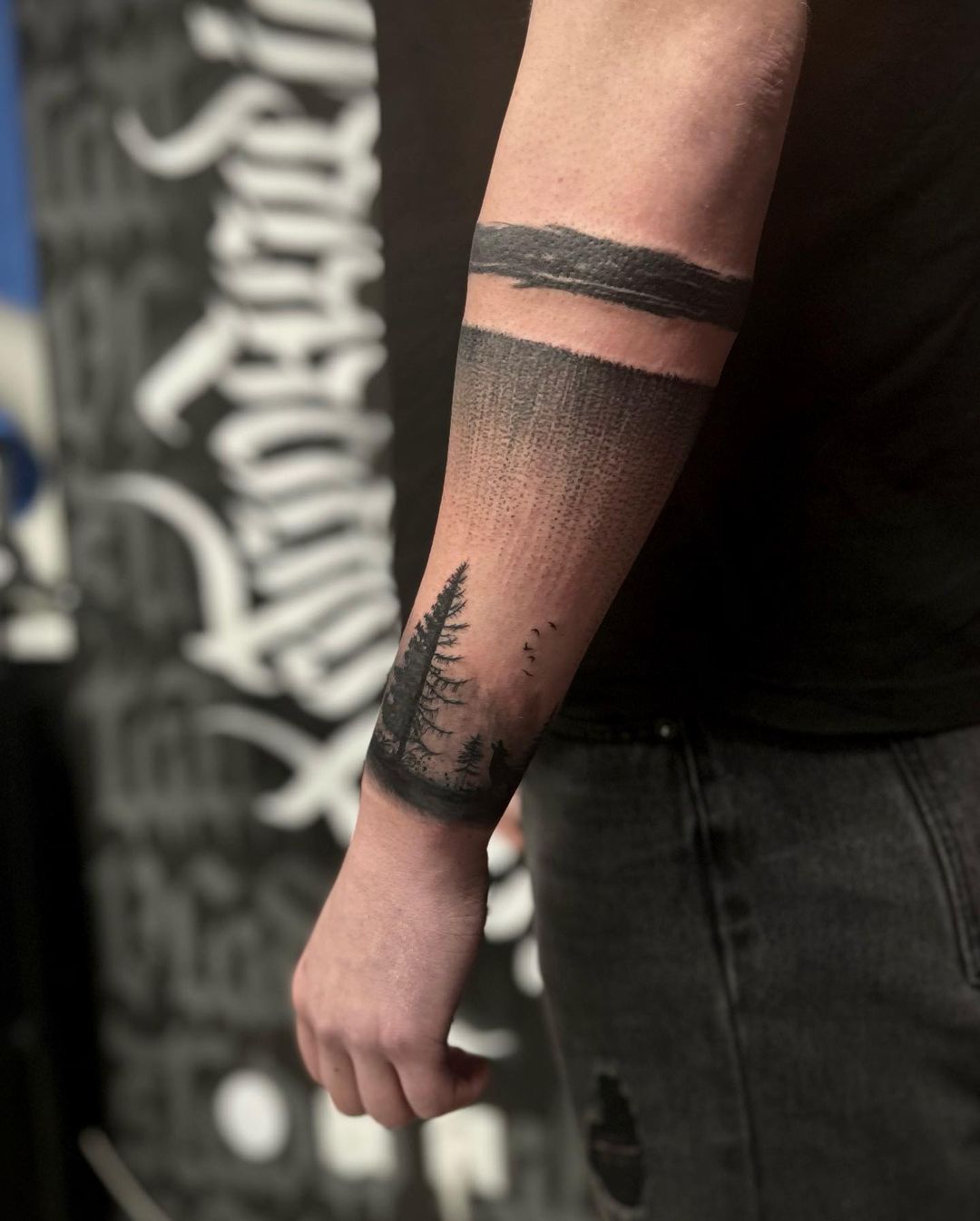 Another nice example is this one you can see.
On the one hand, a fantastic realistic blackwork of a forest in winter.
And, on the other hand, a fantastic not-regular band just up the composition.
Nice idea, isn't it?
This tattoo is done by Subject, another very talented tattoo artist, this time from Prešov, in Slovakia.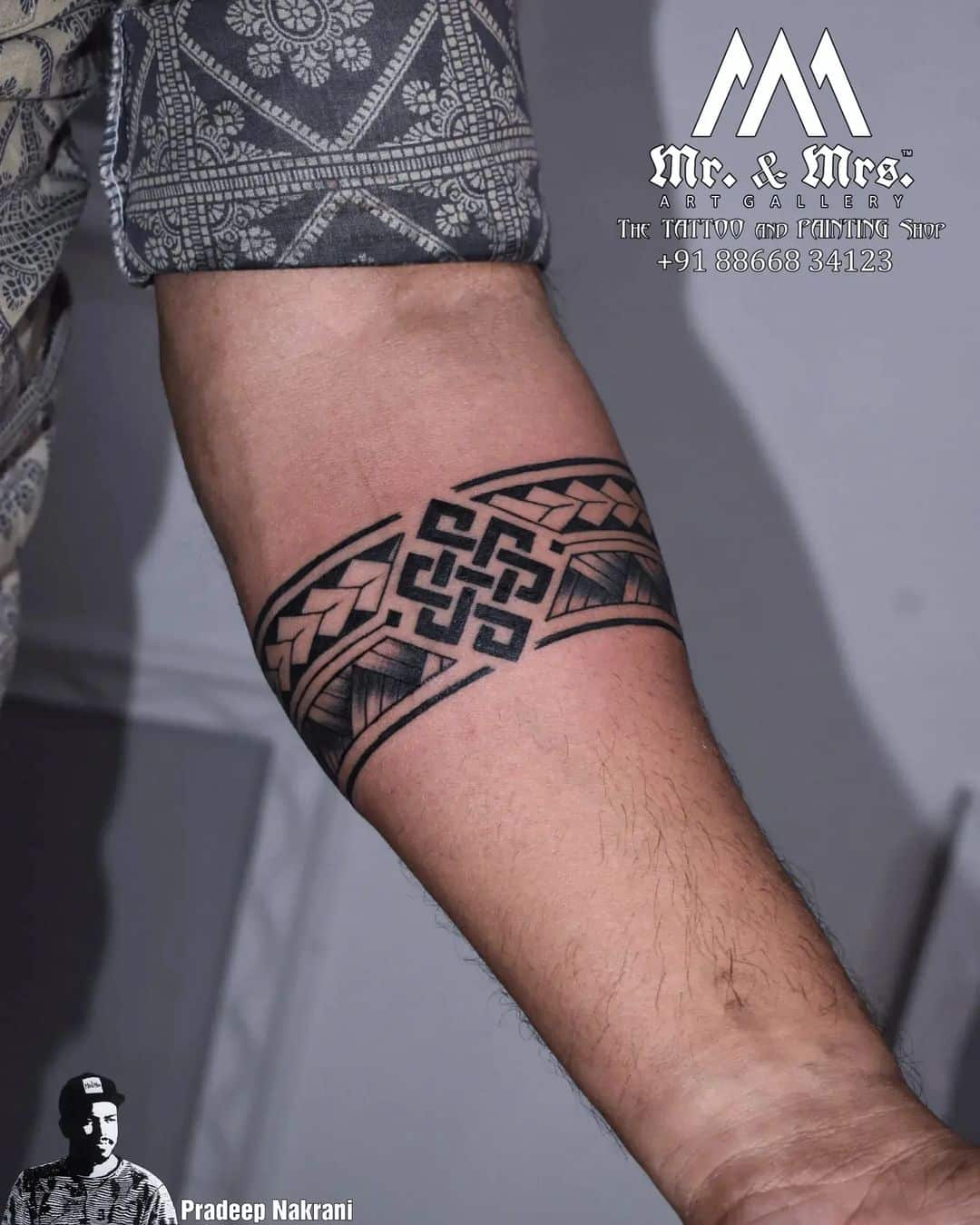 And, if you want something more tribal, here is the first example for you.
Pretty, isn't it?
This tattoo is about a regular band with a symbol just in the middle.
This time, it is a tribal symbol usually for love or for a close community (is love again, isn't it?).
We do like this design because it is perfectly done, with very straight and bold lines and perfect blackwork.
This tattoo is done by Mr. and Mrs. Tattoo, in Sicilia, Italy, of course.
Yes, you can innovate in band tattoos as well as on every other tattoo style, and this is the perfect example.
As you can see, the essence is a band tattoo, but, this time, instead of a regular band, you have an abstract one, a little like brush stroke, and in color, instead black ink.
This fantastic artwork is done by Ink24Tattoo, in Begur, Bengaluru, in India.
Nice one, isn't it?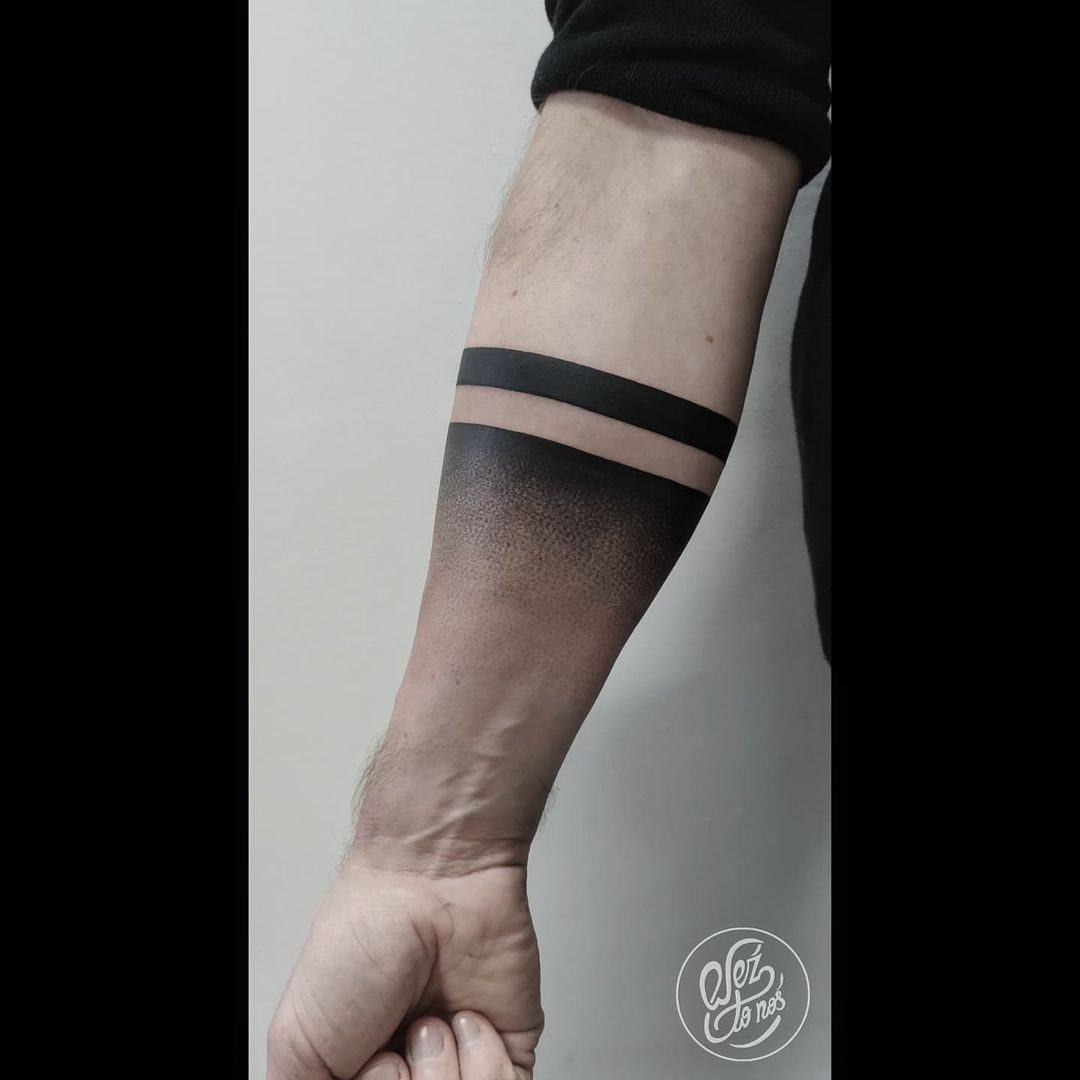 And, more a bracelet than a band tattoo itself, we want to share this one.
As you can see, a band tattoo in the upper forearm, and then, a dotwork design in gradient to the arm wrist.
A very elegant and nice design, this time, made by Ariel Puchalsky, nice one there!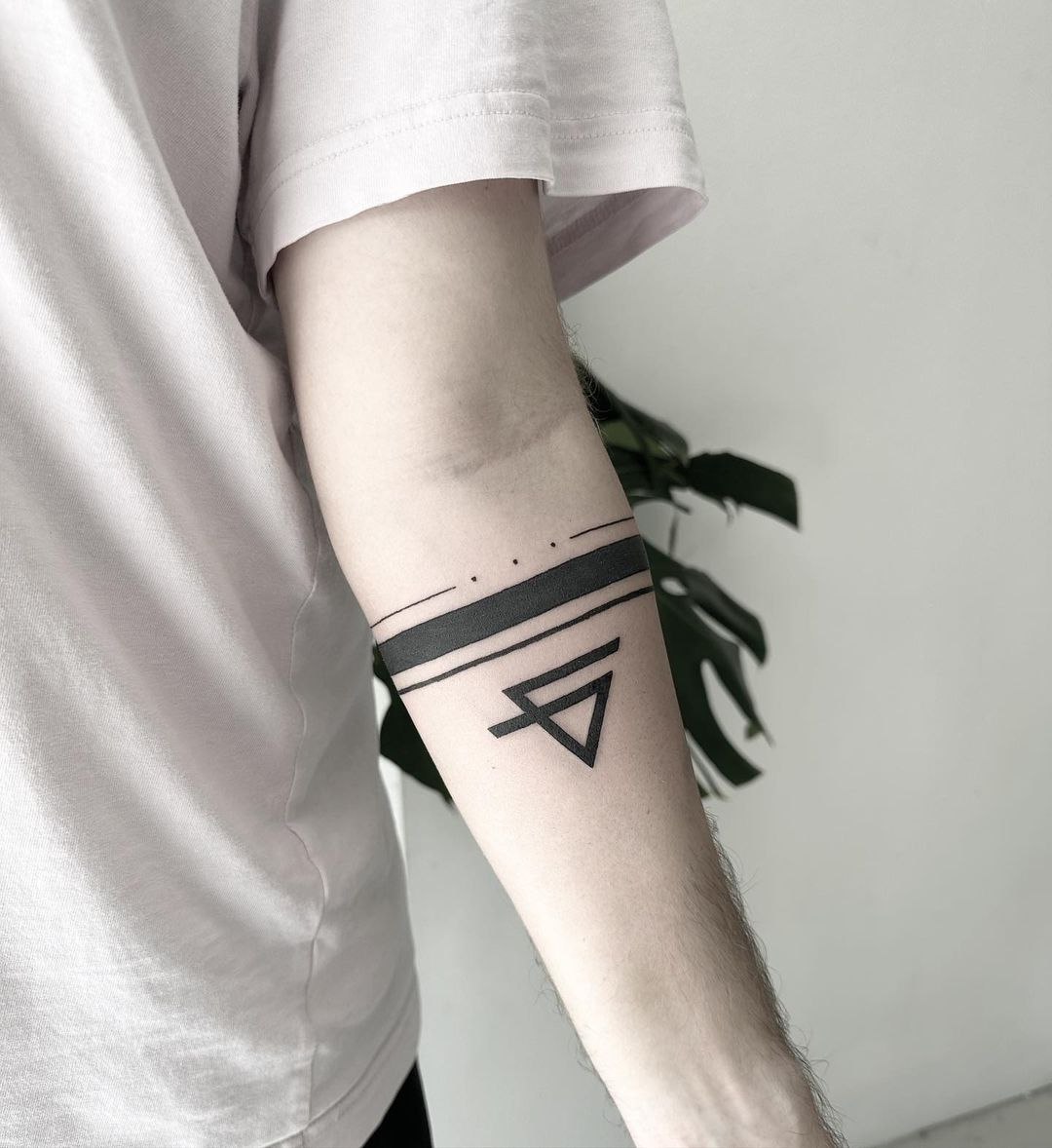 Forearm band tattoo with a symbol
This one is more complex that you may notice in the beginning, let's go for it:
On the first hand, band tattoos have their own complexity because you have to make the design really straight, and that is the first point.
This time you have a band and two lines, one with some dots, and the symbol, all with straight lines.
So, you have to be very delicate and professional to have this final result.
This tattoo is done by Zeroo Tattoo, a tattoo studio from Chiang Mai, in Thailand, and we do love it!
Let's move on to tribal band tattoos one more time.
We do love this one, truly.
It's a band (or a bracelet) tattoo with a lot of work, lines, and care.
As you can see, the final result is fantastic, so that is the point!
This tattoo is done by Angela Madocsai, owner at NG Ink Tattoo, in Miskolc, Hungary, and we think you should follow her right now!
Black armband tattoo (really huge!)
Yes, you can have a band tattoo but a little bigger, like this one.
Technically is a blackwork, because you have tons of ink on there, but, if you see it, it is no more than two bands with 3 thick lines, isn't it?
Well, ok, the result is awesome, of course.
This tattoo is made by Soul of Asia Tattoo, a parlor from St. Johann in Tirol, in Austria.
Do you want to have a band tattoo but more on the arm wrist and not in the forearm, don't worry, we have examples for you too!
Here is a tattoo design about this, with a tribal or geometric design, a fantastic work with a very nice finish, isn't it?
This tattoo is done by Edijs Ink Tattoo, from Jelgava, in Latvia.
Simple designs are usually the best ones, and you may think the same just seeing this one.
Just an armband, in black ink, with a data in the forearm, this time, in Roman numerals.
Just it, and just nice!
The tattoo is done by Young Blood tattoo, in Hanoi, and we think you should follow them.
Black band tattoo with symbols
And, if you want something larger, here is another example for you.
As you can see, a central big band with some symbols up and down, in a celtic style.
A nice work with a perfect composition.
This tattoo is done by Neil Bass, a wonderful tattoo artist from UK focused on blackwork you may follow.
And what about if you want to have a wedding symbol but without a ring?
We have the perfect solution for you.
You can get inked with a band, usually in a finger, with the design you want.
Here you can see one of a heart, and another regular band.
What do you think about the concept?
The tattoos are done by Karin Swain, a wonderful tattoo artist from Chilliwack, in British Columbia, Canadá.
Thigh Band Tattoo with Flowers and Geometry
We do think thigh bands are really a thing, because, you know, more space, more work, more talent to do a nice work.
And we do love this band because the point is the band itself is not tattooed, so it is like an inverted one.
The skin space is the band, and up you can see a magnificent botanical tattoo, with a geometric one down the band.
A very nice concept from a very talented tattoo artist like Helka, a wonderful woman tattoo artist you may follow.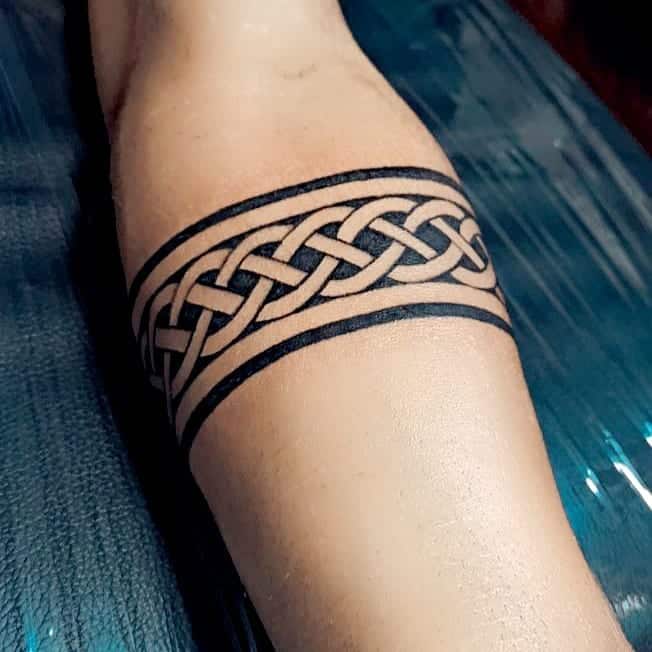 And now, you can see a nice example of a simple but effective celtic band tattoo.
As you can see, the symbol is in the center of the composition, and the final result is awesome.
Moreover, we have to say Celtic symbols are worldwide, in fact, this tattoo is done by a tattoo studio in Ahmedabad, India, by Vishvas Sharma.
Nice, isn't it?
You always can make a band in every place of your body, and the ankle is another nice spot to do it.
We do love this tattoo design because it is a color band, and usually they are black inked, and about the style, in a traditional american one.
This fantastic tattoo is done by Rookie Tattoo, from Sacred Cartel Tattoo, in Aichi, Japan.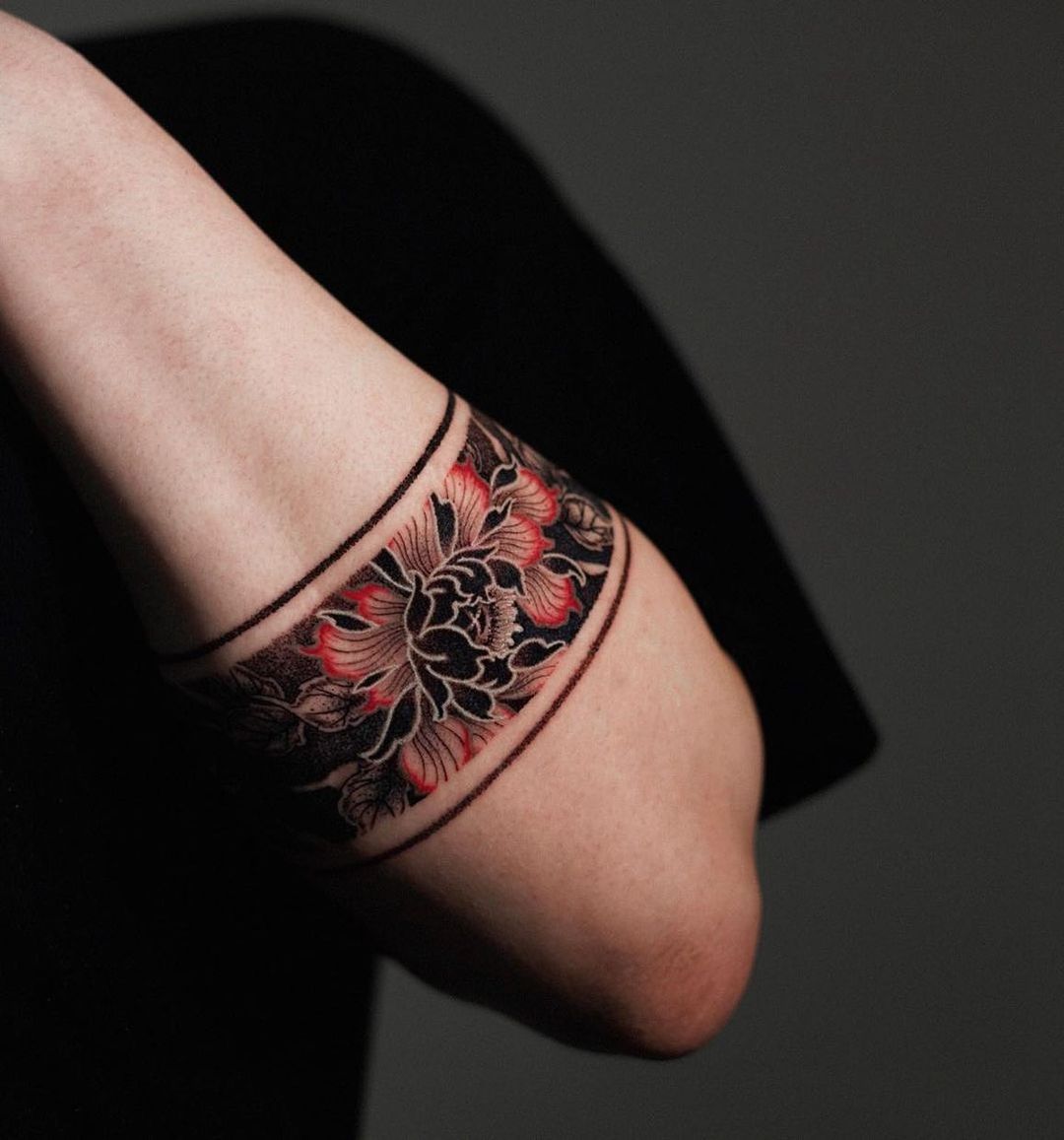 Flower Band Inverted Tattoo
And we want to share with you this one too, because we think it may inspire you.
It is a flower band tattoo, yes, but.
Is in color and has a lot of black ink, making the composition something remarkable, and we do love it because of the white ink in the rose.
This tattoo is done by Sketch Tattoo, in Chernivtsi, Ukraine, fantastic job!
We hope you enjoyed this band tattoo guide!