Looking for a Totoro Tattoo? You must see this guide…
If you have to choose just one single character in anime History, it should be Totoro, and we mean it.
Totoro is so famous in Japan like Mickey Mouse or Winnie the Pooh in the US for children of all ages since 1988, and this is a thing!
For this, on this guide about Totoro tattoos we want to tell you:
Let's start with something more about the film
My Neighbor Totoro is a Japanese film directed by Hayao Miyazaki, and produced by Ghibli Studio, back in 1988.
The story of the film is easy and child friendly, in fact, you can watch it with your kid from 3 years without a problem.
Totoro's film is about a trip of a family to the rural area in Japan, and how 2 girls of the family (Mei and Satsuki) learn about nature, the forest and have some adventures with some magical characters.
On the other hand, their mother is ill at the hospital, and his dad is working at the University, so the two girls stay alone for long hours.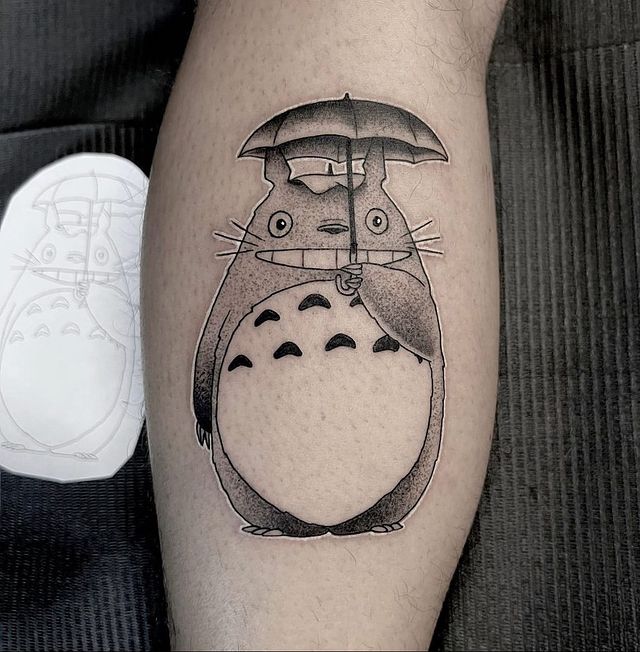 Totoro Black and Gray Tattoo
Maybe this is the more classical design you can see about a Totoro tattoo, with the umbrella and smiling, of course.
This is the way all fans have Totoro in their minds.
As you can see, the design is very anime, and we do like the white border, not pretending to be a sticker but giving a lot of strength to the design.
Moreover, the dotwork and shadowing of Totoro's body is perfectly done.
This nice job is done by Matthew Leroux at Nitty Gritty Tattoo & Barber Co. and we think you should follow him!
Main My Neighbor Totoro Characters
The first fun fact is about the two main characters, Mei and Satsuki.
In fact, in the original idea it was only one of them, with a different age (6 years, but Mei has 4 and Satsuki 11), but then Miyazaki have the idea of having 2 main characters.
Well, Mei is the phonetic transcription of May, and Satsuki is the way you way May in Japanese.
Nice one, isn't it?
In the film, Satsuki tries to take care of Mei, and Mei is very funny and always searching for things.
Tatsuo and Takuso are the father and the mother of Mei and Satsuki, he works at Tokyo University and she has tuberculosis.
Then you have Totoro.
You can see Totoro in three different ways in the movie:
The big one, gray color.

The medium one, blue.

And the smallest one, like a mouse.
Another fun fact: Totoro is a misspelling for tororu, troll in Japanese, and it represents the 3 spirits of the forest.
Totoro is so famous that it is in a lot of different Studio Ghibli movies and Totoro's merchandising is something really big.
Satsuki and Totoro Tattoo
In this composition you can see two of the main characters of the film.
Satsuki, the 11 years old girl that takes care of Mei, and Totoro in the forest, of course.
We think with this tattoo you can see the energy of the film, and the color palette is perfect.
The tattoo is done by Marco Veneziano, working at Addiction Tattoos, in Gainesville, Florida, and he has a lot of anime and cartoon freak tattoo designs on his Instagram we do love.
Yes, this is a fantastic and beautiful tattoo, isn't it?
Another one for Satsuki, but, this time, without Totoro and in fineline, very harmonic and with a perfect linework.
We just do love it.
This tattoo is made by Lauryne, she has a private tattoo parlor in Dijon, France and we can say you must follow her if you like anime tattoos and fineline, because she is a very talented woman in these two styles!
Here is another fantastic idea with a not so classical design.
As you can see, it is like a matrioska game but with the three Totoro's possibilities (big, medium and small one).
We do like the style of the tattoo and the linework, just perfect!
This tattoo is done by the Manchester Tattoo Company, and yes, they are in Manchester, in the UK.
Well, let's start:
For Empire is one of the 100 best films of world cinema (41 in the ranking).

For Empire too, Totoro was number 1 for cartoon characters.

Best film for Kinema Junpo Award in 1989.

Best film for Mainich Film Award in 1989.

Grand Prix for Animage Anime Awards, in 1989.
So, as you can see, Totoro is something big enough to have a tattoo!
Some more Totoro Tattoo designs for you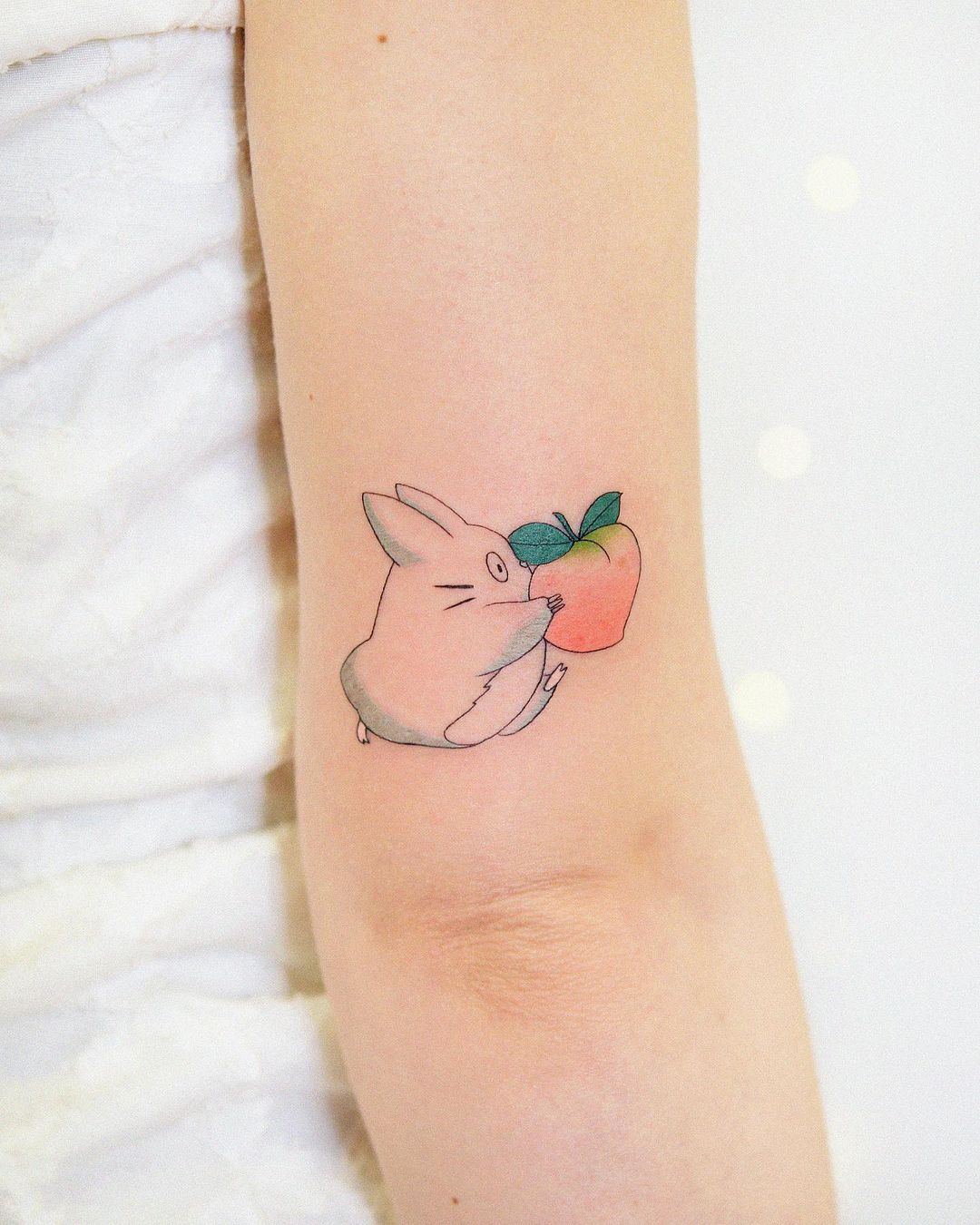 Totoro with a Peach Tattoo
There is a fantastic sub-trend in Totoro tattoos about designs of Totoro just doing things, like this one.
Yes, is Totoro in a kind of kawaii style running with a peach, and it is so lovely!
The tattoo is made by Adélaïde, a fantastic woman tattoo artist based in Caen, in the French Normandie region, but with several spots in some places around Europe, and we can say she has a fantastic tattoo style!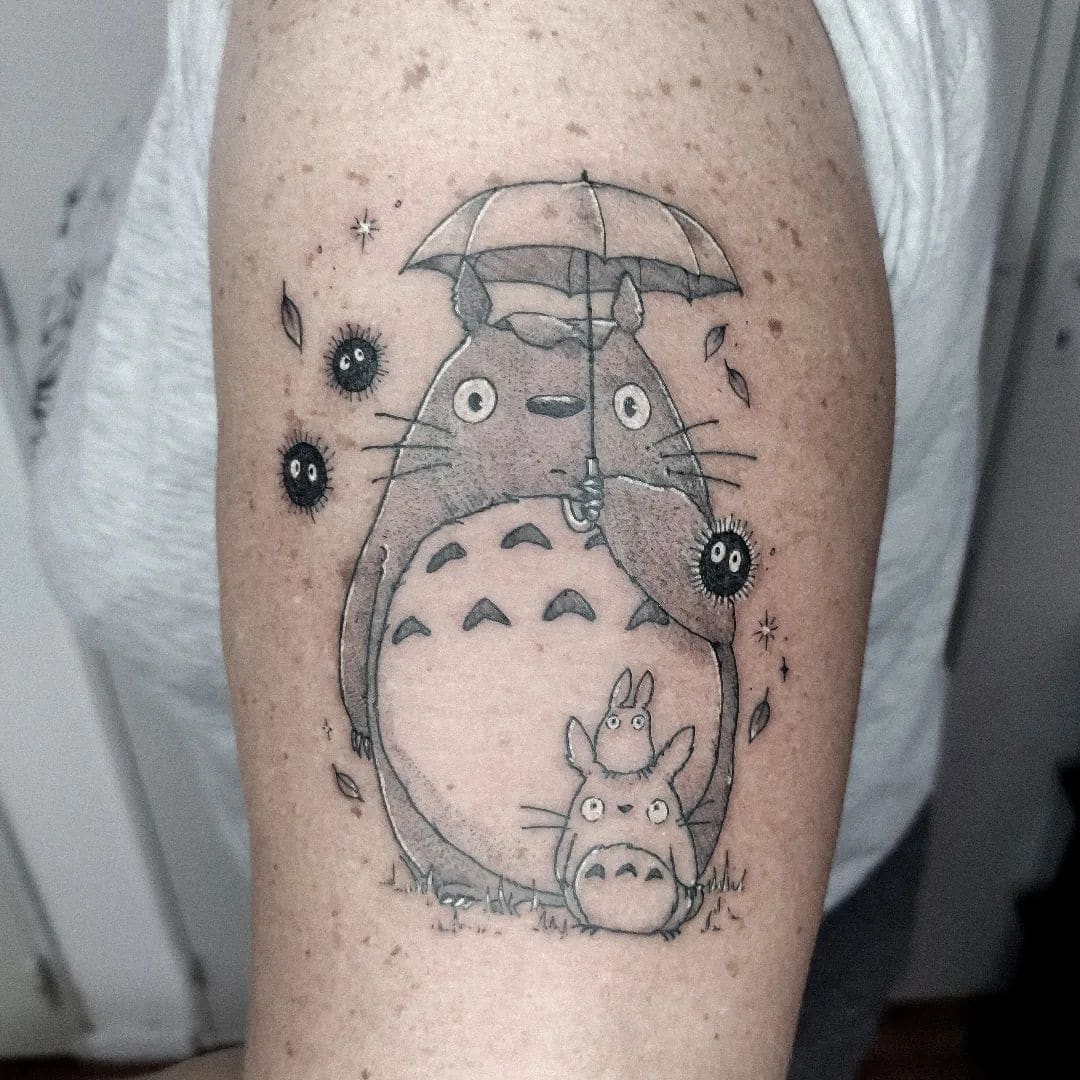 One more time, Totoro with the umbrella, but there is something different.
Here you can see the three different ways Totoro can be shown in the movie, and, moreover, the other characters are the magical dust from the house.
This tattoo is done by Puffy, a very talented woman tattoo artist from Buenos Aires, in Argentina, focused on fineline style that you may follow.
Totoro and the teacup Tattoo
Do you remember when I told you about the sub-trend of Totoro doing things?
Well, here is another example.
This time, two Totoros are having a bath in a teacup, with some magical dust there.
Just fantastic!
This tattoo is done by Noah Zuid, a very talented tattoo artist you may follow right now!
He works at Tattoo & Piercing Studio B4, in Berlin, Germany.
And now, one more time the three Totoros, but not in black and gray, let's put some color inside!
Yes, a watercolor Totoro tattoo with some flowers, very cute.
This tattoo is made by Iris Aubin, she is a wonderful tattoo artist focused on watercolor and sketch tattoos from Sao Paulo, in Brazil, and you must follow her!
This one is another Totoro tattoo in the small shape, and we think it is just charming.
We do love the color palette and, moreover, the way the silhouette is done, just in dotwork, but with a perfect shape.
The tattoo is done by Angggo, a wonderful tattoo artist working in Seoul, South Korea you may follow.
Another very special character in My Neighbor Totoro is this Cat Bus Room.
Yes, it is like a but, but instead of it, it is just a magical really big cat running by the forest.
We do love this tattoo because you can feel the essence of this character, and this is very difficult.
The tattoo is done by Rachel, a fantastic tattoo artist working at Crooked Fang Tattoo, in Newcastle, UK, and we think you really should follow her!
As you can see, there are a lot of possibilities to get inked with a Totoro Tattoo, and these are just some of them.
We do hope you enjoyed this guide!