Ares Tattoo: All you need to know about the God of War
Yes, we really love mythology, and today's post is just about that.
But something very specific: Today we want to introduce you to Ares, the God of War for the Ancient Greeks, known as Mars for the Romans.
In this article we are going to talk about:
Some introduction about Ares
We are trying to be short with this introduction, but we think some context is always good to have a global picture of it.
In Greek mythology, Ares is the God of War, but, how can we say this… the bad part of war.
For this,
Ares is the good of brutality, anger, revenge and strife.
This is not a good thing right now, but you have to see it like a society 2.000 years back, and these features would be necessary in the battlefield, isn't it?
In fact, Ares is one of the 12 Gods in the Olympus, so we can say the Ares figure is one of the most important for ancient Greeks.
Just a few lines up we said that Ares represents all the bad things in war, like the chaos and revenge, and this is because his sister, Athena, represents the opposite.
Athena is more the symbol for military intelligence, the tactics in the war, but Ares is the battlefield warrior.
Ares is the first Zeus and Hera son, and this tells us that the first thing humans do in society is to fight.
Yes, sad, but true.
Then, in the Roman empire we have the Mars figure, and Mars became far more popular than Ares was for the Greeks, being the second god in popularity.
In fact, March is the month dedicated to Mars.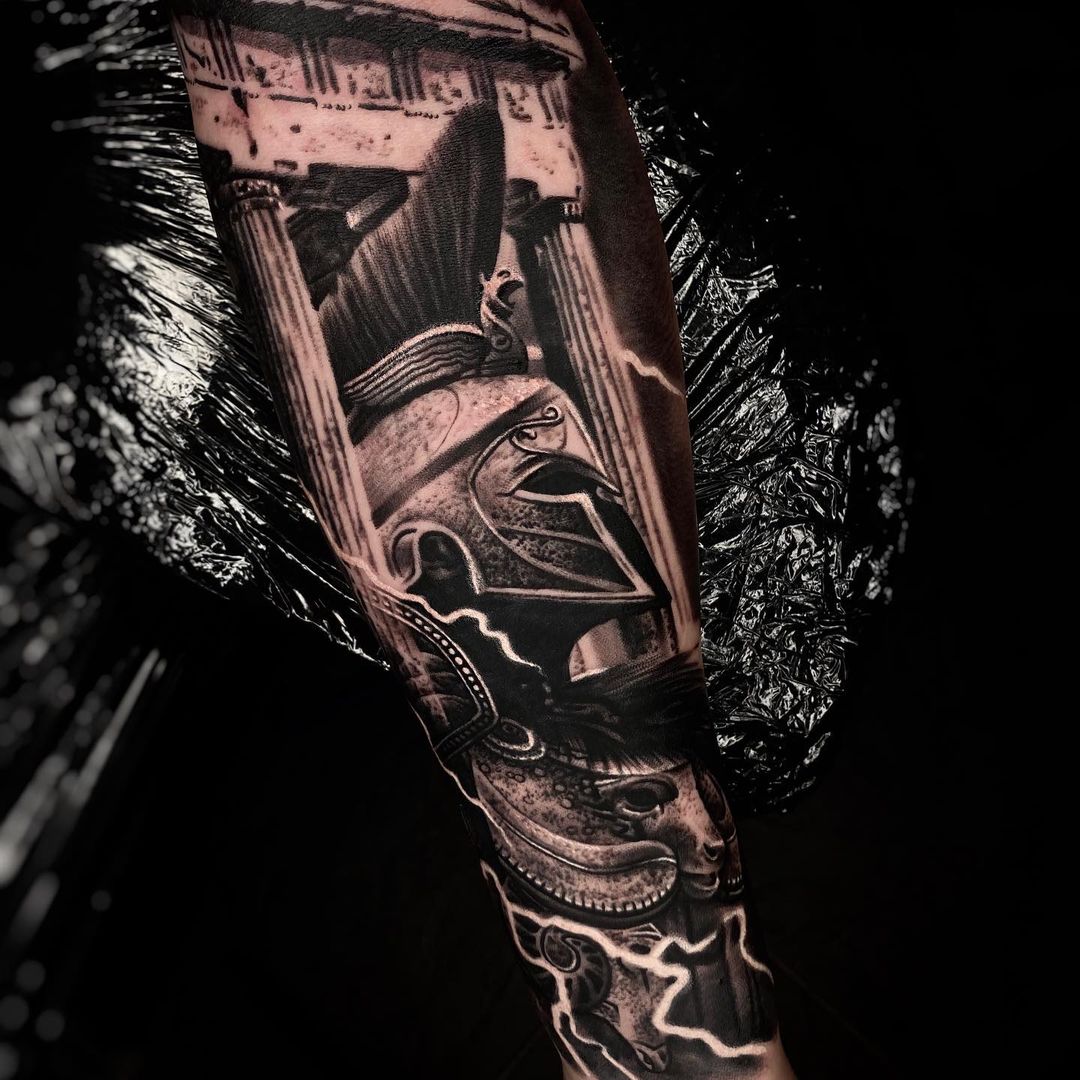 Ares Hyper Realistic Tattoo
The first Ares tattoo we want to show is this one because maybe it is the best example of the main aesthetic of an Ares tattoo you can see.
This tattoo is done in a hyper realistic style, with a lot of style and a lot of power, it seems you can feel the energy, isn't it?
We like the detail level of this tattoo and the hand of the tattoo artist, Adam Blake, from New Mind Tattoo in Huddersfield, West Yorkshire, in England, of course.
Nice job!
But Ares was not alone in battle
Yes, Ares is the God of war, fearless, strong and brutal.
But, in the battle, is not represented alone.
In fact, usually Ares is represented with 4 more figures with a lot of meaning:
What about Ares Tattoo Meaning?
Well, society has evolved a lot in the last 2 thousand years, but the essence remains the same.
An Ares tattoo can represent mostly two different things:
Of course, the second one is the preferred by almost everyone to get an Ares tattoo, of course and, as you may see now, you have a lot of different examples to get inspired.
Some Ares tattoo ideas for you to get inspired
And now, we want to share with you a lot of different Ares tattoo ideas so you can get inspired, just enjoy them!
Ares and Zeus arm sleeve tattoo
Here you can see an amazing and very complete tattoo.
This time is a complete arm sleeve with two figures: Zeus and Ares.
Just up, near the shoulder, you can see a hyper realistic tattoo for Zeus, in big size, with his long beard.
Down, and Ares tattoo, in a hyper realistic style too, as a continuation.
All the pieces are made as if there were two statues, and we think it is fascinating.
This fantastic piece of work is done by Murat Canart, in Antalya, Turkey.
Ares Realistic Shoulder Tattoo
Another fantastic and classic tattoo example for an Ares tattoo is this one.
One more time, in a realistic style (it is one of the big trends, not only for Ares, for all the mythology tattoos), in black and gray, and with a nice detail level.
This tattoo is made by Doug Burkmire, another fantastic tattoo artist you should follow right now!
Ares Realistic Shoulder Tattoo
Another way to represent the God of War is like this one, with a shield and with the helmet off, so you can see the face.
One more time, in black and gray and in a realistic style, doing Ares' face seems to be like a statue, something very difficult to get.
We do like the shadowing of this tattoo, made by Morgan, working at East Side Tattoo London, of course, in England.
Now something a little bit different.
Yes, it is in black and gray and it's nearly a realistic style, but not the same.
This time the illustration tattoo is a thing in the composition, with an aesthetic very near to the 300's, you know, the film about the Spartans.
The tattoo is done by Chris Wirth at his private studio called Back When Tigers Used to Smoke, in Dresden, Germany.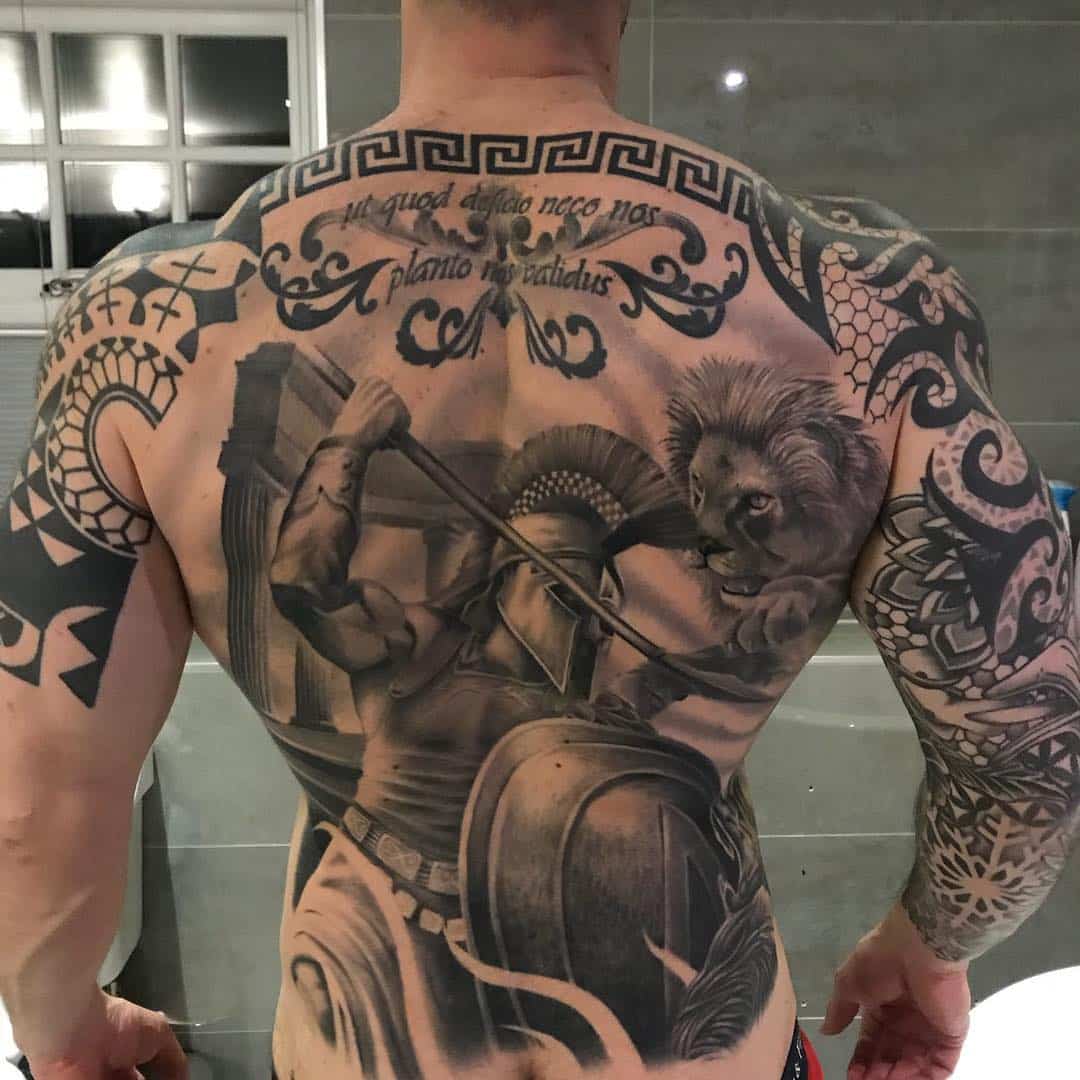 Ares Realistic Tattoo in the Back
Now it is time for something really big and a special and very bold design like the tattoo you can see here.
This tattoo is about Ares with the helmet and the spear, a lion and it is fully integrated with the other elements like the lettering or the tattoos in both arms, making the composition something remarkable.
This tattoo is made by Gully, owner of Top Boy Tattoo, in Brighton and Hove, both in England, in the UK.
Ares and Athena Leg Tattoo
As we told you in the introduction section, Ares was the God of War, Chaos and Brutality, but Athena was the Goddess of military intelligence, like both sides of the same coin.
This tattoo represents this point perfectly because, in the right part of the leg you have Athena and, on the left part, Ares.
Moreover, this tattoo is an amazing job, playing with realism and with statue-like design, we do love it.
The tattoo is made by El Gringo Tattoo, working at Upper Ink Side, in Rome (Italy) and Manchester (UK).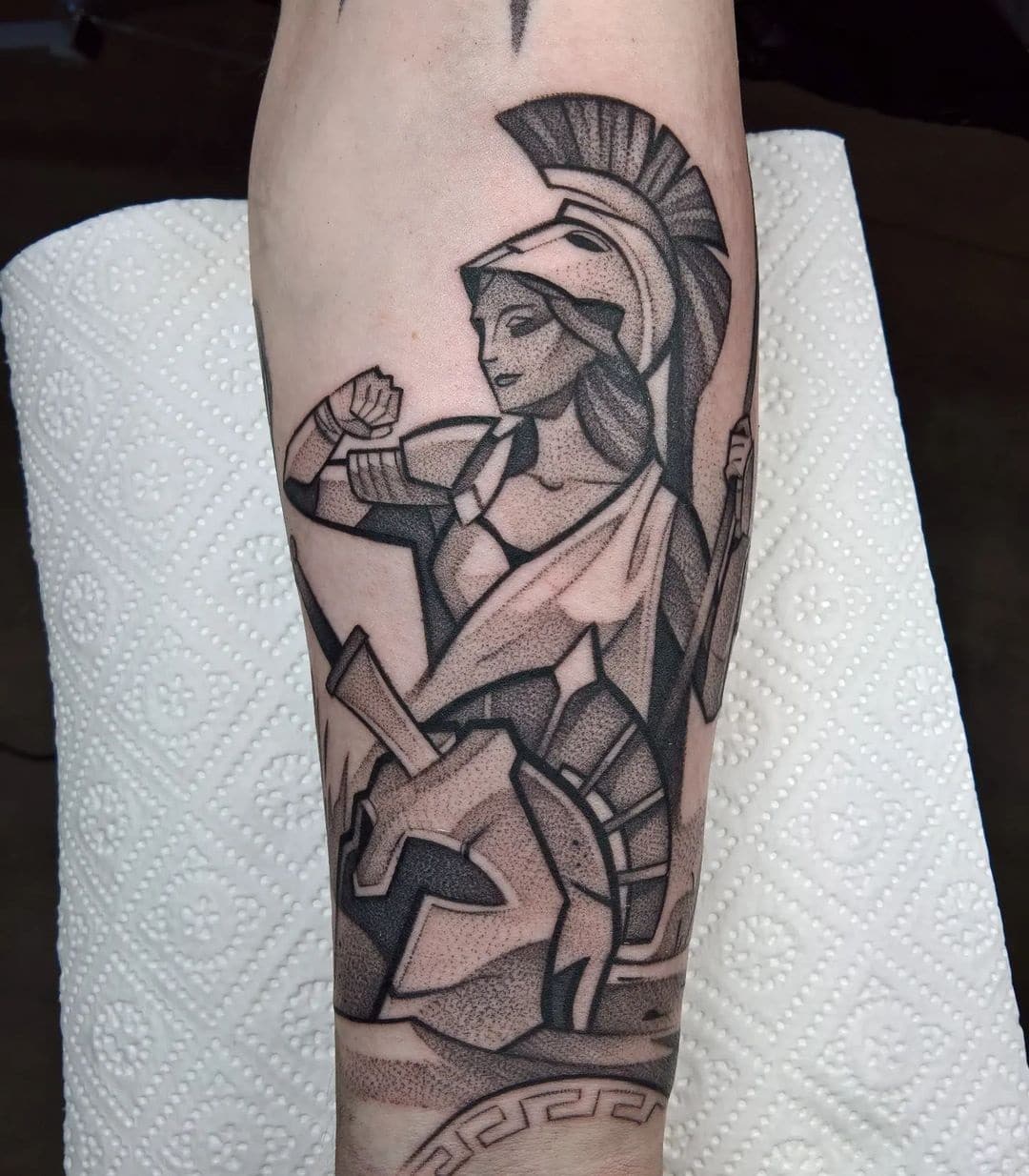 Ares and Athena Cartoon Tattoo
Let's try something different, out of realism and hyper-realism, fresher and, how can we say it… maybe more funny.
This tattoo is, one more time, Athena and Ares tattoo. This time Ares has a sword in the helmet, you know, that kind of thing used to be normal during war.
But, the point of this tattoo is about the styles.
First, the tattoo is made in an illustration and cartoon style, with bold lines done with maestry.
Secondly, we do like the dotwork to fill inside the lines and to shadow the composition.
The tattoo is done by Krysztof Futro, a fantastic tattoo artist located in Warsaw, Poland.
Yes, this is an Ares tattoo too, and done with a ton of talent.
Two of the main Ares symbols are the spear, maybe the most iconic weapon for the Greeks, and a boar, symbol of strength and no fear.
This tattoo is about these two symbols, done in an illustration style with a lot of harmony.
The tattoo is done by Madison Snyder, working at Lucky Goose Tattoo, in Kennesaw, Georgia, US.
Nice work, Madison!
What do you think about this Ares tattoo? Just leave us a comment so we can read it!