Bad Religion tattoos: Our tribute to this legendary band!
We must admit something: We love Bad Religion as a band, as a concept.
We think the are one of the main music groups in the last decades and, of course, in punk/rock music they are just too influent to say something about their music.
Moreover, in 2020 Bad Religion are celebrating 40 years (yes, they are actives since 1980), and this is really a thing.
With more than 15 albums, a lot of worldwide tours, at Ink Happened we must do something, isn't it?
Here is our tribute to Bad Religion, of course, with some tattoo ideas for you.
1. Bad Religion Logo Tattoo
On the first Bad Religion tattoo we want to show you one of their logo, because we want to start from the beginning.
Bad Religion logo is very recognizable in music world (not only in punk/rock scene), and I cannot think in one single music lover person who cannot know it.
It is simple, fits perfect on every spot (arms, legs, back, shoulder or whatever) and you say a lot of things with it.
So, what more do you need?
This tattoo is made by Dabe, from Euskadi, in Spain.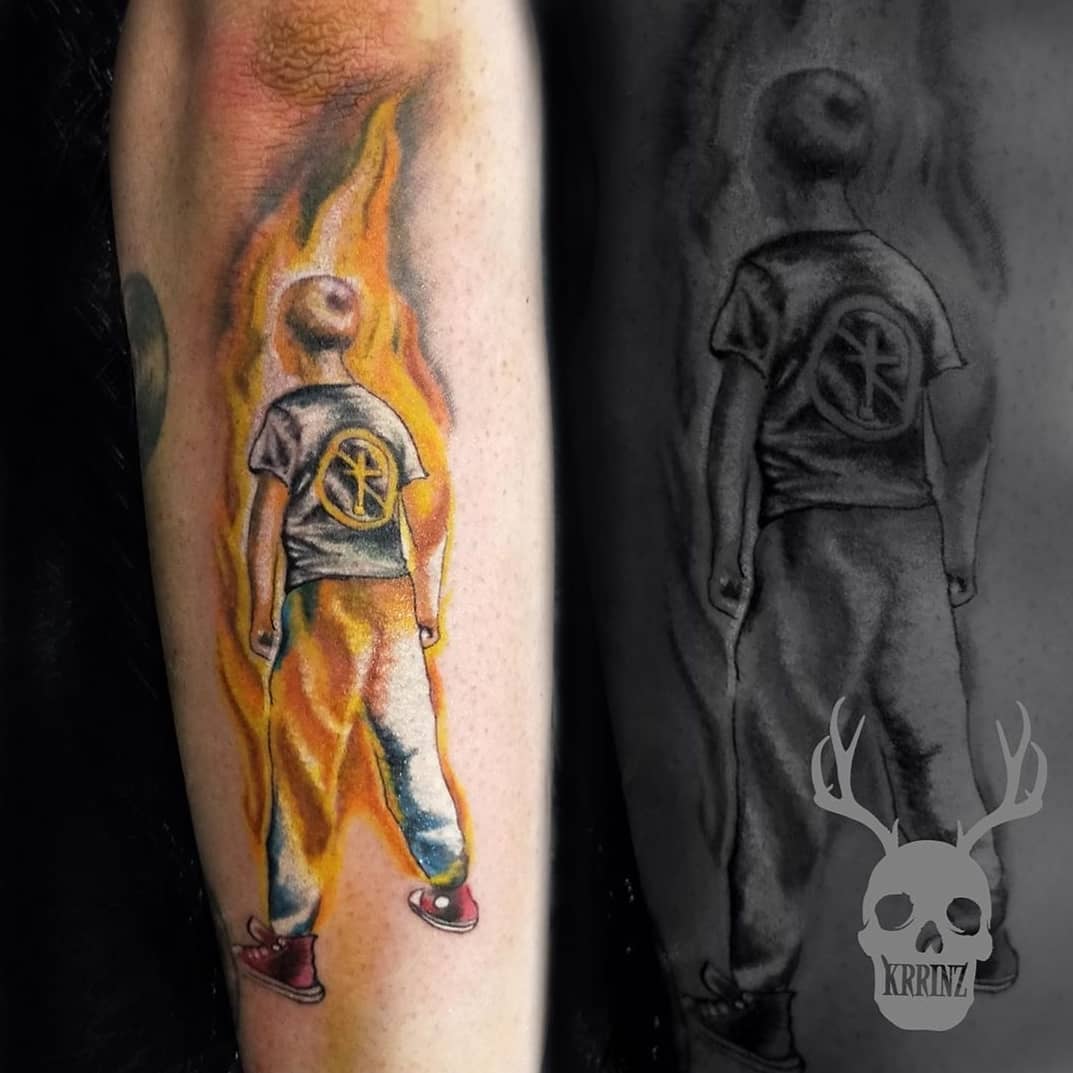 2. Bad Religion Kid in Flames Tattoo
The second one is surely one of the most iconic images in the story of punk/rock.
You can say it is a "Kid in flames" design, as is related to Suffer Album (from 1988) with some hymns like "Do what you want", maybe the best Bad Religion song ever, and the name of their new released book.
This version of the tattoo is made by Brisbane Bodyart, in Brisbane (of course), Australia.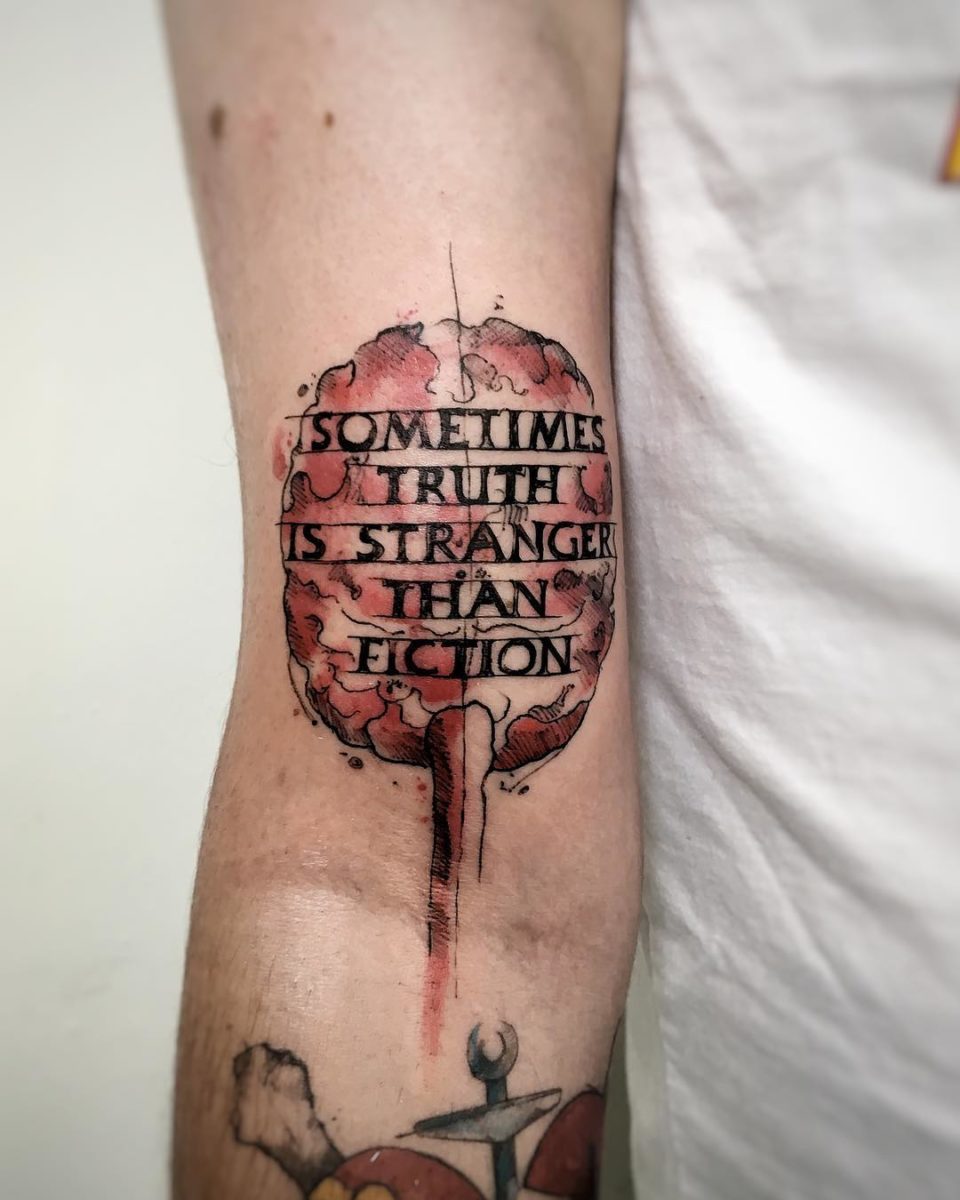 3. Bad Religion Stranger than Fiction Tattoo
Third place in the list is for this lettering tattoo.
"Stranger than Fiction" was a Bad Religion album (and single) from 1994 with another spectacular songs like "Infected", and it was in the Top10 guitar albums in 1994 by Guitar World Magazine.
It is really a thing.
This tattoo is made by Alex Buchner, from Sao Paulo, in Brazil, and you have a lot of black and grey work on his Instagram account.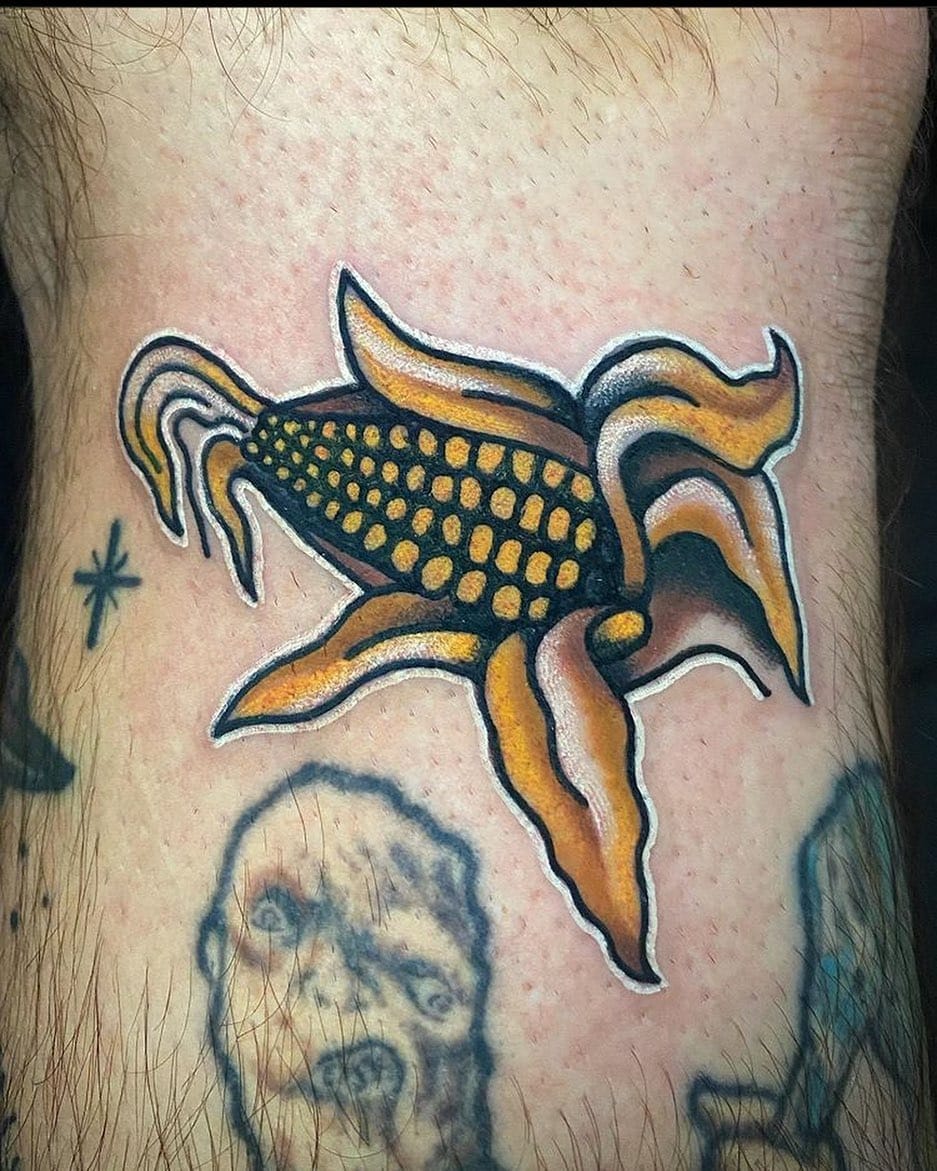 4. Bad Religion Against the Grain Tattoo
The fourth tattoo in this list is this corn design.
This is contained in the fifth Bad Religion album called "Against the Grain" and it was the first album of the band with more than 100.000 copies selled.
Nice one, isn't it?
This tattoo is made by Ken (Eleven Serpents) and you can find a lot of neotraditional tattoos, go and follow him!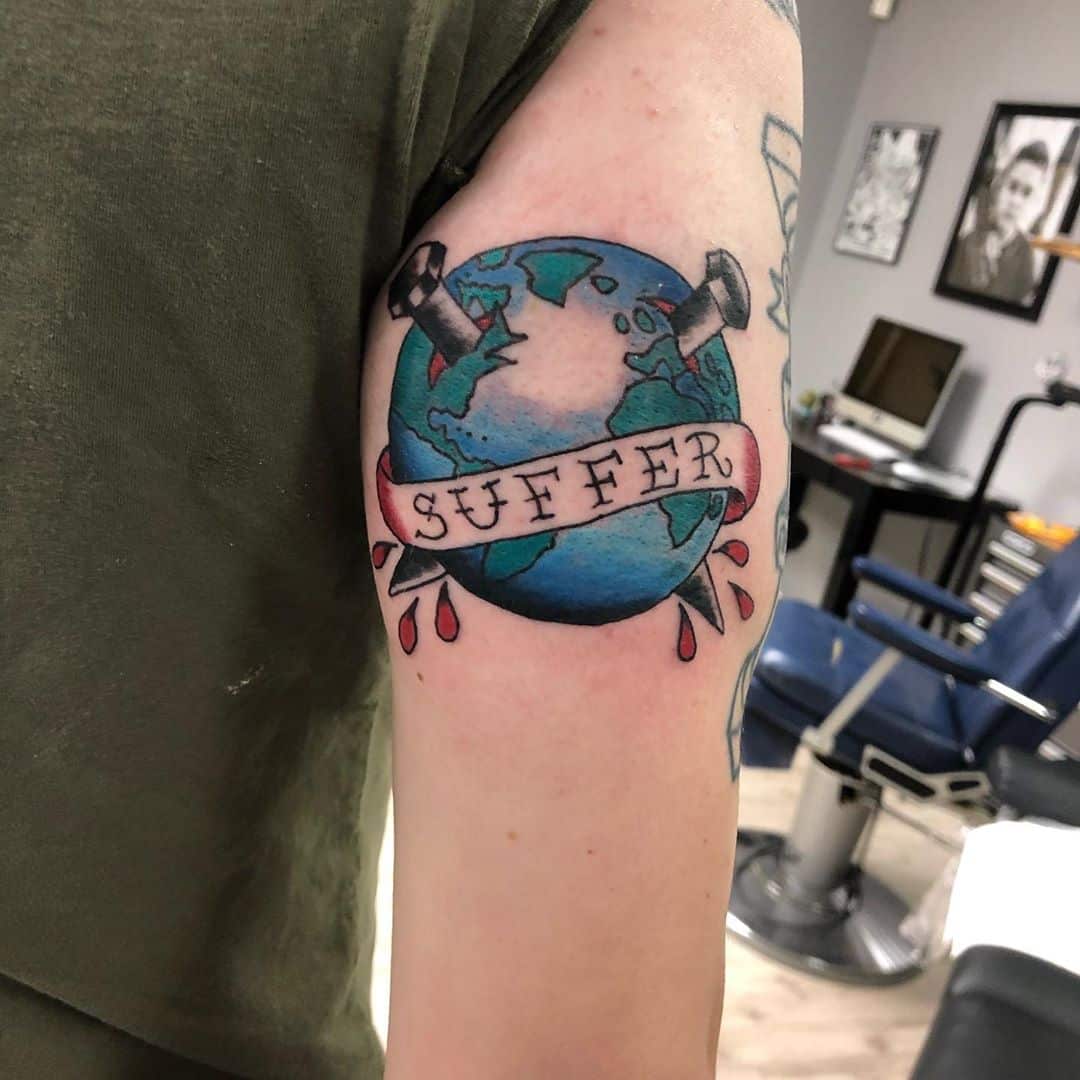 5. Bad Religion Suffer World Edition Tattoo
This tattoo is about "Suffer" album too, but on a different way.
As you can see, is not the album cover, instead of this, is just a design. And very appropriate.
We like a lot this tattoo because it represents really well the concept, and the artwork is fantastic.
The tattoo is done by Jordan Bixler, from Kansas City, in Missouri, and he have a lot of different tattoos.
6. Bad Religion, a medic, and a crow Tattoo
Moving forward, here you got a different kind of tattoo.
It is more realistic, and we think the design and the technique is awesome.
If combines Bad Religion logo with one special figure:
The ancient medic who visit the people who have the plague back in the middle Ages.
The tattoo artist is Danilo Machado, from Brazil, and he has a lot of different tattoo styles to show you.
7. Bad Religion, and Nakatomi Plaza Tattoo
In the seventh place we have another nice story for you with a tattoo, a building and Bad Religion as the main characters.
Here you have a very special design based on the Bad Religion song "Skyscraper" but mixed with the action films from the 80's, with the Nakatomi Plaza inked too!
This design is made by Edgardo Cantor, from Argentina, and the idea is just amazing.
Edgardo has a lot of colored tattoo that are a piece of work, and the results are very personal.
8. Bad Religion colores logo Tattoo
This tattoo is very simple and eye-catching and, just for this, it deserves to be on the list.
Is just Bad Religion logo but with a lot of colors in the banned sign, and it looks perfect and we think it represents a lot the punk/rock philosophy.
The person who share this piece of work is Javier Ignacio, but we do not know really the one who made it.
As he tell us in the comments, it made with the "No Control" colors, and the tattoo artist is Christian Zetos, from Santiago de Chile.
And that's a pitty.
9. Bad Religion unbroken Tattoo
Yes, and "unbroken" with the Bad Religion logo.
It says a lot more because this word is from "Broken" lyrics, song in "The Process of Belief, from 2002.
On these lyrics, you can read (and feel) a very special overcoming story with a girl as the main character.
We see this tattoo from Deb Vengeance, she has the fantastic idea to ink it, so thanks, Deb!
10. Bad Religion Fuck You Tattoo
Last but not least, here we go with a Fuck You tattoo.
Yes, "Fuck You" is one of our favorite Bad Religion songs, and this tattoo has something special…
Can you see the four thick bars?
This is the Black Flag logo, one of the pathfinders of the punk rock back in the last 70's and early 80's.
This tattoo is in Cero Once arm, and we love it!
And here is our tribute to Bad Religion.
If you have some other tattoo (or have made) and you want to be on the list, just leave us a comment!