Interview with Ivan Sánchez Crack105
Our first special guest in Ink Happening is Iván Sánchez, also known as Crack105 and here is his Instagram account.
He is a 24-year-old Mexican guy and he is Graphic Communication Designer for UAM (Universidad Autónoma Metropolitana).
He specializes in lettering and he has been tattooing since 2018 working by himself.
His work is Chicano and Classical Lettering, and he works as lettering professor at some universities too, so he has a very special profile for us.
Moreover, he is launching his own clothes brand called Elegang Street Wear, and we do wish the best for it.
Surelly.
Tell us about the moment you decided to become a tattoo artist, and why
Working in lettering I have got the opportunity to make logos for a lot of tattoo artists and their studios.
Once, my friend Saúl, from "Las 3 Marías Tattoo" invited me to become an apprentice in his studio. I was there for a short time and then I started at "White Cobra Tattoo" studio, with my colleagues Héctor and Flyka, who supports me to learn this beautiful art!
If something defines you is Chicano Lettering, tell us a little more about it
I am specialized on Chicano and Classical Lettering.
Chicano Lettering is a true history about how letters work as cultural identity.
It comes for the Mexican neighborhoods in the US, in the territories who were Mexico before 1848, due some young aggrupation (Gang) in the earliest 1920 until 1940.
These bands started to do some lettering and typography for marking their territories, and this typhos just represents Mexico, because they want to come back to the origin.
Inside this style there are, at least, 4 different basic stiles:
You tell us that you wrote a couple of books about lettering. We want to ask you more about them.  
Yes, in the last time of my career in design we did a project about designing.
I choose Gang lettering, obviously, because I have been doing Chicano Style for the last 10 years and seeing it in my neighborhood.
This became something important in my life, moreover, I chose to study design because of this, and I have never seen a book about this subject from a formal studio.
I just thought it deserved it.
The project I have planned is called "Barrio Letters" and is a 2 books series about Chicano Lettering.
First one, "Barrio Letters. Letters as identity and cultural pertinence in Chicano bands" is about this culture's history, definitions about calligraphy, lettering and typography, the origin of the four basic styles and how they are used on Los Angeles graffiti.
Moreover, thoughts about the letters as a fundamental element in communication and identity among people, how this letter evolves with graffiti, and, of course, different lettering works from the better artists in Mexico.
There is space too for symbols in Chicano art.
This book is not ready for sale yet, the work is at the University right now.
The second book, called "Barrio Letters. The Chicano Lettering Guide" is available for buying in physical and eBook.
It is a basic guide with the most important secrets for doing correctly the 4 basic Chicano Styles (Blackletter, Script, Blockletter and Angelino), with my collections in alphabetical order for each style and a lot of variations to decorate the letters.
It has a guide to doing some ornamentation that you can see in the tattoos and another collection for floral ornamentation that are very friendly with Blackletter and Script.
How is tattooing in Mexico? Is there any trend like in other countries in the world?  
In fact, it is.
There are a lot of tattoo artists more focused on being a Social Media star than offering quality on their works or being more talented.
I think that tattoo is a wide-open door for developing yourself on different art concepts and fields for making my projects more interesting.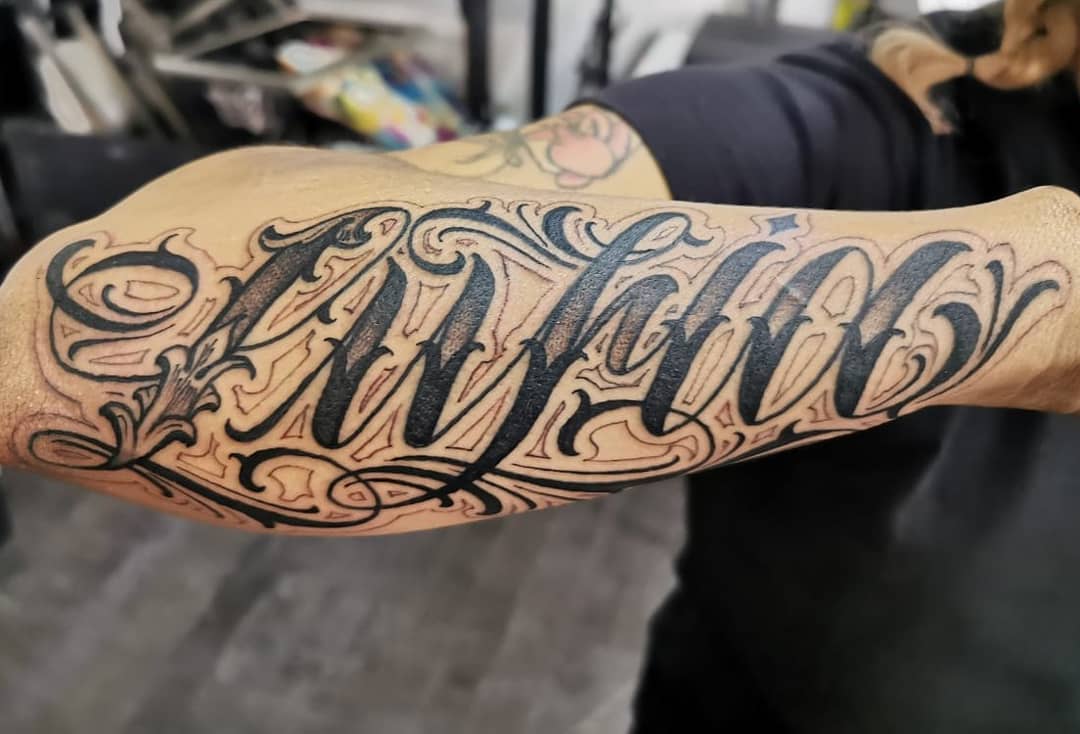 Do you think tattoo perception is changing because the young people? Are there two different speeds between Mexican big cities and the rural area?
Tattoos are more accepted at work and there is more frequent to know good professionals with good jobs and opportunities with tattoos, but there is a long journey to be accepted, and it depends on each person.
It is common to see people with tattoos on the street, however, it is still a negative judgement because of the appearance of one person.
In the cities it is different, there is more tolerance for tattoos, and these tattoos usually are more discreet or related to the profession of the person who has it, more positive art and, of course, with good quality!
On the other hand, in rural areas tattoos are not discreet and a lot of times are band related, and even home-made.
What work are you more proud of?
In general, Barrio Letter project.
I am working on the third book. I want to make a guide about traditional words and phrases on Chicano Tattoo, so the people and tattoo artists can have a reference for their work, even for complex tattoos.
I have seen my book have helped different people who are interested in tattoos or in lettering in general.
When I started, I wish I could find some book like this to learn faster, and I am very proud of this work.
Speaking about tattoos I have some of them, most in big projects, when I can do more detailed letters, but I like calligraphy tattoos too because you need to be very precise.
And the most difficult or complicated one?
My books too.
It was a year with a lot of research, reading books, magazines, digital newspapers, and articles.
Then I must look for images, design and plan all the entire project.
Tattooing, I usually have some complications working with chests or ribs, sometimes, because my clients move a lot, or it is just a bit uncomfortable with long-time sessions.
COVID19 has changed the world and the way we work, who do you think changed the tattoo world? Do you think these changes are coming to stay?  
I think it does. Our work depends so much on sanitation and we cannot risk anyone's integrity.
Maybe you cannot have a companion in the sessions, we must be more careful, and we must do some extra prevention or our tattoo studios.
Please, tell us a few tattoo artists who are worth today, in Mexico or in the world.
I know a lot of tattoo artists with good jobs, but they are all well-known.
I could recommend some Mexico tattoo artists I think deserve more audience, or my colleagues Makra Abarkas, who is lettering and realism focused, or Puerko Man, who does awesome lettering and blackwork.
Please, tell something to the people who want to become a tattoo artist, some advice you appreciated when you were starting.
Keep the faith in yourself and in your work, no matter what style is yours.
Absolutely everyone can do big things if you work with love, passion and you are serious with what you are doing.
Always be grateful and loyal and, if you can help someone who started like you, just do it.
We need people who can do the best of themselves, and this art will grow.