10 Kodama tattoos for you!
We know Kodama is well known outside Japan because the spectacular film from Studio Ghibli, Princess Mononoke, but Kodama are a lot more of this.
In Japan mythology, Kodama are the spirits of the trees or the forest, and they used to be white or green, semitransparent, small, and adorable.
But (yes, is always a "but" in life), Kodama can be vengeful too! Specially with people who cut a tree without reason or with people who just do not respect the environment.
Kodama are really popular as a tattoo and, as we talked before, in Europe or America is because Princess Mononoke film, but Kodamas are too in:
One we said this, you came here for some Kodama tattoo ideas, isn't it?
1. Kodama tattoo with plant
The first Kodama tatoo we want to share with you is this one from Tsukisuki Tattoo, and we think it's really beautiful.
Moreover, you have to follow Tsukisuki Tattoo because they have spectacular (and a little bit freak) tattoos.
A lot from Manga and Anime world, really well done.
The second Kodama tattoo on the list is a traditional one.
It is simple.
It is cute.
It is balanced.
It is fantastic.
This tattoo is made by NipseyB Tattoo and she have a lot of tattoos with tons of harmony, black and grey and outlined ones.
We just love it!
3. Kodama tattoo with tree
The third Kodama tattoo on the list is a more traditional one.
We have to say Mononoke's film design about Kodama has become a standard for Kodamas look & feel but, this time, you have another traditional element form the Japanese mythology.
Because, yes, on Japanese mythology usually Kodama are represented near a tree, as you can see on this tattoo.
The tattoo artist for this is Jeannie Willis and we love here tattoo illustration, with bold thick lines and a lot of sense.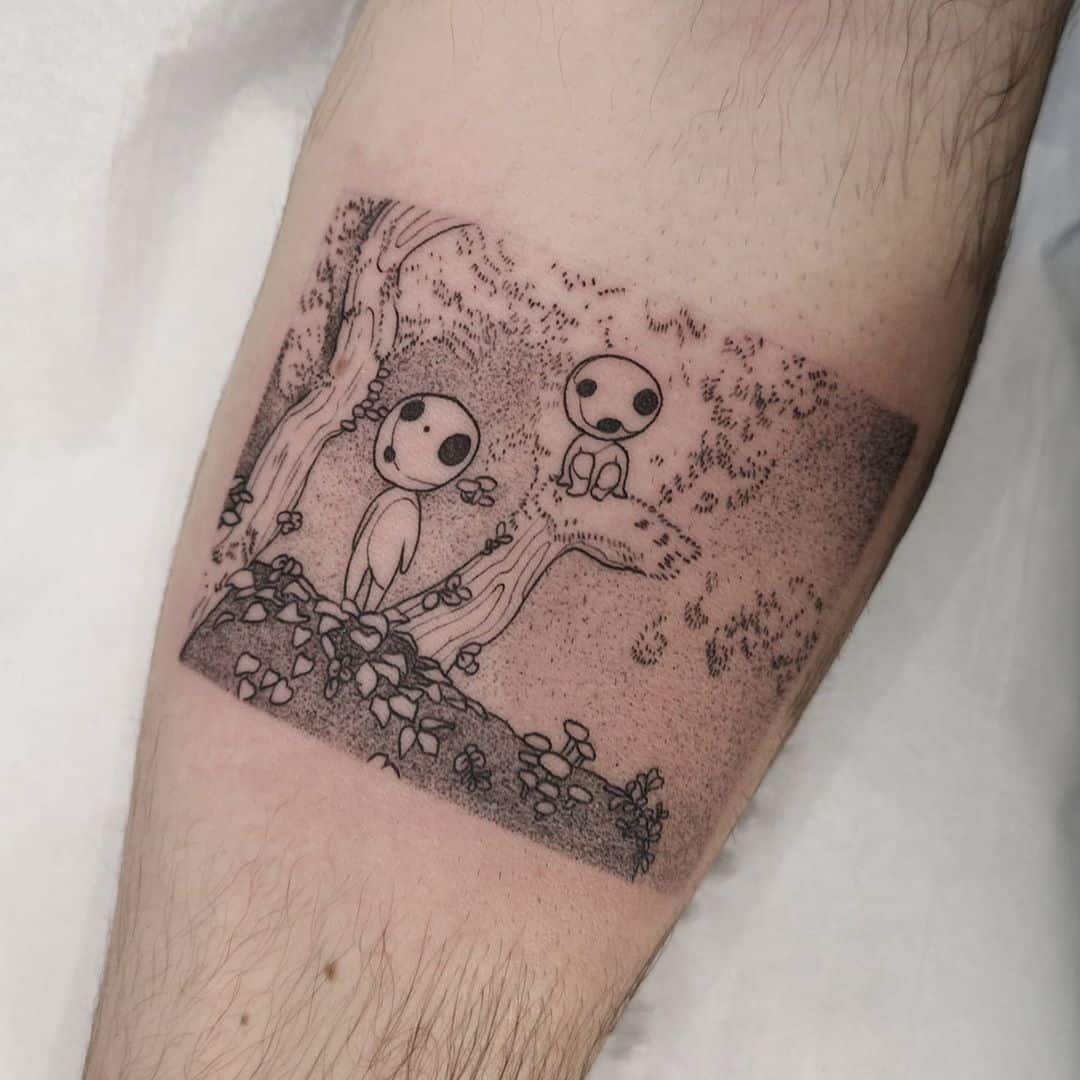 4. Kodama tattoo with Dotwork
For the fourth Kodama tattoo we have chosen this illustration, once more with the tree and, this time, 2 Kodama, with an illustration background.
Is done on black & grey style with some dotwork for giving the sky a nice touch, and we think it is a piece of work.
The tattoo artist is Boa, from Nantes (France), and she do make wonderful tattoos.
5. Kodama tattoo with Korok
This tattoo is next freak step.
It combines Kodama with Korok, a character of The Legend of Zelda: Breath of the Wild.
We do like the design of this tattoo; it is cute, and the rain effect is a nice choice.
The tattoo artist is Mirabolle and he is plenty of freak tattoo design (Gollum, Darth Vader or a walking onion).
You must take a try!
Moving forward with the next Kodama Tattoo, the design is very traditional, but it has one more thing:
Is the first in the list with colors.
The colors are very natural, and the design is well balanced, and we think is a nice idea if you want a color Kodama, isn't it?
This tattoo is made by Denise Odinsdottir, from Argentina, and she has a lot of colored (and freak) tattoos on her portfolio!
If Kodama is a little bit freak tattoo, why not combine it with another Manga character, for doing some special mixed-up?
Said and done.
Now you can see a Kodama and a No Face character.
What do you think about it?
This tattoo is made by IAIA, from Italy, and she have lots of tattoos and illustrations you must see!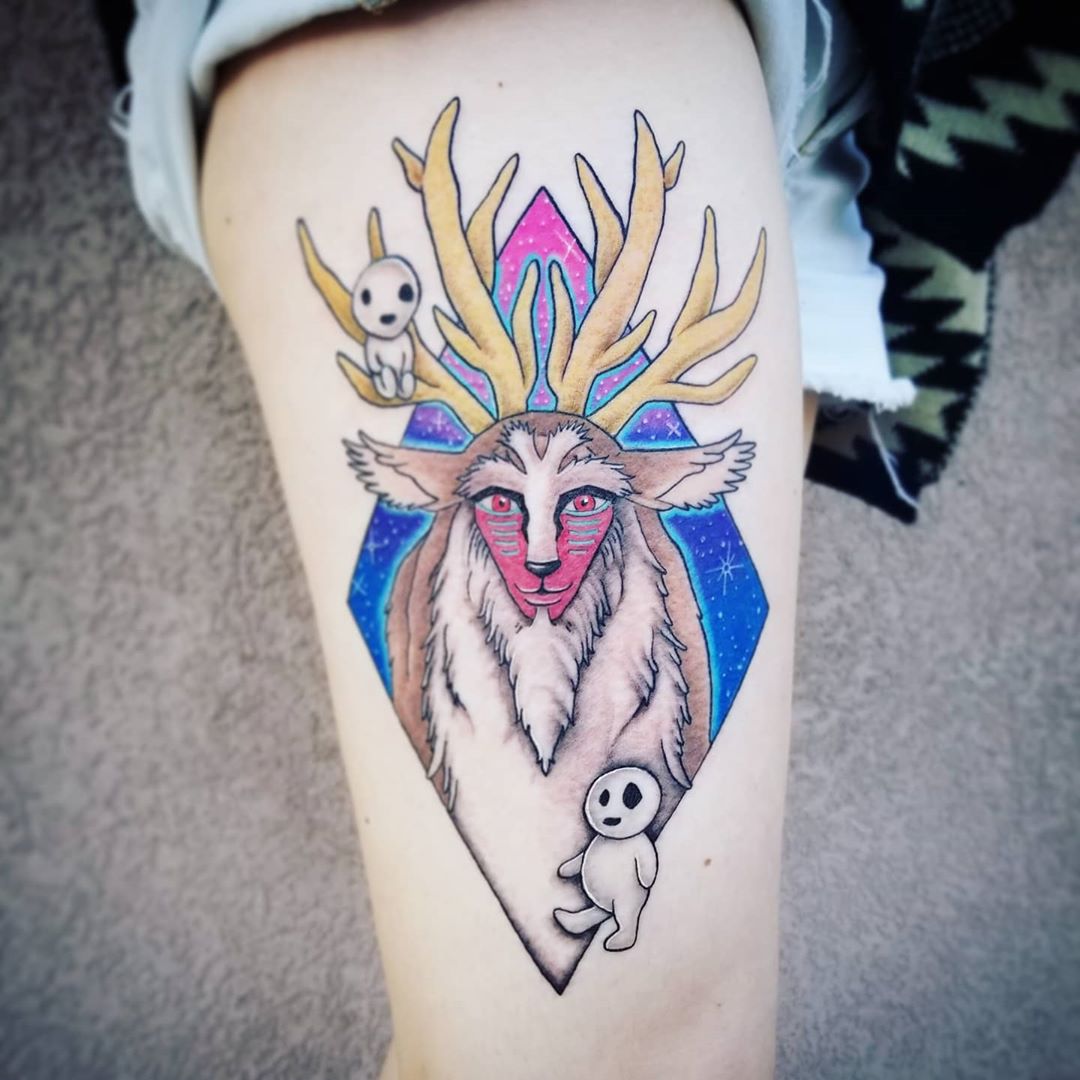 8. Kodama tattoo with Princess Mononoke
If you want more color, here it is another tattoo with Kodama and Princess Mononoke characters.
We like this tattoo because it is different, it is fully colored, and the work is fantastic.
The tattoo artist is Stella Sin, she is working in Idaho and she have a lot of fantastic colored tattoo on her Instagram account (some spectacular Star Wars colorful tattoos too!).
So, you must follow here.
We mean it.
Back to the basic, this tattoo is an standard Kodama tattoo, isn't it?
White, just outlined with the eyes of Kodama, and nothing more.
So, why is on the list?
We want to share with you a 3 Kodama tattoo in one arm, horizontal design, so you can see how it performs.
And the result is lovely, isn't it?
This tattoo is done by Wallflower Tattoo, in Washington, and we found a lot of Black&Grey tattoos in Black and White picture you must see.
10. Kodama tattoo behind the ear!
Finally, here it is a nice and odd tattoo we want to share you.
Is a three Kodama tattoo, yes.
Is an outlined tattoo yes.
But it is done… behind the ear!
You have to de brave for doing something like this, and we do love brave people!
The tattoo is made by Simone Potter, a Hawaiian tattoo artist and she have some cool tattoos on her Instagram account (like an a ACAB one on a grapefruit).
Here you have 10 Kodama tattoo ideas, what do you think about them?
Let us know in the comments below!