Lego tattoos you need to see before getting inked!
You may think that speaking about LEGO tattoos is only for freak people, but we want to tell you something:
LEGO is an empire, and a good one.
Each second, 1.300 pieces are made on the LEGO fabric (about 4.680.000 per hour, and we are not counting accessories, only bricks).
Moreover, each 7 seconds a LEGO set is sold somewhere all over the world and, another fun fact, LEGO is the largest tire company in the world (400 billion per year!!).
So, LEGO is a big thing.
And it is perfectly normal people tattoo big things on their skin, isn't it?
Because of this, here is some LEGO tattoo ideas for you, we hope you enjoy it:
1. Destrutturato Lego Tattoo
The first tattoo idea about LEGO is a design made in Destrutturato style.
Mattia Calvi is the inventor of this tattoo style which combine simplicity, solid colors and it is just awesome.
You can reach Mattia at his tattoo studio, called Mambo Tattoer.
The second tattoo idea we have for you is an outlined tattoo from BUOY.
BUOY tattoo studio is in Korea, and he do a lot of outlines tattoos with an astonishing quality.
He does really cute tattoos too, and we do love his artwork.
On the other hand, BUOY principles are quite clear: Do not copy.
And we approve this law!
3. Wonder Woman Lego Tattoo
Moving to the third idea for your LEGO tattoo, we are glad presenting you this spectacular Wonder Woman tattoo design.
This tattoo is made by Daniela Dag, an amazing tattoo artist from Rome, in Italy, and we love her designs.
She has a very special tattoo style, because she combines cute tattoos from Disney (and Pixar) with manga, even Marvel tattoos.
We have to notice we do like a lot how she use the color and her perfect technique for drawing complicated lines.
The fourth idea with LEGO for tattooing is this amazing design from AkiWong, from Beijing, in China.
He combines realism in the orange bricks with a silhouette dinosaur, combining these two tattoo styles for creating something unique, very powerful and harmonic.
So yes, we like it very much!
AkiWong has a unique tattoo style too, with a lot of harmony for the colors, very light outline (sometimes, with no outline at all), and fantastic effects with shadowing.
5. Ripped Skin Lego Tattoo
Let's move forward with the fifth tattoo idea with LEGO.
This one is made by Lucy Tattoo, a tattoo artist from Budapest, in Hungary.
Lucy is one of a kind tattoo artist because she does every tattoo perfect, with her personal print, doesn't matter the style.
On her Instagram account you can see abstract tattoos, portraits, ornamental, stickers or just a ripped skin one, like this LEGO design.
So, we can say she worths a lot like tattoo artist!
6. Mechanical New School Lego Tattoo
Not every LEGO tattoo is going to be a small one.
Not at all.
Here you have a big one, and with a nice new school design so you can see how it works on a large format.
Pay attention to the bright colors and the 3D effect, which is really a difficult thing.
This tattoo is made by Sailor Marc and we love it.
We mean it.
Let's do a wicked change.
Yes, LEGO is something created for kids, but you can adapt it to whatever you want.
Here, Afra Thani, from Wegberg, in Germany, twist the typical LEGO head to something, how can we say this… evil?
Simple design, bold and thick lines, 100% attitude and totally noticeable.
We want one of this!
8. Graffiti brick Lego Tattoo
Ok, mini-figures and accessories are fantastic, but LEGO is made of bricks.
Fat Pony Tattoo knows it very well, and this design is the prove of it!
We love the mix of styles (we can see some sketch and graffiti there, with gradient color) for a design very well balanced, unique, bold and eye catching.
What more do you need for the perfect design?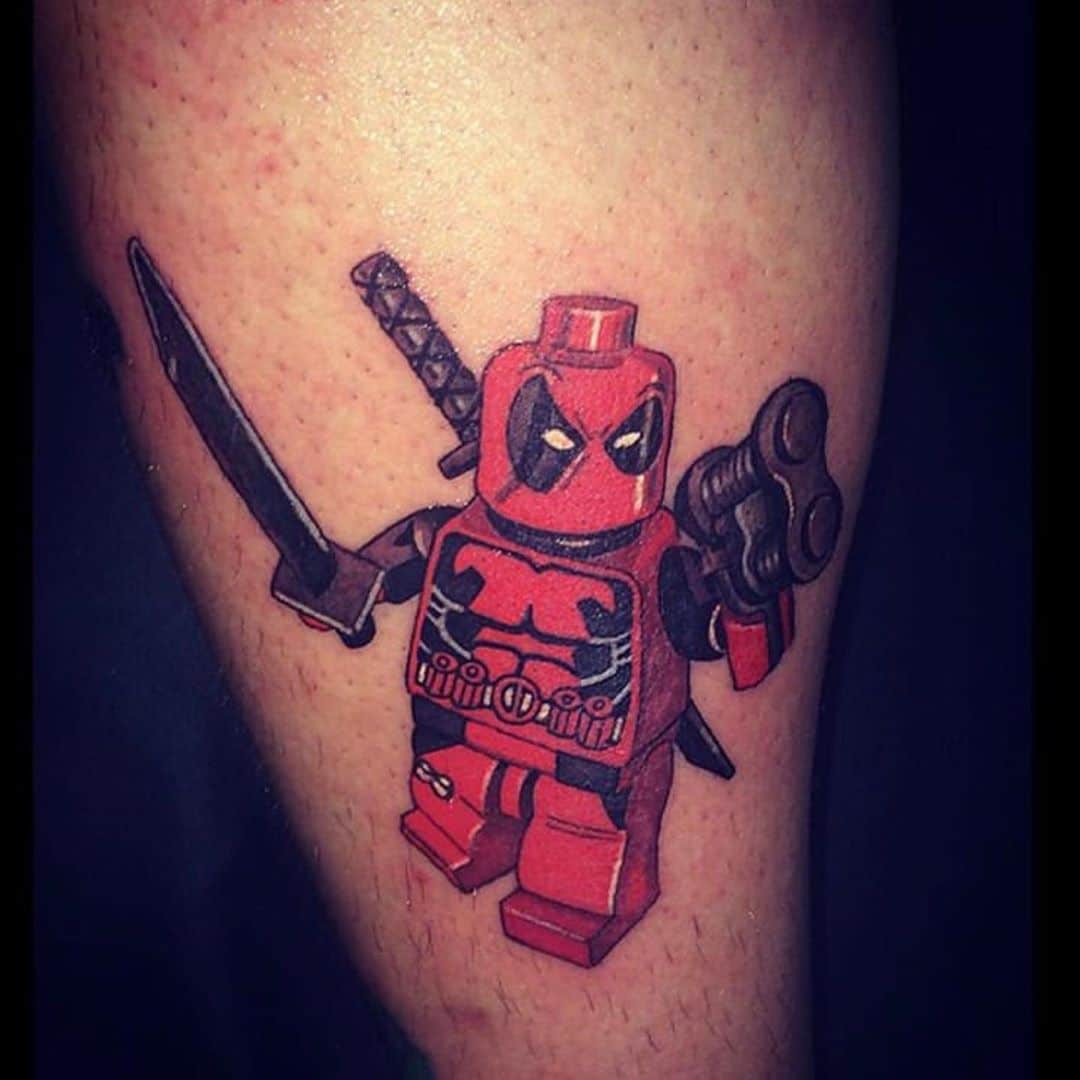 Back to the beginning, this design is awesome too.
Is just a realistic tattoo design of Deadpool, with a lot of 3D an a well worked color ink, but it has a lot of harmony, and we think it is just beautiful, isn't it?
This tattoo is made by Kaleb Edgar, a tattoo artist from Stamford, and we think you should follow him.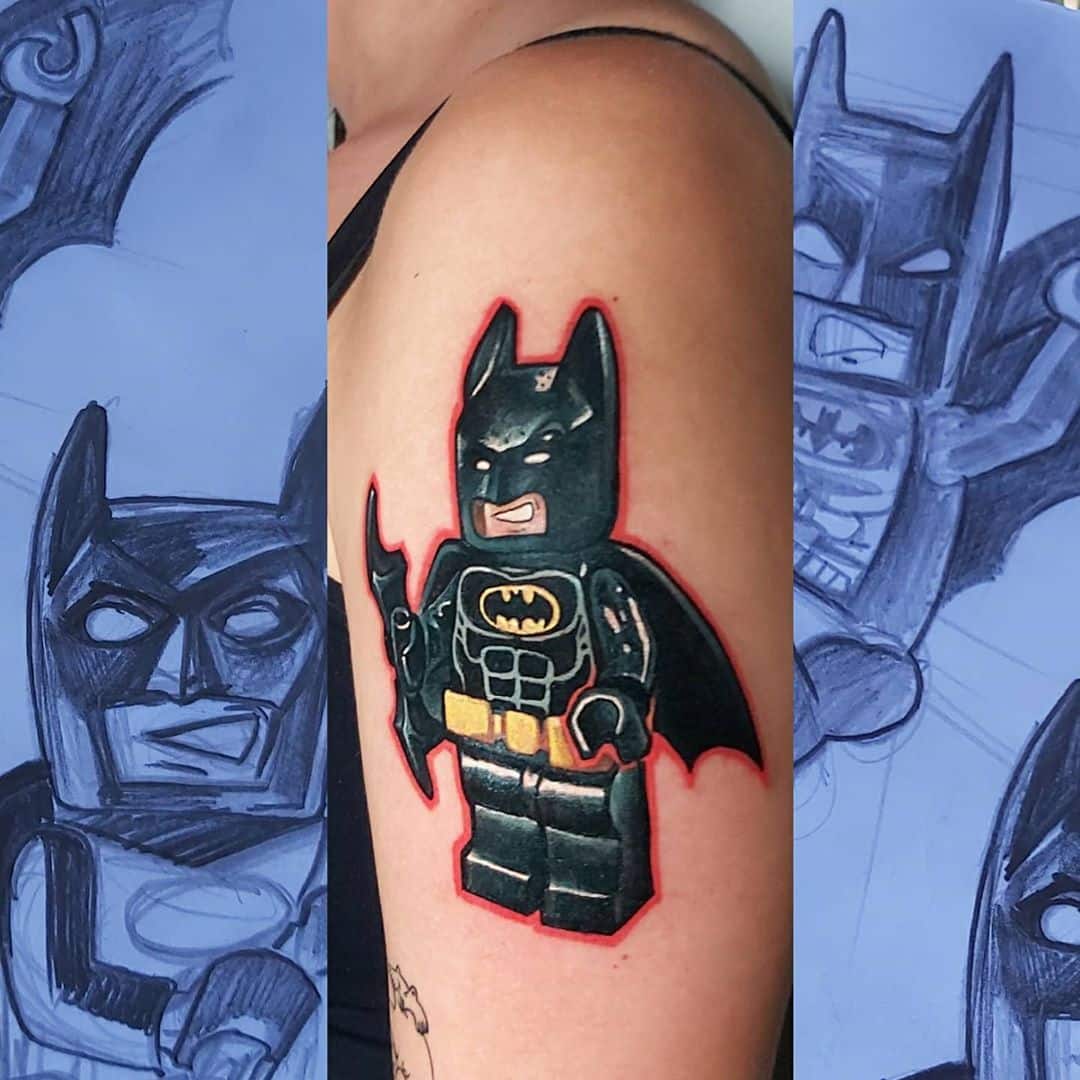 On number 10, we want to share you this LEGO tattoo design about… Batman!
As on number 9, we love the way the 3D is done, the shadowing is amazing, and we do love the big black inked on the skin.
The thick red outline for improving (more) the presence of the tattoo and the big size is something we do love too, so we can say this tattoo is fantastic.
This tattoo is made by Dero Melancia, from Poland, with a personal style mixing graffiti, freak things and portrait.
Here is all the ideas about LEGO tattoo designs for you, what do you think about it?